The founders of Westminster Park were savvy entrepreneurs. They carefully laid a framework for the community, establishing a philosophy and a moral standard for the Park, raising capital through stock sales, and hiring skilled planners and craftsmen to lay out roads, docks, and common buildings. The key to their success, I believe, lay in their ability to network. The Trustees courted newspaper moguls and reporters to sing the praises of the land. Some investors were railroad and steamship magnates who offered free excursions to the property. Some were publishers who produced a printed prospectus, leaflets and maps. We cannot dismiss the influence of well-known clergy who supported the effort within their local NYS communities.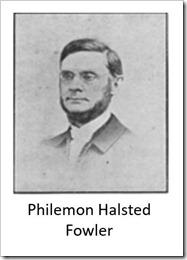 One such clergyman was Rev. Dr. Philemon Halsted Fowler, D.D., L.L.D. (1814- 1879), pastor of the First Presbyterian Church of Utica, New York. Rev. Dr. Fowler was a graduate of Hobart College and Princeton Theological Seminary. He enjoyed a revered reputation in the ministerial circles of New York State and served as a Trustee of Hamilton College for over twenty-five years. He and his wife, Jennette, established the YWCA in Utica and sponsored a boarding house for young women moving to the city to start an independent life.
Rev. Dr. Fowler was an enthusiastic supporter of the Westminster Park community. He served on the Board of Trustees and was the first President of the Westminster Park Association. A quote from the "Watertown Daily Times on March 18, 1878 stated: "…Rev. Dr. Fowler and other officers are laboring hard to make Westminster Park one of the most delightful places of resort for religious and social purposes in the country and they cannot fail of success." Fowler sent letters to NYS newspapers extolling the project. One might guess he may have mentioned the community from the pulpit as well.
Rev. Dr. Fowler purchased LOT 629 at the first lot sale in May 1878.
In his capacity as President of the Westminster Park Association, Fowler presided over the Dedication Service at the Bethune Chapel on Mount Beulah on July 31, 1878. Many of the noted clerics who attended were his personal friends. Unfortunately for the Park, Rev. Fowler died in December of 1879, but there is no doubt his influence was felt in the connection between Uticans and the Westminster community.
The Northrup Family
One such Utican was DeVillo Washington Northrup (1840- 1906).
In Utica Mr. Northrup was engaged in the manufacture and wholesale of Scotch hats: tams, toques, caps, and yales. He owned several Canadian patents on his headwear.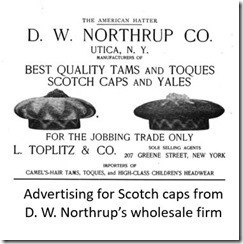 Devillo's wife was Annie Crocker Peckham Northrup (1840- 1889), the daughter of a prominent Utica family. They had no children. The Peckham Family of Utica was known for the patent and manufacture of ornate cast iron parlor stoves.
Mr. Northrup and his wife, Annie, attended the sale of lots at Westminster Park in May 1878. The Northrup's came to Alexandria Bay a day ahead of the event and stayed overnight at the Crossmon Hotel. At the auction on May 23rd, Mr. Northrup purchased Lot 769 for $200. One might assume this choice location provoked an auction as the sale price was higher than most individual lots. Sometime in late 1878 or 1879, the cottage at Sun-Set Point was built. In the Northrup's personal papers, we see visitors to the cottage as early as June 1880. It is possible this house was built by Binninger & Strainge of Dexter, NY because it is the twin of the house that firm built on Lot 644 for Victor B. Stewart. (also of Utica)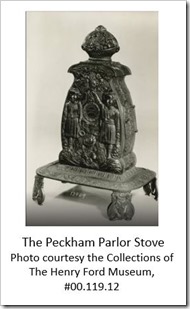 In the years at Sun-Set Point, the Northrup's enjoyed an active social life with many guests. Annie's relatives, the Peckhams of Utica, were frequent guests, but did not purchase property in Westminster Park. There are records of visits from many of Uticans who became cottage owners in the early days of Westminster Park. Sun-Set Point guests commented on the weather, the scenery, activities like a Taffy Pull, and of course, fishing. Mr. Northrup was a member of the Angler's Association and entertained other fishermen in his cottage home.
The Northrup's were generous and welcoming to friends and family. An account of their kindness to the workers in their hat factory is reported in the "Watertown Times" on September 15, 1881:
"All the lady cottagers and islanders are preparing to go home, though many of the gentlemen will remain until the middle of October to fish and hunt. The close board blinds may be seen on many cottages, and they have a deserted appearance. Mrs. D. W. Northrup of Utica, still remains on Westminster Park in her lovely little cottage. Mr. Northrup generally sends several of the young ladies employed in his factory here every season, and Mrs. Northrup entertains them in good style. This is an example other manufacturers in Utica might follow with profit and satisfaction to themselves and benefit to their employees."
A sad note in the family papers: "July 30, 1889: Annie left the cottage for home being very ill. We all wish her a speedy recovery and return." Sadly, she died a few weeks later on August 17, 1889, never to return to Sun-Set Point. She was buried in Forest Hill Cemetery, Utica.
Mr. Northrup continued to come to Sun-Set Point, but we see fewer records of guests and parties. Mr. Northrup died in 1906. Sunset Point was sold and new owners came in 1909.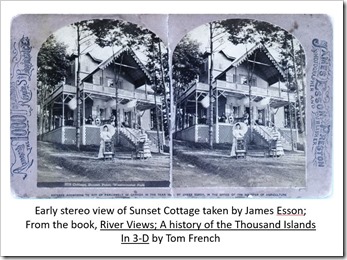 The well-known Canadian stereoscopic photographer, James Esson (1853- 1933), of Preston, Ontario, took this photo of the Northrup's cottage, Sun-Set Point. Thanks to Tom French for sharing it in his book, River Views; a History of the Thousand Islands in 3-D.
The Carpenter Family
For twenty-eight years, the parlor stove company owned by the family of Annie Crocker Peckham Northrup, J. S. & M. Peckham Stove Company, had an accountant and bookkeeper named William Penn Carpenter. Carpenter visited the Northrup cottage in the early years and subsequently purchased lot 771. He built a cottage and named it "Pine Grove Cottage".
William Penn Carpenter (1831- 1895) was a Quaker. He was married to Sarah Ann Keeling and had four children: William Henry Carpenter (1852-??); Jennie Carpenter (1859-1923); Charles F. (1854- 1895) and George C. (1856-??)
In Utica, Carpenter was active in public affairs, serving as the Utica City Treasurer for nearly 20 years, treasurer of the Utica Mechanics' Association, a city councilman, a position in the Utica post office, vice president and treasurer of the Utica Cemetery Association, secretary of the Utica and Oneida Fire Underwriters, and a longtime member of the Central City Lodge of the Odd Fellows. On the River, Carpenter was a member of the Anglers Association and was active in the affairs of the Westminster Park. He served as the Secretary and later the Treasurer of the Westminster Park Association until his death.
Carpenter's Daughter Jennie was a frequent visitor to Westminster Park from 1880 forward. In 1881, Jennie married Fred A. Cassidy, an undertaker from Utica. The Cassidy's purchased lots 651, 652, 653, 654.
Carpenter's son, Charles purchased lots 772 and 773.
In 1893, W. P. Carpenter was demonstrating the charge of an old cannon to his grandchildren near his cottage. Unexpectedly, the cannon discharged into his face. Substantial injuries were incurred to his eyes and caused his left index finger to be torn away. The newspapers carried the account:
"for some time after the injury he was entirely unconscious and still wandering in mind when he was being taken to the train. Doctors July and Watson of Alexandria Bay worked over him for more than an hour. The injury to his eyes appears to be beyond remedy and he will probably lose the sight of both. Mr. Carpenter was taken to Utica on the 4:45 train Tuesday afternoon in the company of Dr. July and Mrs. Carpenter. His daughter and children were with him at the islands." From "Daily on the Saint Lawrence", July 08, 1893. Carpenter did survive with partial sight and lived nearly two more years.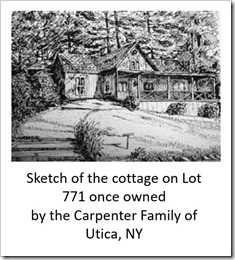 In early May 1895, Mr. Carpenter died. His obituary remembers, "He was a man of wonderful business capacity, yet in the midst of his work, he retained to a remarkable degree the spirits of youth, and his genial disposition and good heart were filled with human kindness." From "Utica Sunday Journal", May 5, 1895.
"On the Saint Lawrence and Clayton independent", May 24, 1895 reports: "G. R. Hanford was chosen treasurer in place of W. P. Carpenter, deceased. … Whereas death has removed to a higher sphere of action William Penn Carpenter who has for many years served this association a trustee and treasurer and with great fidelity we desire to express our appreciation of his high character, especially of his strict devotion to every interest in trusted to his care. We sympathize with his immediate family in their great bereavement and command them to the tender care of the master, whom he served so faithfully."
Here we see a sketch of the house that was on lot 771 at one time. The sketch was made by Robert Miner of the "Balboa" in the 1960's. Was this the house that W. P. Carpenter built? I cannot confirm. Can anyone help with information about this history mystery?
Notes:
Thank you to Tom French for sharing the Esson stereoview on page 82 of River Views; a History of the Thousand Islands in 3-D, published by Stone Island Press, Potsdam, New York. This book is available in many River bookshops.
The photograph of Cast Iron Parlor stove from the J. S.& M. Peckham Stove Company courtesy the Collections of The Henry Ford Museum, #00.119.12.
Next month: THE STORY OF THE V. B. STEWART FAMILY and other Uticans
By ©Linda Twichell 2018
Bio to come