The late Paul Malo, who was an emeritus professor of architecture a Syracuse University, created Thousandislandslife.com in 2006. He was adamant that the architecture of a River home was important, but what was vital was finding good stewards to take over a property when that property changed hands.
Since that time, we have seen many River changes, but somehow the passion for preserving our island and waterfront way-of-life, which includes family and friends, is just as strong, if not stronger.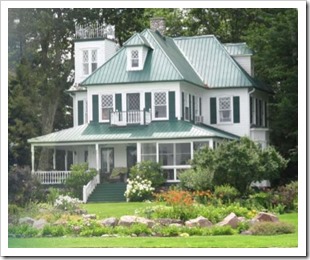 Several years ago the Thousand Islands Watershed Land Trust, (Canadian Land Trust) held a cottage tour which included Reveille Island. The following article was the description given to tour guests. This month Reveille Island has come on the market for sale, and we think it is important to share its history to help find another caring steward.
REVEILLE ISLAND
Home of Gary McGuire and Gwen Chambers
Once known as Hog Island, Reveille had been logged bare of trees by 1873 when the land surveyor Charles Unwin took a look at it. He found only a small shanty on the island, plus a few graves.
The two-and-a-half-acre island served for years as one of the wood depots on the St. Lawrence River, selling firewood to passing steamers from its long dock. It is believed to have operated as an outpost of the Darlingside business just across the water.
In 1880, Silas Cook and his wife Catherine purchased the island for $35. It remained in their family for several generations. They built the large, Italianate style cottage with its off-centre tower, long verandah and decorative window detailing. In their day the cottage was chocolate brown.
An American family, the Wilbur's, were already summering in those years, on Sport island near Alexandria Bay. When Col. Harry Packer Wilbur of New Bedford, Massachusetts, a veteran of the First World War, bought Hog Island in 1927 he changed the name to "Reveille." Col. Wilbur hand-carved the flagpole and repainted the cottage white with green trim. In 1974, the Wilbur's celebrated 100 years of family life on the St. Lawrence River.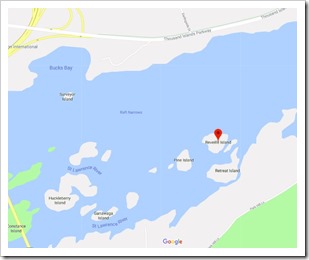 As generations of the family returned to the island, they planted cedars and pines, huge, exquisite iris beds and landscaped with stone pathways and walls. An inside downstairs washroom was installed in 1938. The kitchen and downstairs bathroom sinks are original to the house.
Water was pumped by a gasoline pump to the water tower each morning until it overflowed, allowing the bugs collected overnight to wash away! During the winter, a caretaker cut ice from the River, then packed in sawdust and stored in an ice house for the following summer. The ice house is now a storage shed located near the dock.
In 1990, Reveille Island was sold by the family after 63 years of ownership. Under its new owners, it became an elegant Bed and Breakfast for those wanting a taste of Island life. Now, once again it is a private family cottage.
The architectural details of the interior have remained basically unchanged. The water tower has been converted into a quirky two-piece washroom and the attic has now been renovated into a two-bedroom guest suite… but like all attics it contains a treasure trove of old memories.
Excerpts from the Guest Book:
October 1927 – Purchased by Col. Harry Packer Wilbur
1931 – Walls Built
1932 – 24 Cedars and Pines planted
1934 – Stone Paths from Kitchen to Boathouse started
1935 – Planted Iris
1936 – Harry P. Wilbur made and hung green shutters
1937 – international Bridge between Collins Point, NY and Ivy Lea, Ontario
1938 – Glassed in front porch, added downstairs lavatory. International Bridge opened, August 18th.
1947 – Kitchen porch added
1949 – Ice house moved
1952 – Island inherited by E. Packer Wilbur III.
1955 – Electricity
1967 – Septic Tank Installed. Concrete poured behind front walls
1974 – New Septic Tank and field, walls rebuilt
100th Year of Wilburs on the River
1975 – "Welly" – WeLaKaHoa – Boat 50 years old; built by Roy Conklin and Rolly Comstock at Alexandria Bay. Sold in 1990 to Jim Condon of Pine Island.
This island is for sale and is listed under the TI Life Properties Tab.
Presented by Susan W. Smith, Editor, TI Life.