Written by
Keith LaPointe
posted on August 13, 2018 12:28
While walking through the woods one day… in the merry month of July…
We had a nice surprise a few weeks ago. I was out checking the trees in the back yard when I saw something kind 'a neat. Earlier this spring I had spotted four cocoons hanging around: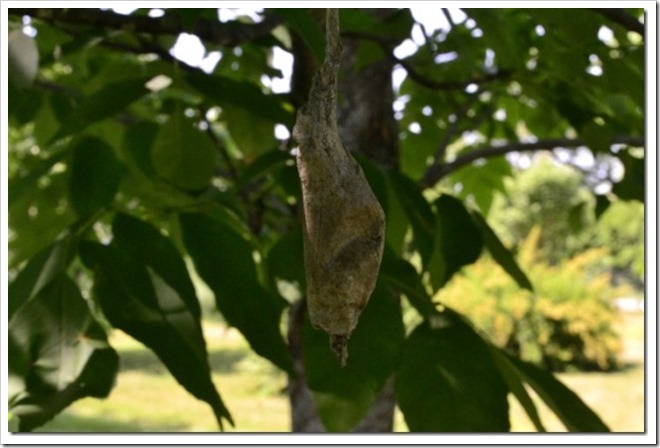 One of the cocoons
To my surprise that day, I spotted this:
Newly hatched moth; wish I had been there for the birth.
So, I waited around and took this also.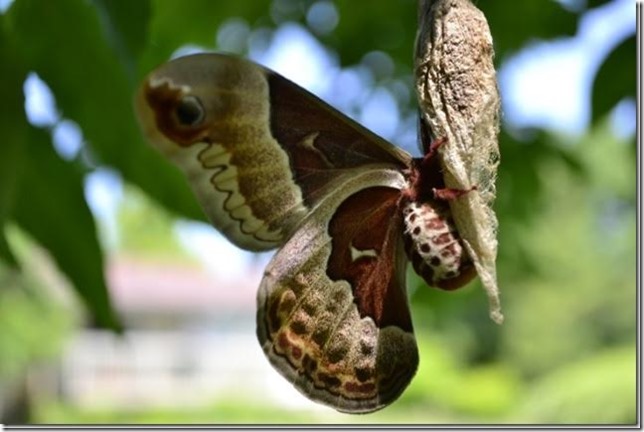 As you can see, it is a female; notice the small antenna and the large abdomen.
This was taken sometime later, it grew a little.
Then it did this: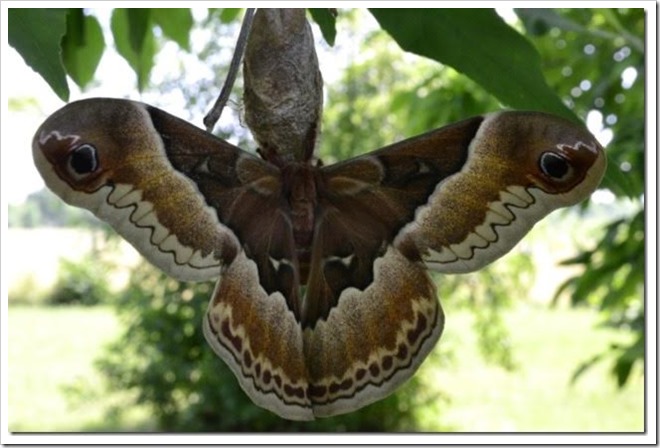 And now I could identify it. It is a Promethea Moth, about 8 cm.
It is a really beautiful moth. I originally took the first pictures about 1 PM. This last one was taken about 3 PM.
I thought they were kind of nice and interesting, so I sent them off to our local TV station, CKWS in Kingston. They have a weather wallpaper every night. You send in what you think is interesting, cute, unusual, well you get the picture, and lo and behold, they showed them at 6:30. Yea!
After watching the news, not sure why, I ventured out to see the young lady. This is what I saw: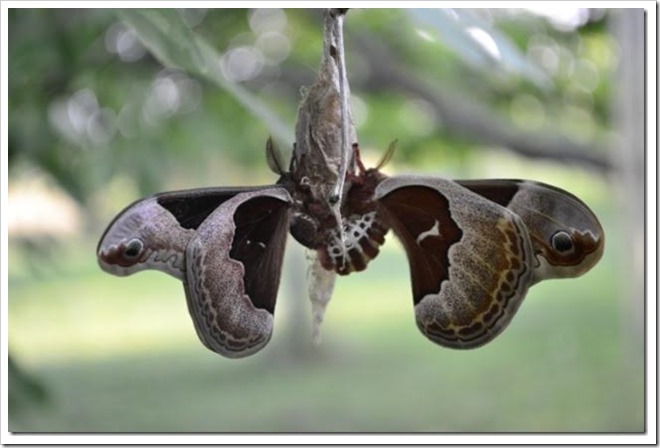 Male and female Promethea Moths mating.
Jeez, talk about robbing the cradle! Notice the smaller abdomen on the male, the one on the left, and the larger antenna. I don't know how long they had been "at it," an hour or two anyway, and I continued to check-up on them for sometime. I checked them at 9:00 PM, and they were still "at it." With flashlight in hand, I checked again at 10:00 PM and they were gone. Off on their honeymoon?
So, there you have it, So far the other cocoons have not done anything, I think they are dead. When you shake them gently, they rattle. I don't know where the male came from, possibly some other tree in the back yard.
Shared by Keith LaPointe
From the Editor: I am often asked where we find our authors? This is a perfect example of an email I received this month. As soon as I saw it, I knew it would be of interest and asked if we could share it in our August issue. Thanks Keith, please keep your camera and your flashlight on hand all the time, and of course our TI Life email address at info@thousandsislandslife.com