John A. Morrow, Artist
Written by
Susan W. Smith
posted on May 13, 2009 07:45
"The World is a wondrous place, rich with texture, color and form, where the magic of light creates an ever changing stage upon which the drama of life is played. I feel like an explorer visually sailing into uncharted bays and inlets. My eyes are my ship, my brushes, my oars, my imagination, the wind."

Artist's Statement:  John A. Morrow
John Morrow is a realist painter drawing his  inspiration from the Thousand Islands area of the St. Lawrence River, New York State's Adirondack mountains, and Maine's rugged landscapes.  It was Ian Coristine who suggested we meet John and it is easy to see the connection between the two - both appreciate and take advantage of light in their art forms and both appreciate excellence and patience.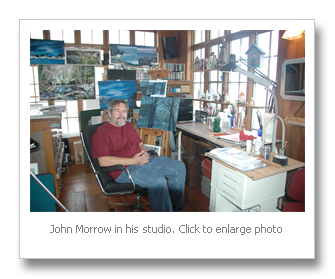 Born at Ogdensburg, NY, John spent much of his youth in western New York State. From an early age he knew he wanted to be an artist and after completing training at Buffalo State College he returned to Ogdensburg to teach at the local high school. For over 25 years, he challenged his students to use all mediums and to experiment with the digital world. In turn they challenged him to excel.
His studio is located on the second floor of an historic (1804) home in Ogdensburg. It is filled with light, and shelves stacked with paint brushes, creative arrangements of unique dolls, antique camera equipment and paintings, photographs and memorabilia.
The Gallery on the main floor has prints and paintings, many having been framed by his wife Brenda, who operates the Gallery and custom-framing shop.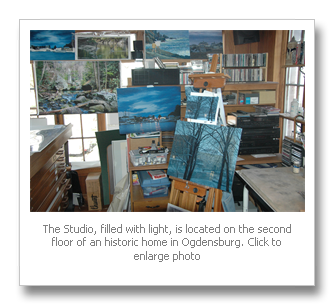 His paintings and limited-edition prints, now totaling over 100, are presented in many galleries and his original paintings are in public and private collections around the world.
John's website shows excellent selection of his work, including "Autumn Rivals".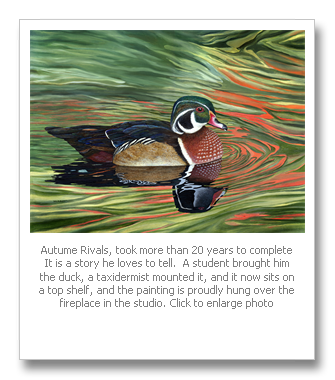 It is no wonder John's paintings appear on the cover of several books and magazines including the NY Conservationist and Reader's Digest.
The description of each painting are fascinating and reviewing the Thousand Islands subjects is similar to taking a boat tour - complete with interesting commentary.
The Clark Gallery and Frame Shop are located in downtown Ogdensburg at 324 State Street.  We at TI Life, certainly recommend a visit.
Coming through the Rift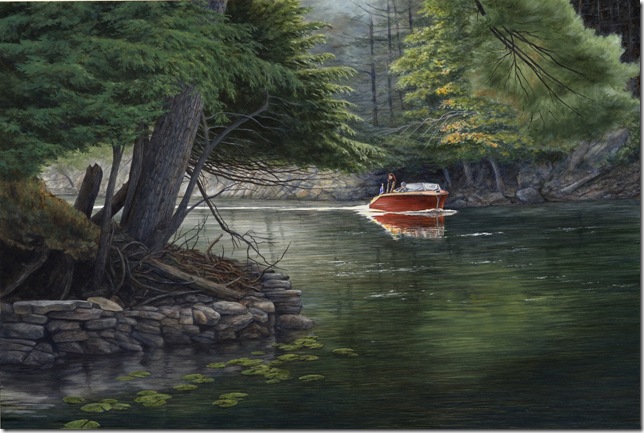 Released 2004, Edition size 500, 50 Artist's Proofs, Frame size 16X20,18X24,24X32, Printed on Epson Velvet.© John A. Morrow
Artist's Description:  The International Rift is a narrow sliver of water, in the Thousand Islands that separates Wellesley Island in the United States from Hill Island in Canada.  About one quarter mile long,  it starts near Bingham Island and ends by Black-snake Passage where it runs into the Lake of the Isles.  A favorite route for boaters, it is less than 25 feet across in some places and it's rocky bottom has sent many a prop to the scrap heap.  There is also a river tale that a 42 foot Hatteras successfully navigated this waterway.
This oil painting depicts the rift on a quiet sunny Sunday afternoon in late September.
Ivy Lea Bridge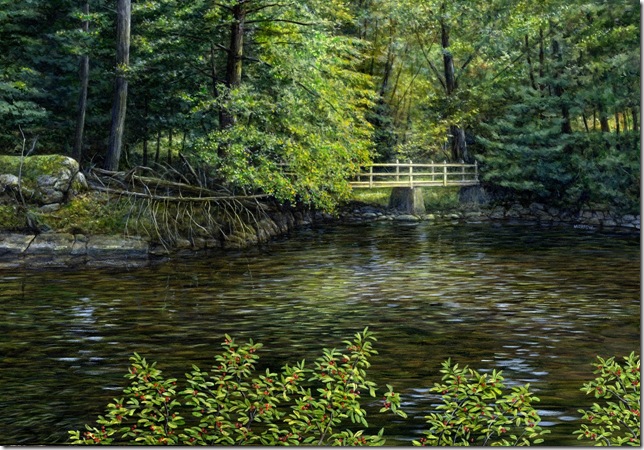 Number in Edition, 500, Artist's Proofs, 50 Framed Size - 16X20, Paper - Epson Enhanced Matt. Printed by HMS Fine Art, Giclee Print with pigmented Inks. © John A. Morrow
Artist's Description: There is an old saying that "good fences build good neighbors" but in this part of the Thousand Islands it's "good neighbors build good bridges"
The uniqueness of the Thousand Islands lies in the variety of places it creates. There are areas that it's as broad and open as a lake or as narrow and swift as a small stream. There are also many calm peaceful little inlets and coves like the one depicted here in this acrylic painting of a spot off the tip of Wallace Island near Ivy Lea. My brother and his wife own an Island there, they call it Paradise Island. This little bridge connects their land with their neighbors, so one might say that this is the view from paradise.
Lady in Morning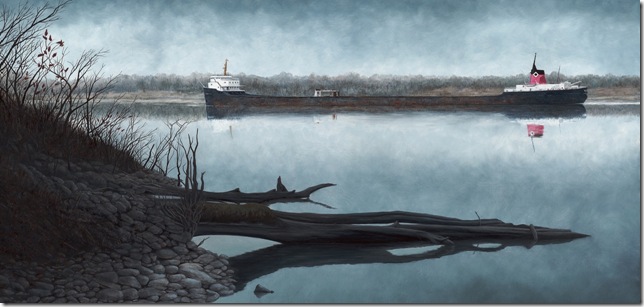 Released  June 21, 2004, Edition size 500, 50  Artist's Proof, Canvas Edition 100, Frame size 19X32  & 23X40. Printed on Epson Velvet, by Wayseeker.  © John A. Morrow
Artist's  Description: Moving like an iron glacier across the misty calm of the St. Lawrence River on an early spring morning, this Canadian laker owned by the ULS Corporation is among the last of a dying breed.  Built mostly between 1943 and 1976, these 730 foot vessels had an average beam of about 75 feet and were designed to carry grain, coal and ore.  The forward pilot house allowed for easier control while navigating the locks throughout the Great Lakes and Seaway system.
Reproduced from an oil painting by giclee printing
Deer Island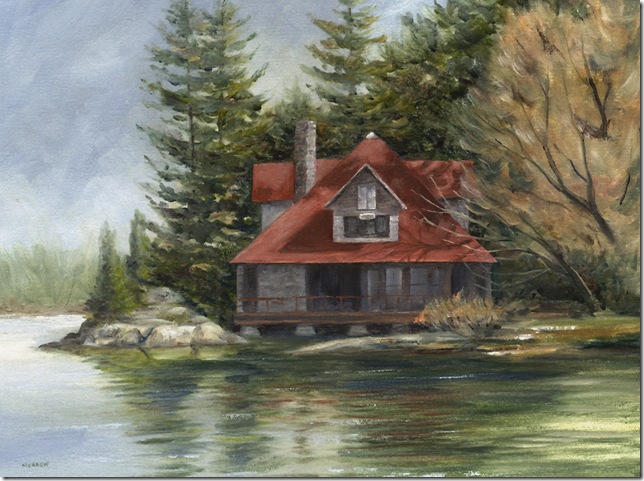 Date of Issue - April 15, 2005, Number in Edition - 100, Artist's Proofs - 12, Framed Size - 11X14, Giclee on canvas, Printed by HMS Fine Art, Giclee Print with pigmented Inks. © John A. Morrow
Artist's  Description:This peaceful stone and wood cottage is one of the last remaining buildings left on Deer Isle, an island covered in pines and hardwoods just north of Alexandria Bay, NY.  Besides water, there seems to be some mystery or enigma that surrounds the island.  Ruins on the island could date back to 1856 when Samuel Miller first purchased it.  In 1949 the island was given to Yale University's Skull and Bones Society, creating an even more arcane legacy.
A Mid Summer Day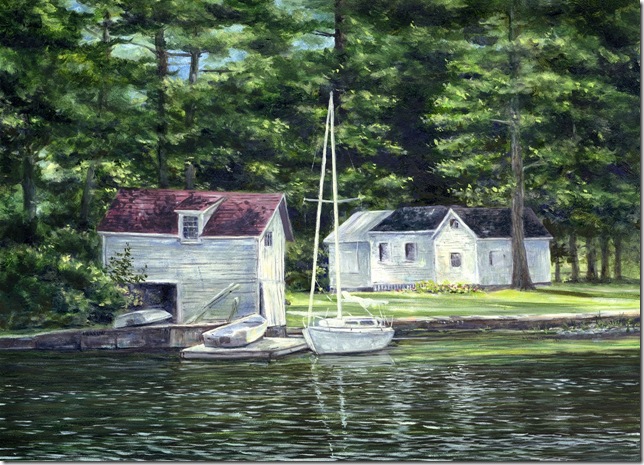 Reproduced by giclee printing from an oil painting on hardboard. © John A. Morrow
Artist's Description: There are so many places along the St. Lawrence River that are special and unique. What makes them even more exceptional is the memories that are associated with them sometimes as far back as early childhood. When I see an elderly person sitting on a porch looking out at the river, I imagine the river of memories that flow through mind of decades of summers on the St. Lawrence.
This oil painting of a cottage is located on the river near the mouth of Jones Creek, west of Brockville, Ontario.
To me it holds memories of a day spent with Ian Coristine, an artist working in photography, who has an Island near by.
Morning Light
Released November 11, 2001, 33 Artists's Proofs, Frame size 14X18, Printed on acid free paper © John A. Morrow
Artist's  Description: To an artist the silence of serenity can be deafening.  Morning or evening light is often the most dramatic of the day, as refracted hues disperse themselves through layers of crystalline atmosphere.  It is this rare and fleeting moment that most of us catch a glimpse of, as we scurry through our manic lives.
Reproduced from an alkyd painting on hardboard. Note: alkyd is a fast drying oil paint.
Compiled by Susan W. Smith, susansmith@thousandislandslife.com
Comments
Comment by: Carolyn Kitchen ( )
Left at: 9:35 AM Friday, May 15, 2009
---
I am well acquainted with Mr. Morrow's paintings. I have met and talked with both John and his wife a few years ago. They are wonderful people and I am so glad you have written an article about them. Not enough people know about him and his talent. I have several of his prints at home and at our cottage in Clayton. They are just wonderful. Thanks again for your magazine. I learn something new with each issue.
Comment by: james morrow ( )
Left at: 10:18 AM Friday, May 15, 2009
---
Very nice...
Comment by: Cary R. Brick ( )
Left at: 2:40 PM Saturday, May 16, 2009
---
Thank you for sharing your wonderful profile of artist John Morrow of Ogdensburg. He is my favorite and his art graces walls throughout my home. I have enough pieces of his work to rotate them as the seasons change. More than any other, in my view, he captures the ever-changing and always exciting moods of our St. Lawrence River and North Country. Please continue to have his work grace the pages of Thousand Islands life.com. He, like our islands, is a gem.
Cary R. Brick, Shady Shores, Clayton
Comment by: Mark & Brenda Bond ( )
Left at: 5:52 PM Saturday, May 16, 2009
---
John Morrow has to be my favorite of the Thousand Island artists. My wife gave me the Deer Island print on canvas for my birthday last year, and it is truely special! Thank you for the profile in this awesome magazine.
Comment by: Sherrie ( )
Left at: 9:51 PM Sunday, October 4, 2009
---
I have a friend who has several orignal proof and prints of John Morrow. She is trying to find someone who may be interested in them.
Any one know someone who may want to purchase them??
Sherrie
Comment by: Brian Dority ( )
Left at: 6:01 PM Tuesday, July 13, 2010
---
Thanks,
Its a treat to see Johns work and see witch prints we may want too purchase one day!!!
Comment by: Geoff ( )
Left at: 9:59 PM Saturday, March 10, 2012
---
Sherrie,
What originals and prints does your friend have?
Comment by: john ( )
Left at: 10:00 AM Wednesday, August 21, 2013
---
Hi Love your work .Do you sell your work? Do you have a web sight i can go and look at. I want to give a friend who lives in Brockville on the river something of the area . Thank you John
Comment by: Amy ( )
Left at: 12:35 PM Monday, January 20, 2014
---
I have a signed framed "Jewel of the Night" and am wondering its current value. I need to know if I should have a rider on my homeowners policy.
Thank you
Amy
Comment by: Alan Morrow ( )
Left at: 7:16 PM Monday, February 24, 2014
---
We were delighted to see you and Brenda again despite the sad circumstances of Mom's death. Thank you for your support. We love your paintings and sorry we could not accept your kind offer for supper. How about a rain check? If you are ever in our neck of the woods please stop by. You are more than welcome here.
Your cousin,
Alan