In the decade after World War II the kids at Butternut Bay didn't have much to do … all we did was play, swim, fish, putting about in small boats, eat good fresh food and slept like babies. Several families arrived at the Bay the day school got out in late June and the jumble of kids was one big happy family all summer long - siblings, cousins, and friends. We left on Labour Day to return to our city homes and school, but during the summer weeks, we rarely left the Bay. Maybe there was a rare trip to Brockville for a haircut and lunch at Woolworth's, or a very special treat, a trip to Watertown to buy Levi's, which were unavailable in Canada, However, we weren't bored by one lazy day after another at the Bay - we loved it.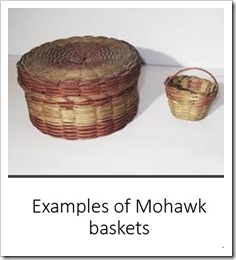 On occasion, an event would occur which caused great excitement in the dog days of summer. Sometimes it was Captain Snider arriving with passengers who had missed the departure of his tour boat in Brockville. We'd all wave like crazy to have the tour boat pull into our big main dock. Other times, it would be running down to the boathouses to see Budge Smith's beautiful mahogany runabout springing a leak and sitting on the bottom. For a few years in the late '40s and early '50s, there was an annual visit, which was special. Someone would shout "They're coming, they're coming! The Indians are coming", and we'd all run down to the big main dock to look down the River, past the cliffs where we painted our names, near the fool's gold mine, to see a skiff, loaded to the waterline with baskets, being rowed towards us.
The word soon spread among the 31 cottages at Butternut Bay and in time, our parents would join the kids on the dock awaiting their arrival. It seemed agonizingly slow, but eventually, the skiff would pull alongside the dock and the occupants would display and sell their baskets. Every year our parents would buy a couple, but sadly today almost all of them have disappeared. The ravages of time it seems.
The couple who made the baskets were American Mohawks, from east of Ogdensburg. The Mohawks were a nomadic people and it's possible that they lived along the St. Lawrence in the summer and moved to the traditional Mohawk settlements in the Hudson Valley in the winter. The time and effort required to row a heavily laden skiff up-River over 20 miles against the current is a herculean task, but he did it for several years. His wife sat mutely watching him.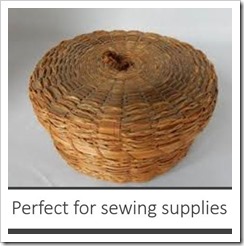 The baskets were handmade from black ash 'splint' and sweet grass, and typically were relatively small and used as sewing baskets, for keepsakes, or coins or jewelry. They had a lid with a tufted knob on top and was usually an attractive combination of green and wheat colors, or the colour of corn silk, although some other colors were used occasionally. Although most cottages bought them, today very few remain because they were made with natural materials without a preservative coating and deteriorated over time.
There is a museum called "Akwesasne Cultural Center" on the New York side of the reservation at Hogansburg, N.Y., which features an extensive collection of Mohawk baskets, among other artifacts, and includes some treasures from the other tribes of the Iroquois nation. ( It is worth a visit.)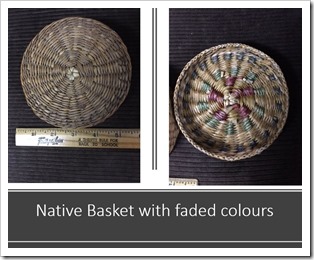 A lifelong Butternut Bay cottager, Richard Hunt, told me that he believes the baskets were only sold along the Canadian shore, but he has no idea why. Presumably, they stopped at other Canadian communities such as Fernbank, Hillcrest, Lily Bay, Woodbridge, Hudson's Point, Jones Creek and perhaps Brockville. It would be interesting to hear from old timers along the River who remember them and hopefully could add to the stories. They may even have baskets, which survived.
The couple who brought the baskets dressed like ordinary working folk and did not wear anything traditional. The only thing unusual that they wore were odd-shaped flat top hats and strange shoes. I was dying to know if the man had the traditional Mohawk haircut, but he never removed his hat and I was afraid to ask. English was presumably their second language, but they had no trouble communicating to sell their wares.
They came for a few years, maybe 4 or 5, and probably stopped coming because after a few years the cottagers had bought all the baskets they wanted. As their sales dropped, presumably it no longer made sense to come. Or, maybe there's a totally different reason, something mysterious, and lost over time.
In any case, when they stopped coming we missed them. They were a welcome diversion on a hot summer day, and they added to our Butternut Bay enjoyment.
These are the summer memories we River Rats treasure.
By Bob Anderson, Butternut Bay
Bob Anderson is a lifelong summer resident of Butternut Bay and a besotted river rat. His grandparents first arrived at the Bay in 1920; Bob and his wife Sandra and their 3 children and six grandchildren, constitute the fourth and fifth generations of his family at the Bay. After graduating from Carleton University in Ottawa, Bob worked in the food industry for his entire career with various senior management positions at Dominion Dairies (Sealtest) and Burnbrae Farms, where he retired as President, in 2012. He was also President of the Butternut Bay Association Inc,. for over 30 years.
Editor's Note: the third photo in this article, "Native Baskets with faded colors" is a picture of a basket I found on our Island. There are stories about the Native Peoples from west of Kingston coming down to Gananoque on the train with their basket wares. They rented skiffs and paddled around the nearby islands. We would appreciate having others relate their basket stories in the comment section.