Great Lake Swimmers are coming June 6th!
Celebrating the Maritime Discovery Center of the Thousand Islands.
Eighteen months ago our web guru Mike Cox alerted me that Stuart McLean (NCPR and CBC Vinyl Café host and in another life my grade nine classmate) was broadcasting his show from Gananoque's Thousand Islands Playhouse and talking about the Thousand Islands. When I tuned in, Stuart was introducing a group called Great Lake Swimmers. Instantly, I was mesmerized by their haunting folk/rock music. I never respond quickly to music, but I did this time. As I listened, the thought occurred to me that this music might marry well to scenes of the Thousand Islands.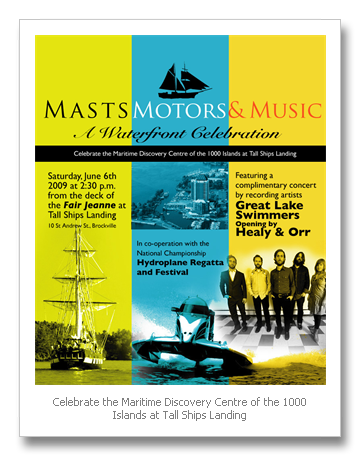 A few months earlier, someone pilfered 50 images from my site which circled the Internet in four crude PowerPoint presentations via email and also were posted on web sites in many countries with people apparently awed by our area (according to posted comments). Most had no links so few viewers even knew where they were taken, providing little tangible benefit despite extensive play around the world. Paul Malo wrote about this episode in Thousand Islands Life.
The thought was (still not actually complete) to produce another presentation professionally and let it loose on the Internet again to promote the region in the manner it deserves. I believe music is every bit as important as pictures to do this well but there is the issue of rights so all this was in my mind as I listened to their music.

Great Lake Swimmers is quickly gaining world-wide fame. They've opened major concerts for Robert Plant, Allison Krauss, Feist and other established stars. They've also had several important guest musicians record with them including Bob Egan of Blue Rodeo and Serena Ryder (winner of 2 Junos - she sings on Lost Channels.) They were invited to play at Quebec City's 400th Anniversary celebrations. They're touring the world. They are in the process of making it big.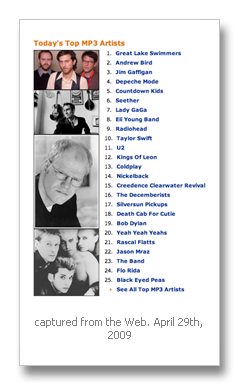 With their name and sound being appropriate, I contacted their manager Phil Klygo and extended an invitation for them to visit the region. Frankly, I hoped they'd fall in love with it and use its beauty as a backdrop to their music - beautiful place, beautiful music, perfect match. If they did, they'd bring a lot of international attention as their fame continues to spread around the globe.
Nothing came of this until last fall when I had a call from their lead musician Tony Dekker.
They were recording a new album and have always prefered to record in acoustically interesting spaces, previously using a heritage hall and a grain silo. Tony explained they had four days available. Did I have any ideas?
Thanks to a few people who immediately grasped the significance of the opportunity, two days later they were recording in Singer Castle (Tom Weldon), the Brockville Arts Center (Peter Dunn) and St. Brendan's Church on the bluff in Rockport (Bob Helm). Kim Lunman wrote a front page story about their recording sessions here for both Brockville's Recorder and Times and T I Life Magazine.
Later I received an email from Tony sharing just how deep an impression the islands had made on him. I can just imagine his very first impression as he pulled up to the dock at Dark Island like Frederick Bourne's family did a century ago when they arrived for their first visit, not having a clue he'd built a fabulous castle in the middle of the River. It's not a bad way to start!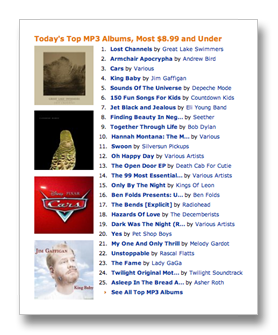 Though the album had already been written by the time they arrived, Tony wrote an additional track "River's Edge" and then included another, the antique clock chimes at Singer Castle. More than that, after sharing a story about the spot near the Canadian span where a naval boat with 14 men vanished in 1760, he chose to title the Album "Lost Channels".

I had the rare privilege of listening as Tony, guitarist Eric Arneson and guest vocalist Serena Ryder laid down individual tracks with microphones spread around the hall to pick up the natural ambiance of St. Brendan's Church in Rockport. I already knew and appreciated Tony's wonderful voice through three previous albums (though it's even more enchanting in person), but was also amazed by Serena's incredible range, only later learning she had already won two Juno awards in her young career. No surprise.
The album was released to critical acclaim on March 31st. If you Google Great Lake Swimmers and Lost Channels, you'll see well over 200,000 hits in just over a month, announcements in music publications and (very positive) reviews. Many of these mention recording in the Thousand Islands as well as the Lost Channel story. This, which appeared on CBC.ca's front page is typical.
Having married an album to the Thousand Islands, it seemed appropriate that they perform here and thanks to Simon Fuller who was instantly right behind the idea, it quickly evolved into using his tall ship Fair Jeanne as the dream stage to present them in style. What a delight this guy is when he's got an interesting concept to run with! Tall Ships Landing is adding a heartbeat to downtown Brockville and the region and he saw this as the perfect opportunity to thank supporters and celebrate the success of its Discovery Centre which will add so much to our Thousand Islands.

So all the pieces were in place but one. How could we expect a band deep into an international tour to find the time to come here?  Despite an insane schedule they immediately agreed! It's incredibly generous of Tony and Great Lake Swimmers to make the time to present a complimentary concert to the Thousand Islands community. They will be coming straight from Madrid, following a three month marathon tour across Canada, the US, the Netherlands, Belgium, Denmark, Sweden, Norway, Germany, Britain, France and Spain.
As well as the Swimmers' performance, Brockville's popular Healy & Orr will open the concert at 2:30. The city will also be hosting hydroplane races, so there will be plenty on offer. With a wonderful concert on a unique stage right in the harbor celebrating the successes of a key component of the Thousand Islands' future, it is my hope that the event will further cement Great Lake Swimmers relationship with the region and in so doing, help build a greater appreciation for it around the world.
Start the summer in style and come celebrate with us on the afternoon of June 6th in Brockville.
Sites worth a look:
http://www.greatlakeswimmers.com/  (you'll see the remaining dates of their European tour and can hear their music.)
http://www.youtube.com/watch?v=5Kr6L22w7H8 (check out how many people have viewed this video and how they rate it.)

http://www.bbc.co.uk/music/reviews/2p9x (BBC review.)
http://www.cbc.ca/arts/music/story/2009/04/29/f-great-lake-swimmers-lost-channels.html (extensive interview recently posted on the front page of CBC's site.)
http://www.theglobeandmail.com/servlet/story/LAC.20090331.ACDMINIS31-2/TPStory/Entertainment (Check out who is giving reviews - New Yorker, BBC, Globe and Mail, NPR, etc.)
by Ian Coristine, Ian@thousandislandsbooks.com