Written by
Susan W. Smith
posted on June 13, 2009 00:16
On June 6th subscriber number 3,000 joined TI Life! 
What is TI Life?  It is an on-line magazine created in 2006 by the late Paul Malo, professor of architecture at Syracuse University and author of a several books on the history of the Thousand Islands region in the upper St. Lawrence River.   The site has two principal components; an extensive overview of the region and a periodical magazine that focuses on the best within the region.
We are a totally volunteer team.  I took over as editor in September 2008 and in December we launched a new site, with all former articles (over 100) re-posted in the new format.  We now have more than 30 new contributors.  We share our expertise through articles on history, photography, artwork and ideas. 
As always we thank our writers and our proofreader for their efforts toward TI Life's mission of increasing knowledge of, and building pride in, the Thousand Islands.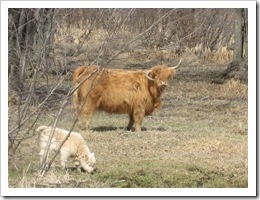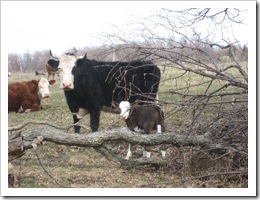 These photographs, taken by Ken Deedy on Grindstone Island, do not depict the typical island wildlife.  The shaggy cattle are on the farm owned by Johnny Muckley and her husband Gary King on the Cross Island Road on Grindstone Island.  The black and white cattle are on Grindstone's Mid River farm and are owned by members of the Slate family. Ken Deedy, Grindstone Island, took this photo on 04/17/09.
This Month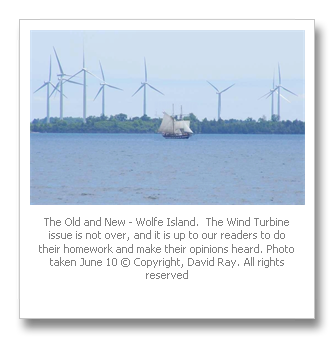 Ask Phil Chadwick, aka "Phil the Forecaster" about the summer weather: Thousand Islands Weather
James Rappaport tells of spring in: Crooked Creek, May Morning.
Thousand Islands military history come from Michael Whittaker's 1760, Battle of the Thousand Islands.
The efforts of several people brings us Exhibit in the Making - Alson Skinner Clark. 
And when you find out that our Thousand Islands friend, Dudley Danielson, is Saying Goodbye to the River you get a deserved tribute by Ian Coristine.
There's an article by Kim Lunman about our favorite Thousand Islands music... Great Lakes Swimmers in Navigating Lost Channels 
Mike Folsom, taking a rest from contributing a regular article, has compiled a description of the upcoming celebrations for the St. Lawrence Seaway – see our EVENTS section.
Kristen Pinkney's May Dewey's Diary will be back in September.
New contributors

 

The Miner Family

Robert Miner writes: Balboa - a Century of History

Robert S. Miner is a Senior Quality Engineer for John Deere Electronic Solutions located in Fargo, ND. It was during his 18-consecutive summers on the River that he developed his increasing love of the outdoors. A former chemistry teacher, he is an avid photographer who has won several awards for his wildlife pictures in Yankton, South Dakota.

Robert E. Miner wanted to be an ornithologist. A decorated WW II veteran, he was one of Tom Brokaw's "The Greatest Generation". He flew over Iwo Jima as "Old Glory" was being raised. He had a successful career as a teacher, principal, and later became the Executive Director of the Ohio Education Association. He developed a love of the outdoors, at an early age, as an Eagle Scout in New York. Later in life he became a talented artist with several thousand paintings and sketches in his portfolio."

"Robert S." provided the sequel to Paul Malo's 2007 article about the Balboa, the Original River Houseboat, Balboa.

 

 

William M. Worden

William Worden writes: "Niagara to the Sea"

William is retired after thirty years as the director of the City of Detroit's historic-designation program. He is a life-long maritime historian whose first article on ships appeared in 1957 and whose work has been published in numerous US journals, and abroad. He is currently serving a second term as a member of the Board of Directors of the Steamship Historical Society of America. We met William when he asked if we could identify some photographs.  I asked if he would write an article about the steamships that his Steamship Historical Society of America works so hard to preserve.  His answer was "Yes" and we sincerely thank him.

Captain Brian Paul Johnson

Captain Brian Johnson writes: The Wolfe Islander is Missing. 

Captain Johnson is one of five captains of the Wolfe Island ferry, the Wolfe Islander III. He has been with the Ontario Ministry of Transportation for 28 years, recently celebrating his 20th year as a Captain.

His marine career began at 14, on fishing charters from Wolfe Island – he baited hooks for his father, Jack, aboard their Lyman cruiser, the Jamie Lyn. He joined the Rockport Boat Line in the early 1970's and later moved to the growing-fleet of the Gananoque Boat Line. He was fortunate to learn of the many-and-intricate channels of the Thousand Islands by being under the tutelage of legendary "River Rats", Art Pullaw, Bob Beckstead, and Leland Earle.

He is currently completing his first book: Ferry Tales from Wolfe Island. And, watch for a Christmas in July article next month.
Watch for July:
TI life will take a rest next month. We will publish, but it will be a "Lite" version as many readers are on boats, in tents, or at cottages, without high-speed Internet.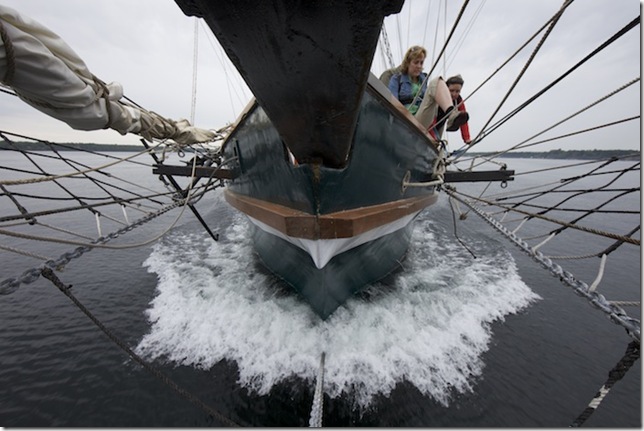 TI Life team member Kim Lunman, and Hayley Coristine cautiously "scramble out on the Man Catcher" on board the Brigantine Fair Jeanne.