The Thousand Islands Association (TIA) will be holding their annual general meeting on July 25 at the Thousand Islands Playhouse in Gananoque with the traditional big breakfast and guest speakers. This year marks their 75th anniversary and they are encouraging any one with boating interests to attend and to ask about a yearly membership.
Celebrating the Thousand Islands Association TIA's 75th! Or is it 89th?
Early accounts claim that the first organizational efforts of the Thousand Islands Summer Resident's Association began in 1920. However, newspaper accounts do not begin recording the group's activity until fourteen years later in 1934. Motivated by a seeming disregard for seasonal property owner's rights, the sentiment at many an island gathering was that "we should get together and form an association".
Featured in the Gananoque Reporter, "Summer Visitors Organize" was the first headline that ran in August of 1934. The article actually recounts the group banding together at I.W. Bennett & Sons' store in conjunction with the Rotary Club to "...form some sort of protective association which would cooperate with township officials in policing the islands during the winter when the owners were absent." The group set up an acting executive body, sent out 200 invitations, and held their first official meeting at the Gananoque Town Hall.
Early initiatives included winter policing incentives, access to fire protection for cottage owners, discussions with provincial government relative to reduced fees for fishing licenses, and support of the Canoe Club paddlers who were headed to Berlin to compete in the Olympics.
In August 1936, the headline read " Better Marking of Shoals ". Shoals were discussed as being a safety hazard and a committee was formed to work with the township to come up with a plan to reduce boater's risk. Additionally, the practice of rewarding persons for information leading to the arrest of trespassers was voted on and passed.
By the fifth annual meeting, members filled the town hall, winter robberies were on the decline, the Canadian Federal Government  had written and promised action on granting permission for shoal-marking, and there was $191.30 in the bank account.
As members continue to pay their taxes the struggle to secure services drags on. Boat wash and discharge of sewage into the river recurred as themes throughout the 60s.. So too was the ongoing saga of the lack of public washrooms at the Bay Street Dock, with TISRA finally donating $1500 towards the $7000 expense along with $300 annually for upkeep.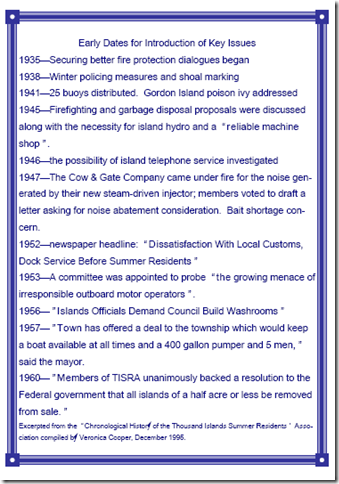 A representative from the Eastern Region of Parks Canada made a brave appearance at the 1975 AGM to discuss the proposed expansion of the St. Lawrence Islands National Parks. Guest speaker James Christakos was overwhelmed with questions, having to depart before all questioners were satisfied. They later would learn "the main proposal in the expansion plan would involve a major acquisition program in the Navy/Lake Fleet, Rift Narrows, Grenadier and Admiralty Islands groups; as well, there is mention of mainland at Landon Bay and Mallorytown Landing. " According to the plan, "the presence of privately owned cottages destroys the desirable natural environmental character of the area. "
It wasn't long before an advisory committee was set up to address the public outcry, and work on a plan that would prove more acceptable to concerned parties. In the final analysis, TIA's involvement, among others, helped establish a much reduced plan for expansion.
(Editor's Note: Several TIA members were founders of the Thousand Islands Area Residents Association TIARA, which was an advocacy organization established to quell Parks Canada expansion.)
In the 1970s the Canadian and US Coast Guards required TIA to purchase and anchor new shoal markers (cylinders) that are now used throughout North America.  The cost to make the change from orange canisters to the new markers was great, so the TIA board solicited help. Save the River (STR), a US registered environmental organization in Clayton became a TIA partner. Through a fund raising program that involved donors from both sides of the River, more than 100 shoal makers were placed from Deer Island to Clayton and from Howe Island east to Brockville.  Both organizations continue to actively support this program and now provide funding for 100 markers in US waters and oversees the placement of 200 in Canadian waters.
In more recent years, TIA established a fire pump program  installing 47 pumps on island properties from west end of Wolfe Island to Brockville, both sides of river.  As well TIA has outfitted fire and rescue personnel, marinas and the Thousand Islands Playhouse with defibrillators. A High School Bursary Program has been established to honor valued members by encouraging high school students to pursue a degree in environmental science.
For more than ten years the directors and volunteers have provided clean-up along a stretch of the Parkway, and have partnered with a variety of organizations relating to health, welfare and safety along the river. After conducting two winter planning sessions, the TIA board of directors set some ambitious goals to increase membership during this, the anniversary year.  TIA is encouraged from the response received from current members.  There is a newly formatted newsletter and a revamped website, all reinforcing a great sense of community that draws everyone to the river.
So whether TIA is 75 or 89 years old – we want to thank all those who so generously support this organization.  Whether an islander or mainlander, boater, sailor, or paddler, we appreciate the broad support.
By Patricia Tague, President, Thousand Islands Association
Originally from Yardley, Pennsylvania, Patricia Tague grew up spending summers on Moneysunk  Island and later on Huckleberry Island in the Canadian Sector near Gananoque.  She and her husband Rick Tague (See Peacock Yacht House) now reside year-round in Westminster Park, on Wellesley Island.  Patricia by profession is a commercial designer.  Her work can be seen in many institutions and buildings in the North Country.  However Patricia is also involved in a number of not-for profit endeavors as the current president of TIA as well as the Alexandria Township Historical Society.  She is a past president of the Samaritan Foundation in Watertown. and past chairman of the Samaritan Medical Center, past president of Save the River and Westminster Park Chapel and a proud member of the Thousand Islands Safe Boating Association. 

Editor's Note:  We have a saying in the Thousand Islands – "there is a rock out there with your name on it!"  and we all owe a debt of gratitude to this organization for their outstanding volunteer work to ensure there are shoal markers on those rocks!  Over the years it has been TIA that has publicized many community concerns and at the same time worked to fix them.  There are far too many people over the past 75 years +, to thank individually, but suffice to say, former TIA secretary Cecil Farquhar ('50-'80s) and the current one, Graham Armstrong (since 1980) have done yeoman duty. And they are joined by the long serving shoal marking chairmen, Bill Hale in the '60-'80s and David Orr who took over in the 1990s. Thanks to Patricia for her current leadership and to all current board members from a grateful boater!