Hello, 
Thank you for the great content you give us on Thousand Islands Life. The photos make you feel like you are there even when you can't be. I was pleasantly surprised to see the Howard Pyle print. The tribute to Paul Malo was touching. I for one enjoyed his books and his posts to the yahoo group. He was always there to answer or discuss any thing that was on your mind, or even recommend one of his many favorite places to dine. He will be missed by many!
Growing up in the early 60's, I eagerly anticipated our annual 3 week vacation from Delaware to Bobs Lake in Maberly, Ontario. I could instantly notice the beauty of the changing landscape while crossing over the 1000 Island Bridges. Little did I know then, that in my future I would be spending about 5 summers cottaging and boating in the Islands, yet alone becoming a Canadian Citizen.
Back in 1999 while I was living in Pennsylvania, I met my future husband from Whitby, Ontario in an online NASCAR chatroom. We both had a love of the water and the 1000 Islands. In fact when I would drive up to spend some time with him, we would meet at a friend's cottage in Ivy Lea and leave my car there to shorten my trip to Whitby. We married in 2000 and for the following five summers we would spend numerous weekends at the cottage. For the first two summers we didn't have a boat, and then when we finally bought a boat, we knew what to name her, "1000 Island Dressing" (photo attached). In fact this photo was even featured in a letter to the editor in Lakeland boating (Nov/Dec 2004).
The only downfall for us was that the two and a half hour drive back to Whitby at the end of the weekend, always turned into a four hour plus drive with the traffic jams on the 401, so we decided to buy a bigger boat and keep her closer to home on Lake Simcoe. I cried when we sold 1000 Island Dressing, and still miss all the little channels and places we could explore, and especially how magical the scenery made you feel. It's just not the same on Lake Simcoe, something's missing and it's just not the memories. Every holiday on our way to visit my family in Pennsylvania, we make a point to do an overnight stay in Gananoque, but we still miss our 1000 Island Dressing.
The one thing I would like to see more of is some awareness towards the Cormorants. I did notice it was mentioned about them being an invasive species, and it really scares me what could happen to the scenery if something is not done about them. There are whole islands devastated by them near the Toronto outer harbor and I am seeing the devastation happening at Lake Simcoe, not to mention the absence of Loons on the lake. I should say action is needed, more so than awareness if these birds are left to overpopulate, or the beauty will not be there for future generations to enjoy and make memories like we have.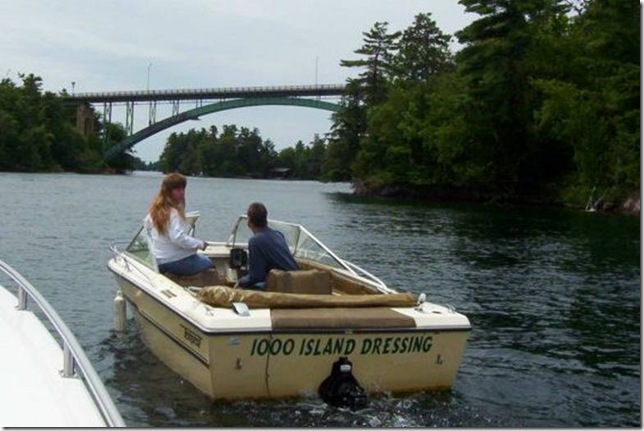 Photo: Rebecca Crosgrey
Rebecca, now this is really "more than a salad dressing", from the Editor!
___________________________________________
Good Morning,
Just browsing through your fantastic website! I'm a lifelong resident of Syracuse, with a love for the 1000 islands that only a river rat can understand...
I thought I'd share a couple of pictures of my daughter, Sarah Ditterline, 10 years old. We were fishing just outside of the channel near Chippewa Point on a gorgeous, calm, sunny day on Labor Day weekend. My daughter and God-daughter were catching so many smallmouth and channel cats that I didn't even have time to put a worm on my own rod! We fished for 2 hours straight, and I gave up trying to get my own pole in the water after the first half-hour!
Times like these are unforgettable memories. I'll never forget that day, and I hope they won't either.
By the way, my daughter is following in my footsteps... She'd rather go camping on Cedar Island than go anywhere else in the world...
Love your website. Makes cloudy, rainy, cold days in Syracuse seem to disappear.
Thank You, Tim Ditterline, Sales Manager, Camping World RV Sales, Syracuse, NY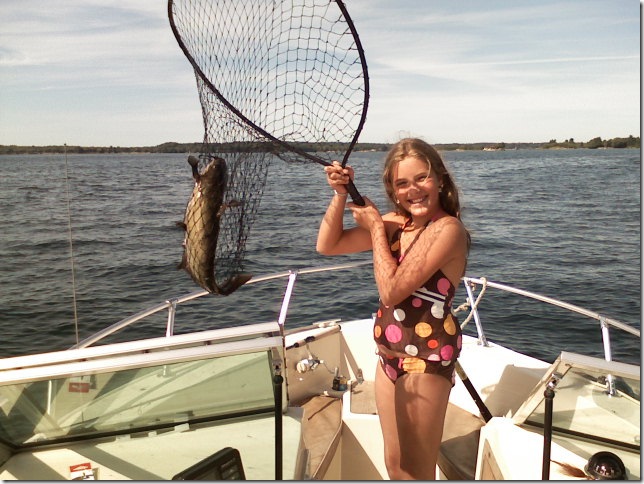 Photo: Tim Ditterline
Sarah Ditterline, age 10, with her catch at Chippewa Point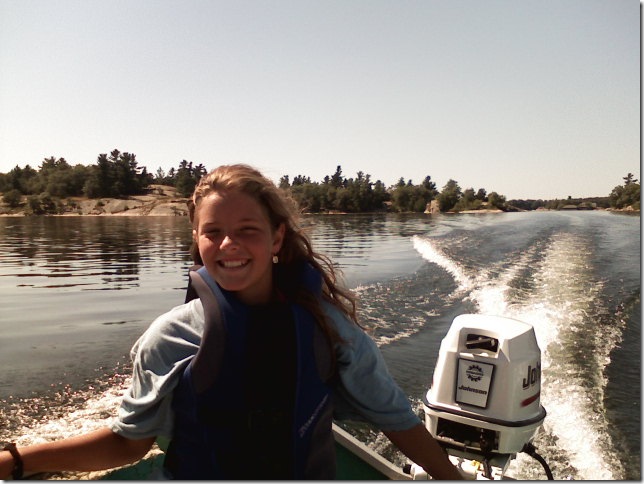 style="font-size: smaller;">Photo: Tim Ditterline
Sarah Ditterline, like her father, loves the Thousand Islands
___________________________________________
Hi Susan,
What a great, new refreshing publication on the 1000 Islands
Nice work. Congratulations!
Peter Dunn, Lily Bay
__________________________________________
Thank you for the latest update to Thousand Islands Life!
We are so glad that you have kept us on your mailing list. We enjoy the articles and photographs immensely.
Congratulations to Susan W. Smith on being named "Editor." Keep up the good work!
Darryl and Leila Hayward, Bellevue, NE
_________________________________________
Hi Susan,
Here is a picture of a sunset we took when we still had the cottage on the "back side" (Canadian side) of Murray. No insult intended, though I can see where it might offend some sensibilities. In the US side of the river, the side of the island facing NY was traditionally called the "front side" and our side, less populated, was called the "back side." I personally liked that side better not only because of the very low population density, but also because we had this great view of the frequently gorgeous sunsets. The point at the right was a favorite subject of my mother's sister, Marie, who painted a number of pictures of it during her lifetime. In the mornings, the multi-colored rocks were fascinating viewing. And in a picture like this one, the silhouette of the point and the various single pines that took root near the waterline over the years, made for additional visual interest.
Cheers, Dave Scott, Columbus, Ohio
Sunset from Murray Island
Photo: Dave Scott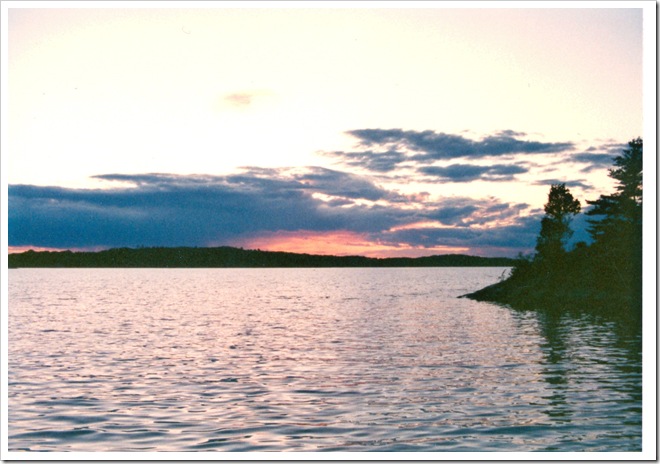 Thanks to everyone.
Susan W. Smith