What's one of the very first things you think of after purchasing a new boat? Perhaps you think to yourself, what will I name her?
For years boat owners have given their vessels a name to be known by and for some it was easy to decide while others find it a bit more difficult.
Donny Pierce of Watertown, New York is one of those who had no trouble in thinking up a catchy name for his boat. "It's always good to be out on the river every single day," explained Pierce who has grown up along the St. Lawrence. "It's a great life up here." He would go on to decide there was no better name for his boat than "It's All Good," a simple, yet straight to the point name and very fitting for a guy who considers his life to be a good one.
While many like Donny find it easy, some are not so fortunate.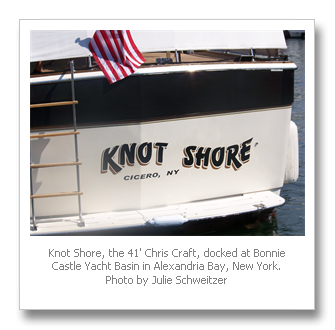 Fred and Julie Schweitzer of Cicero, New York definitely didn't find the task to be an easy one. After purchasing their 1981 Chris Craft just last year, there was some debate over what their new boat would be called. Already named "Smooth Move" by the previous owner, Fred was urging for the selection of "Diversion", the name of his boat back in the 80's. Julie on the other hand felt this boat wasn't the same as that one and deserved a different name. It took numerous family discussions which found everyone responding "I'm not sure" as to what to name it and that would be where the new name "Knot Shore" would be born. In addition, the family jet boat would then be name "For Shore," a compliment to the larger boat.
According to BoatUS dating back to 1991, there are a number of boat names that are much more common than others and break the top ten most popular names year after year. From 1991 until 2001 the name "Serenity" made the top ten lists more than any other.
Now-a-days the thinking behind boat names has taken a different approach as people play off of movie titles, drinking or a care free way of life. On the list since 2002 until now is "Aquaholic," a play on words representing people's need for adult beverages while relaxing on the water. Another common name is based on a phrase that was made popular in an animated children's movie, The Lion King, which made its big screen debut in 1994. The term "Hakuna Matata" has made the top ten lists in 1995, 2004 and 2006.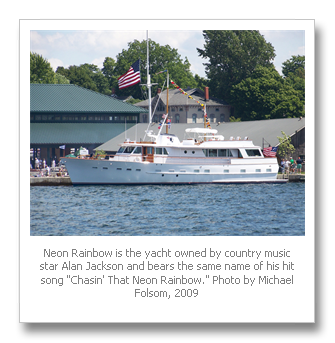 Top Ten Boat Names For 2008 (according to BoatUS)
Seas The Day
Summer Daze
Second Chance
Aquaholic
Wind Seeker
Dream Weaver'
Black Pearl
Hydrotherapy
The Salt Shaker
Sea Quest
Some names that are popular have different meanings to different people, such as "Second Chance."
Robert Clyde and Eve Despard of Bonita Springs, Florida have had a total of five boats bearing that name. The couple, which is remarried, made the boat purchases together and both agreed on the name. "Yes, our second chance at life," replied Despard while explaining how their marriage was a new beginning.
And though those names are all very catchy or make sense, there are many other names that are just unique.
The Thousand Islands region is known for its wooden boats and two that are common sights would be "Pardon Me Too" and "Zipper." Another common sight in the Islands would be the tour boats cruising up and down the channel showing off the area to tourists. The "Island Duchess" (Uncle Sam Boat Tours) and "Thousand Islander" (Gananoque Boat Line) can be seen daily.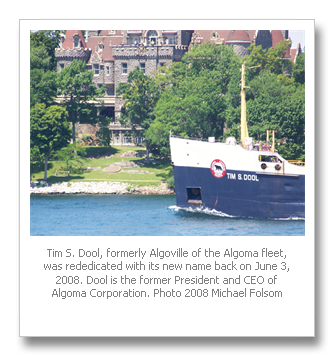 Some vessels that are common to the Seaway are even named after people. In June of 2008, the Algoma Corporation presented their former President and C.E.O. Tim Dool with its highest honor, a ship bearing his name. The former Algoville would undergo a complete paint job which would include covering the old name and placing on the new one. At a formal rededication ceremony the "Tim S. Dool" was introduced as Dool himself and his family looked on.
One other vessel that recently graced the region with its presence was a luxury yacht owned by country music star Alan Jackson. The 1966 72' Burger Boat yacht and one of Jackson's hit songs share a name. "Chasin' That Neon Rainbow" reached the number two spot on the Billboard Top 40 following its release back in 1990 and the song had strong influence on Jackson's name for his yacht, "Neon Rainbow."
Each summer hundreds of boats float through the clear water of the St. Lawrence River. Some have unique names and some are quite common. No matter what the name is on the back of the boat, it took some thinking of before the lettering was put on.
By Michael Folsom, The Ship Watcher
Michael Folsom  is a regular contributor to TI Life.  He the the Owner/Blog Writer  of the The Ship Watcher.  His signature states:  "Proud to be a Contributing Writer for Thousand Islands Sun & ThousandIslandsLife.com."  You can visit him on the web at: at http://theshipwatcher.blogspot.com.  This is your source for ship watching info on the St. Lawrence.  You can also follow the ships and Michael at at www.twitter.com/theshipwatcher. 

Editor's Note:  We thank Michael once again for providing interesting material for our readers.  This month we hope you will tell us how you named your boat – use the comment screen.  If you have a photo, send it along too.