Thousand Islands Life is honored to present Part VII of Kristen Pinkney's research Thousand Islands Summers - Manhattan Winters: May Dewey's Diary, July 1888 to August 1889.  Thousand Islands Life published Parts I – VI from December 2008 through May 2009.  We are reposting the introduction to the diary below, and recommend you revisit the Contributors in December to learn how the Diary was discovered and researched.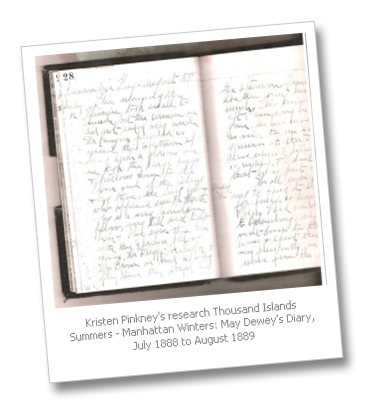 Kris' work goes beyond the text, because she provides hundreds of footnotes, for readers to learn more about the life and times in the Thousand Islands.  Simply move the cursor over the highlighted text and the footnote will appear.  Click "close" and the footnote will disappear.
Introduction
Our story begins with Edward Wallace Dewey and Frances J. Pitcher. Edward was the son of Ethel Wetmore Dewey and Sarah Ann Miller of Turin, New York.  Frances was the daughter of Edwin Pitcher and Harriet E. White of Martinsburg. Both families were farmers in these small Lewis County, New York, communities.
Edward started his career in a local store, probably owned by one of his relatives. His grandfather, Chester Dewey, had been a clothier in Turin, New York. It is likely that Edward's choice of career was influenced by his family background. His friend, Charles B. King, also a Lewis County native, persuaded Edward to move to Chicago and join the firm of Browning, King & Co. William C. Browning, Henry W. King and Charles B. King had transformed the company into a wholesale and retail clothing empire. The success of Browning, King & Co. was in part due to the exclusive manufacturing of Civil War uniforms for the Union Army. The exact time of Edward moving to Chicago is unclear, but probably around 1864-1865.
Frances and Edward married July 18, 1865 in Martinsburg and they made their home in Chicago. Social columns in various newspapers relate that during 1865-1886, they spent time in Chicago and New York and had occasional trips to Lewis County to visit relatives.
Both their daughters, Harriet Ella Dewey (b. September 24, 1868) and Florence May Dewey (b. December 5, 1869) were born in Chicago. May and Ella were always known by their middle names. From the obituary of Frances Dewey in the Lowville Journal Republican, it stated that the Deweys moved permanently to New York in 1886.
A letter reprinted in the TI Sun on July 21, 1977 by Henry R. Heath of Nobby Island, written January 17, 1903, discloses to us how the Deweys came to own Friendly Island and who else they influenced to purchase summer property. Mr. Heath is writing about the death of his friend, Edward W. Dewey, which occurred on January 15, 1903.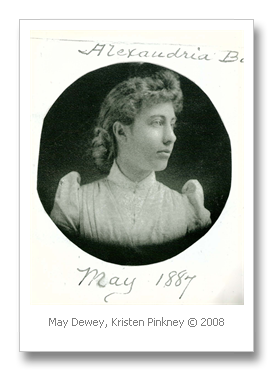 …"Mr. & Mrs. Edward Dewey and their two daughters, Ella and May, visited our family at Nobby Island during the summer of 1885 and they were all so delighted with the island life that after their return to the city Mr. Dewey requested me to secure Friendly Island for their summer home. Our regard for the good people was so great that we used every possible means to purchase this prominent for them, and after much negotiation, succeeded, thus locating one of the best families as our nearest neighbors on the St. Lawrence River…"
"They in turn proved valuable in building up the resort. Mr. Dewey at once commenced making improvements upon a generous scale never before attempted on the St. Lawrence, and the good taste of himself and wife soon converted a rough island into a perfect charm of a summer home. The effect was contagious. Soon after it was finished George M. Pullman visited the Island , after an absence of a dozen or more years, and after his Island had almost gone to decay. A visit to Dewey Isle was such a surprise to him that he at once decided to put his place in order and Castle Rest is the result."
"Mr. Wm. C. Browning came soon after to visit his partner, Mr. Dewey, and the result was that he sold his place in New Jersey, the River got one of the prominent families in the land, and Hopewell Hall is the result. Later George C. Boldt decided to cast his lot at the Islands, and probably no one person was more instrumental in bringing that about than Mr. Dewey."
The Deweys first full season in their new home on Friendly Island was in 1887. May's diary opened with the summer season of 1888 and over the summer months, well into the fall, we got a first hand glimpse of life among the Islanders in the Gilded Age.
This, Part VII, takes place in New York City.  The Dewey's resided at the Buckingham Hotel in the winter and this month's entries are filled with social activities and romance.
NOTE:  The diary has been typed, but no corrections have been made to grammar or spelling.
The Buckingham New York City, February, 1889
Friday 1 I spent a good share of the morning down town. This evening I went to the club German. I danced with Mr. Strong and don't like him anymore. He doesn't say very nice things. I had a delightful time all together. Pansy & Ed Delanoy left early for Miss DeWitt and Miss Smith's German at the Medelson. Sidney Hartshorne was with us at supper. We had a very jolly time. I got 8 favors. They were quite pretty. The German was held at Jessie Seeley's1 house. Will Browning offered us tickets for the Athletic Club but I didn't take them.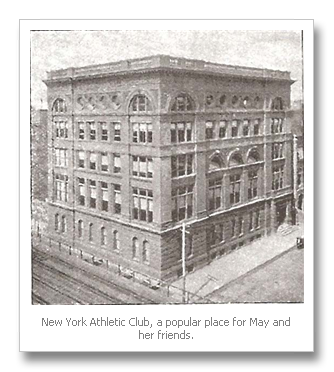 Saturday 2 This morning saw Pansy at sewing school. We had a delightful time and was not long until 4 o'clock. Miss Jeremiah walked down with us and came in to talk a little. This aft Ella and I took the large camera up to Kings Bridge and took several pictures of Mr. Traphagen and Mr. Brooks on horseback also some groups. I hope that they will be a success. Charley Reed went up on the train with us and was very pleasant. This evening Alfred Howard and Mr. Taylor came to dinner also Pansy. We had a very jolly time. We went over to Edith Vail's later it is her day at home. Jessie Smith was there also Walter Bound. We did have a jolly time. We were all very silly but were in the mood to enjoy it. We left about 11 o'clock.
Sunday 3 Pansy went to church with us this am. We saw Walter Clark. We then walked down the Ave after church. I met Mr. Page was glad to see him. He is a very stylish looking fellow.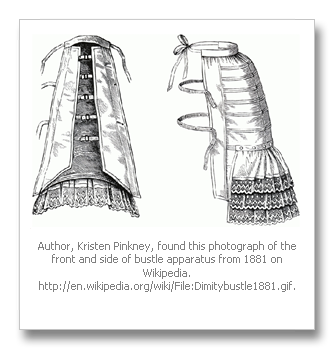 Monday 4 I studied all the morning and the aft Pansy came in but as Miss Barber was here did not stay. This evening Gussie Prentice called and I asked him to go to the last Assembly. He said he would so he is going with us. Ella and I went to the Windsor Assembly this evening but got there early so we went up to see Pansy for about an hour and fortunately for me that we did for I had forgotten my bustle2. The girls roared when they heard it. I heard that Mr. Page was not going so I expected to have a rather stupid time, but he was there but Mr. Grey was not. They are two of the nicest fellows I know. I was with Mr. Page a good deal. I met a Mr. Dickinson, a Yale fellow, he is very pleasant indeed. I danced the German with him. Mr. Page asked me but I was engaged. Will McCormack was there and he was very pleasant to me. Arthur Page has been telling us some one said that he would not like us of course. I wanted to know who it was. He finally told me it was Flora. But I guessed Mr. McCormack and what did Arthur Page do but tell him so he came to me and explained never said so and didn't seem to like it very well for Mr. Page to say such a thing. He said he liked me and all the rest. I didn't have any partner for supper but went up with Will McCormack and sat beside Oscar Vail and had a delightful time. I never knew Oscar was so pleasant. He was serious for once and was very nice. I wish I knew Arthur Page better. He is such a queer fellow but a flirt like him you sure can tell. He seemed very much put out that I didn't believe him in many things he said but I told him I always had to have a large margin to anything in way of comprehending that fellows said. We had our very nice talk indeed. My partner for the German was such a nice fellow, Mr. Dickman . I teased Mr. Taylor about Jessie Smith. Every time I look at that fellow I can't help laughing. I am I don't know why I was smiling all the evening. It must have been because I was having such a delightful time. By the bye it was rather funny after Mr. Page had asked me for the German he said he didn't care to dance with any other girl but I had been teasing him about Miss Van Tassel3. I told him I would pick him out a partner he asked who. I said Miss Van Tassel. He said he had much rather dance stag than with her and he wouldn't ask her. He looked over and laughed. I think it was a very good joke for he didn't want her.
Tuesday 5 We went up to see Flora this afternoon and had a long talk. Girls always have to talk over the good times they have had.
Saturday 9 After going to mission school, Flora, Ella and I went to Maillard's for our lunch. We went to Daley's4 to see the "International Match" it is not as good as the majority of their plays. Ella and I went up to Mrs. Oakley's reception but did not enjoy it.
Wednesday 13 Mamma has just given the consent to give a dance. We are to have a domino party. Only the ladies in dominoes, then a cotillion afterwards. We have just sent out our invitations and are looking around favors. We have asked about 86. I have asked Ed Delanoy to lead the German but he can't for he has two other engagements for the same evening. One he has promised the girl to be there in the beginning of the winter. Ella is going to ask Gussie Prentice to lead.
Thursday 14 Ella has just written Gussie to lead. I hope he will. Saw Pansy this afternoon. I see her about every day.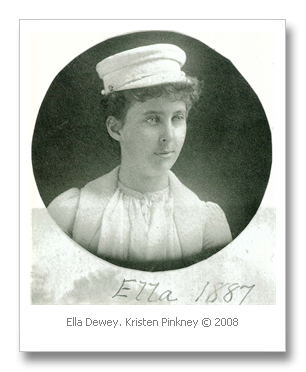 Friday 15 I have been down town all the morning. Miss Barber came this aft. This evening we went to the last of the Germans. It was held at Miss Fantine's on 57th Street. I danced the German with Fletcher Dimick & had a very good time. The Windsor Assemblies have spoiled me for other amusements for I have such a perfect time there.
Saturday 16 This afternoon we went to Edith Vail's reception and had a jolly time. Saw Lancaster Morgan5 again. He looked as handsome as ever. I was with Sidney Hartshorne all the time. I knew nearly everyone and we did want to go back so badly but couldn't as we had an engagement at Marion Brown's for a card party. I won the first prize which was a (illegible) with which I will write no doubt much better. Got home a little after ten o'clock.
Sunday 17 After mission school Pansy went to church with us. We walked down after church and met a number of our friends among these Arthur Page the fellow that I have had such a delightful time with at the Windsor Assemblies. He looks very well on the street. He dresses so well.
Monday 18  I have had a terrible day. I have been in hot water all the afternoon. Friday evening Ed asked if I had anyone to lead I said we had not heard from Gussie so he said he would advise me to ask someone else. So I wrote to Emerson Brooks to see if he would not take it this afternoon. Mr. Prentice called while Flora was here. I had to see him downstairs. He said he would take the German with pleasure so I of course said I was very glad. No sooner had I gotten upstairs than Emerson Brooks came. We were all afraid he would take it. So I thought it best to tell him first how it was so I sat down and told him. He said he hardly thought he could have led it as he was feeling so miserably. He appreciated the awkward position in which I was in and was not a bit offended. He wanted to know if there was anything he could do and if so to let him know. I am glad that someone has taken it.
Tuesday 19 It is our day at home. Flora and Pansy came also Miss Davenport and Miss Close. Pansy staid to dinner. We made favors after dinner as no one but our old music teacher, Mr. Gedney, called.
Thursday 21 This evening we went to the mission rooms as we give an entertainment for the children. There was two banjos and two guitars in the club which played. They played well too and Mr. Wall one of the nicest looking fellows walked home with us also Jerry Boyd. Mr. Wall whistles beautifully. They are coming to our rooms to play for us two weeks from Tuesday. Pansy will be over also.
Friday 22 This am worked on our German favors. This evening Mrs. Butler and Mrs. Talliman were here to dinner. Mrs. Talliman is Charlie Hastings'6 aunt. Mr. Page called this evening. He can't come Thursday evening as he sails for Bermuda Thursday afternoon. I am so sorry for I should like him to be there. He is going to be away about two weeks. He said on account of his cough which is not very bad, but still making an excuse for him to leave. He is going with a party there are six fellows and six girls. He will have a jolly time. I hope I will see him when he returns. I would like to know him real well to see what kind of a fellow he is. He is so hard to understand but it is just that kind of fellow that is interesting. I provoked him this evening by calling him the average society man. He said he was not one and never wanted to be considered one. We are always quarreling but always part all right. None the worse as far as misunderstandings go.
Saturday 23 Ed Delanoy called this afternoon but we were out. We all met at Flora Browning's to sew on our dominoes. There is Flora and Mamie Jenkins7, Pansy, Therese Dimick, Florence Browning, Ella and I that are all going alike in yellow & black dominoes.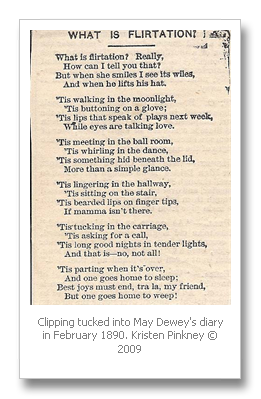 Sunday 24 Took a walk with Pansy & Ella after church this morning. Met lots of friends. Met Mr. Page he is the principal one now for just at the present. I am fearfully and frightfully gone on him. Ella and I had just started for Pansy's this afternoon when we met Ed Delanoy in the office. He had just sent his card so he walked down to Pansy's with us and went up. He wanted to know how the German was going on. He said he could lead now as the Miss Guidet whom he had promised to attend had postponed it but Gussie is to lead so we can't have him. At Pansy's we met Miss Wills, Mr. Pope & another fellow. Ella and I took a short walk after leaving Pansy's.
Monday 25 This day will be a red letter day for me for I have had such a good time, I can't tell it all. This am went and fixed our dominoes but the main thing of the day is the last of the Windsor Assemblies. I am so sorry it is the last. I wish the good times could go forever. Gussie Prentice came to dinner and went up there with us. I wore my white dress. It is lovely for I had a good time in it. Everything seems so flat and tame trying to describe the time. I will simply say what I did for I can always remember the rest. I danced the German with Gussie Prentice. Ella with Arthur Taylor and Pansy with Alfred Howard. I danced several times with Mr. Page before the German commenced. We had a few figures before supper then went up to supper. Pansy, Mr. Howard, Ella, Arthur Taylor, Miss Taylor, Arthur Page, Gussie Prentice and I were all seated at one table. Mr. Page sat opposite me. We didn't say much. I am sure I don't know why he looked at me so but he did. The Mandolin Quartet played through supper and such lovely music we couldn't talk.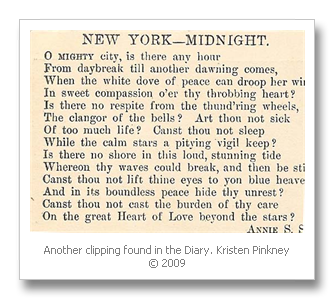 After supper while I was walking with Mr. Page he told me that a fellow said we must be "hard up for fellows to ask him" but he wouldn't tell me who it was. He said the fellow meant it as a compliment. But I fail to see it and I was very much put out but not at Mr. Page. I told him he had made me feel very uncomfortable and especially Thursday night as the fellow will be there. Mr. Page felt annoyed to see that I didn't like it but he wouldn't tell me, so during the German he gave me the prettiest favor and said he hoped that that would be a peace offering for he didn't want me to feel bad and made me promise I would forget all about it. Which I will endeavor to do. He spoke of it several times however later. Next to my last dance with him he said he was so sorry he couldn't come to our affair Thursday but he hoped I would not forget him. He wants me to think of him at twelve o'clock and imagine we were dancing together. I said probibly he would be in dreamland or talking to some girl on the deck of the steamer but he promised to think of me and I also of him. He had to have my hand on it. Also I wonder if I shall forget and if he will remember or not even cast a thought on me. Well it has been one of the loveliest times I ever had thanks to these fellows – Mr. Page, Mr. Grey and Mr. Dickinson. I had my last dance and the last dance of the evening with Mr. Page. It was the Kentucky Jubilee in which I had to reissue my promise. I got in at three o'clock.
Tuesday 26 This morning saw Pansy. This evening went to a Silhouette Party at Miss Baldwin's where they take shadow pictures of your profile then bid them off for 50 cents because at auction it is good fun. I bid on Will Browning's but he wouldn't let me have it. Also Ed Delanoy's which I kept. Sidney Hartshorne got mine so I told Will Browning if he would get mine for me I would give him his so he did. Mr. Hartshorne tried his best to get mine back but I wouldn't let him have it. We got home about 12:30.
Wednesday 27 Gussie Prentice came today to arrange about seven figures he will have some very pretty ones. I know it will be a success. Flora came in while he was here I am nearly dead running around for favors but they are very pretty ones. I hope that all of them will get one also all have a good time.
Thursday 28 I have worked up to the last minute. Gussie came before we were dressed. He sent Ella and I some lovely flowers. I had a large bunch of pink roses. Fletcher and Jared Dimick sent us a lovely basket of flowers. It is lovely of them. Well they all they seemed to have a lovely time. It was so funny to watch the fellows they were so shy of the girls for they couldn't talk while in mask and domino. We kept on our dominoes until 11 o'clock when we took partners for the German. The minute I unmasked all the fellows came up to shake hands so I had to stay down a few moments. I took Barclay McCarty8 for my partner the funny part was that when I had my mask still on he came right up to me and said "I am so pleased Miss Dewey to find I am the favored one this evening." I am sure I don't know how he knew me. I never knew him so since we carried on a desperate flirtation he said all manner of things. We flirted outrageously. Pansy spoke to me afterwards about it. Also, Flora, Ed Delanoy while in at supper overheard one of his remarks and laughed. Well, I don't blame him. It was so silly. I thought of Mr. Page at 12:15 which was near enough. I wonder if he thought of me probibly not. I was having too good a time to stop and think of him much but Barclay McCarty said you have been thinking of something or someone for the last five minutes. I wonder how he knew for I still talked to him. We did not close till 3 o'clock which was very late. They all said they never had such a lovely time and I think they did enjoy it for we had six "stags" and favors for them. I got 19 favors which others may take home. But one can't force to take them. The favors were for the men, whips with date on, pipes, sachets, candy faces, frogs, paper cutters and for the girls, hoops and bells with date on, pretty candle sets, sachets, candy baskets, frogs, letter openers. I got in bed about 4 o'clock just then about 4 fellows went in the room next to mine and played poker until 6 o'clock next morning. Pansy sent us some lovely violets.
Researched and compiled by Kristen Pinkney   Kristenpinkney@thousandislandslife.com
© Copyright Kristen Pinkney 2008, All Rights Reserved
---
1
Jessie Seeley, daughter of Mr. & Mrs. Nathan Seeley, 25 East 39th Street, married Wilson Marshall on June 1, 1893. She was the granddaughter of the Great Showman, Phineas T. Barnum, who left her a sizeable fortune. www.ancestry.com
2
Bustle, part of women's attire in fashion then to maintain fullness and support in back of a woman's dress.
3
Ada Van Tassel, daughter of E.M. Van Tassel, married Reno R. Billington on June 29, 1893 New York Times archive.
5
Lancaster Morgan, married Letitia Goodwin of Utica on November 2, 1892, a member of the firm of James L. Morgan & Co. of NYC.  He died July 22, 1946.  www.ancestry.com
6
Charles H. Hastings, son of Charles C. Hastings, Clothier, residence at 51 West 47th Street. www.ancestry.com
7
Mary D. Jenkins, Flora's sister, about 4 years older than Flora and May Dewey. www.ancestry.com
8
   Barclay E.V. McCarty, lawyer at 36 Wall Street, residence at 29 West 38th Street, married May Widdleton on June 2, 1898. www.ancestry.com.