When my husband proposed to me back in 1974, he asked if I would consider getting married on the island. At that point in our relationship, I hadn't even been to the island. I had no idea how wonderful it was when I said "no". With a large family in Illinois and 884 miles between my hometown and Grenell, the distance alone made the suggestion impractical.
When he mentioned the idea to his parents, they seemed alarmed. I recall hearing the word impossible. I assured them I thought it better to get married in my hometown. My future in-laws didn't hide their relief.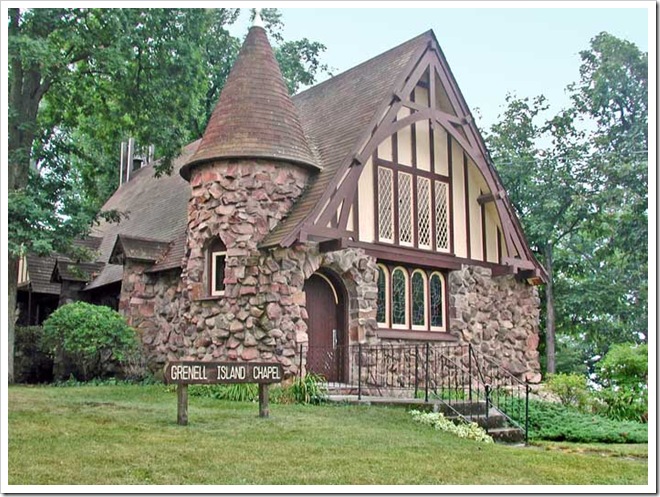 Built in 1898, the Grenell Island Chapel looks like something out of a fairy tale. Photo by Shelly Lee, originally published in TI LIfe's section of Communities in 2006, (Grenell Island).
Now an islander myself, I know the idea isn't impossible. This year there have been four weddings on Grenell Island.
Built in 1898, the Grenell Island Chapel looks like something out of a fairy tale. If I had had a chance to see it and experience island life before I made my decision, I might have changed my mind.
I also now understand my in-laws concerns. Planning a wedding anywhere is a challenge, but having it on the island adds yet another dimension. How will we get everyone there? Will Grandma Ruthie be able to navigate the uneven terrain? Will Uncle Will be able to get in and out of a boat? Will a caterer come to the island? And the most daunting of all for those who decide to have the reception on the island: Will the septic system handle such an onslaught of guests?
I have watched four families plan wonderful weddings on the island this year. The first step for an island wedding starts with Dorothy Topping, who currently handles scheduling for the chapel. Dorothy knows all about weddings on Grenell. Both of her children were married in the Grenell Island Chapel.
The chapel comfortably holds 90 or so. Larger weddings sometimes have guests sit outside and use the chapel as a backdrop. If the date is open, the bridal couple needs two important things. First, someone to officiate. Second, access to the island.
There are no public docks on Grenell. The public dock went away when the Grenell Island Store closed decades ago. So in order to get married on Grenell you have to know someone on Grenell who will allow you to use their dock.
Because of this limiting factor, most Grenell Island weddings are of Grenell Island families. Most, but not all. Last year the Miss Clayton Tour Boat brought a boat load of people in for a wedding. I heard the couple was from Murray Island, right across from us. This year ,a few small boats arrived on Saturday afternoon. The twenty or so wedding guests "oohed" and "ahhed" over the cottages as they walked down the sidewalk from a private dock on the SW corner of the island to the chapel.
Some couples get married on the island and then are whisked away to a reception on the mainland or on a tour boat. Others have their reception here on Grenell, with festivities lingering late into the night. Island families have informed their wedding guests that what happens on Grenell, stays on Grenell—and will be talked about for the next 50 years.
Whether formal or informal, on-island reception or off-island reception, island weddings have a special aura around them. Imbued with soft North Country light and infused with intoxicating breezes off the St. Lawrence, a Grenell Island wedding is a magical beginning for a new life together.
I'll admit it. Especially after the beautiful weddings I've experienced on the island this year, I've sometimes regretted the practical decision I made back in 1974 for a more traditional wedding in my hometown in Illinois. I've daydreamed what kind of fairy tale wedding we might have had. In the end, I figure that even though I didn't say "I do" here on Grenell I'm certainly enjoying the "Happily Ever After" here.
Note:  The Clough/Falterman wedding held in 2003, is our thumbprint photograph intoducing Island Nuptials.
By Lynn E. McElfresh, Grenell Island
This is Lynn's second article for Thousand Islands Life.  She is the author of children stories and is currently working on several projects as a ghost writer.  Lynn explains that she came to Grenell Island for the first time to meet her fiancé's family in 1975. Lynn became part of the family and the island became part of her life. Lynn and her husband, Gary, spend their summers in the Thousand Islands and their winters in Dunedin, Florida.