I stepped out onto the grass on a dull gray July morning. Before me, I could see the great St. Lawrence River. The waves were very large and they made me a bit nervous.
"There is nothing to worry about," I told myself. I had done this several times before. My dad and I always went sailing when we visited Grandma in Upstate New York. I could see Dad assembling the mast at the waterfront. I slowly walked down toward the water, strapping my life jacket on as I went. From Dad's responding glance, I must have looked more nervous than I felt.
Dad asked, "Are you ready?"
"Sure," I answered. "It looks like a windy day; just look at those waves out there."
"Those big waves won't affect us in the bay," my dad reassured me. Dad and I usually stayed within the protection of French Creek Bay on a day like this. We did not venture out into the main river channel in our small Sunfish very often.
"That's good," I said. We set sail into the bay shortly after this conversation. As we sailed along the bay, we got closer and closer to the river channel.
"OK," Dad said. "Let's turn around and head back."
As I jammed left on the tiller and ducked so that the boom would not hit me as we turned, the sail flapped in the strong wind and did nothing. "What's wrong?" I said, with a little bit of worry in my voice. "Why can't we turn?"
"This has never happened to me before," my dad said. "Let's try again."
I acknowledged him with a nod and once again, I tried to turn and nothing happened. "Why won't it work?" I asked.
"The wind must be too strong," he responded.
We tried to turn a few more times but none of the attempts was successful. By then, we were out in the main river channel. The wind had increased tremendously, so much that we had to shout to communicate. The large waves battered our small boat, frightening me deeply.
After we went a little farther, Dad got an idea. "We can sail over to Grindstone Island and turn around in Aunt Jane's Bay. The wind won't be as strong there, so we should be able to turn. We are just going to have to hold on for the ride of our lives."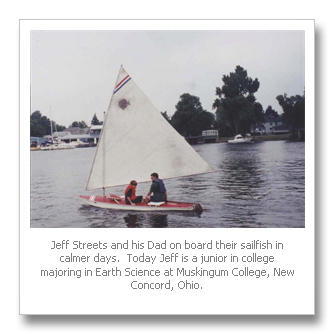 I could imagine Grindstone Island was probably two miles away from our location. We flew through the water faster than we ever had before. Cold water splashed on my face as we moved closer to the bay. As we got closer, Dad told me to get ready. When we entered the bay, the sail stopped flapping. "OK, just like back in French Creek," Dad yelled. Again, I jammed left on the tiller and ducked so the boom would not hit me as we turned around. As I raised my head, I saw that we were finally facing home.
"That did it," Dad shouted. "Now we just have to make it back to French Creek Bay without flipping." This would be an easy task if the wind was calmer, but today the wind was definitely not calm. We sailed through the water in the opposite direction. For the first time since we set sail, I felt sure we would make it home.
My confidence faded as we sailed past Calumet Island and I felt a sudden jerk as I looked down on the water and realized that the boat was tilting. The next thing I knew I was in the cold water.
I heard Dad scream, "Get away from the sail!" I remember him telling me several summers earlier that the sail floated on the water for a few seconds before it sunk. You would not want to get your clothes caught on the sail or it would pull you down with it. I pulled myself back onto the boat and saw Dad sitting on top of the overturned boat, looking ahead at Calumet Island. He had been able to pull himself out the freezing water faster than I was able to do. The waters between Calumet Island and Governor's Island were sheltered to the wind, so there was no need to shout anymore.
"Are there people on Calumet Island?" I asked.
"Of course," Dad said.
We were about 100 yards away from the island. As we drifted closer, I heard the sound of metal scrapping against rock. I figured it was the mast. It was sure to be in rough condition when we reached land. As we got closer, I found I could stand up in the water. We pulled the boat up onto the rocky shore and Dad examined it for about twenty minutes.
After he was finished, he came over and said, "Well, the sail is torn and the mast is bent, but the boat itself is fine. Let's go find a phone."
We walked down a paved path toward a house. They must have seen us coming before we saw them, because a few people came rushing toward with towels.
"What happened?" one of them asked us.
"Boat flipped," Dad and I chorused.
"What kind of boat?" they asked.
"A small sailboat," my dad answered.
"Can you guys make it back?" another asked.
"Doesn't look like it," my dad said. "Do you have a phone we could use? I could call my brother and he can came and get us in his boat."
"Sure," one of them answered, going back toward the house. He came back out with a cell phone and handed it to my dad.
Dad dialed Grandma's number. When he finally spoke, he said, "Gib!" meaning that my uncle was already there. "The sailboat flipped over and we are on Calumet. Come and get us!"  We waited in the house for about fifteen minutes and finally saw my uncle's large motorboat coming by. I then realized the significance of that day. My dad and I worked together to save ourselves and the boat. We rushed out to meet my uncle and a smile came on my face as I realized we were going home.
By Jeff Streets
This article was written by Jeff Streets when he was a 9th grader in West Virginia.  He is now a junior in college majoring in Earth Science at Muskingum College, New Concord, Ohio.  Jeff's  grandmother was Patricia Streets, who lived in Clayton, NY prior to her death in 2007.  Jeff's father grew up in Clayton and his mother grew up in neighboring Cape Vincent.  He writes, " I have traveled up to the River at least once a year since I was born.  Most of my family still lives in the area.".