Written by
John Keilty
posted on October 12, 2009 22:37
Editor's Note: On November 7, 2008 - a year ago - Clarence (Muskie Jake) Huntley died at the age of 91 in Kingston, Ontario. Over the past year we have often been reminded of Jake. We could think of nobody better to pay tribute to this man – than John Keilty, his long time friend from the Gananoque Inn & Spa.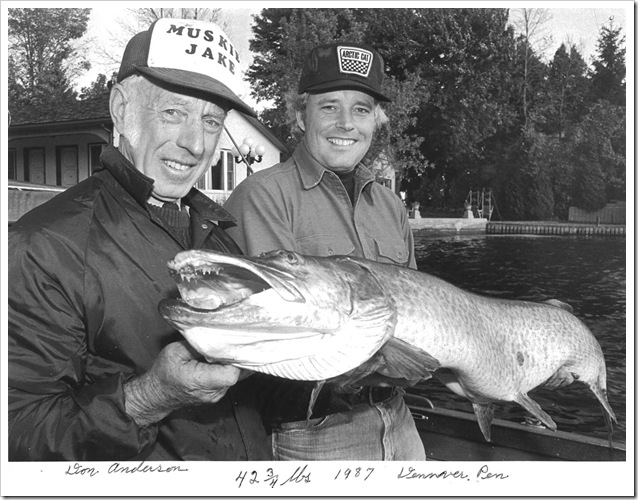 This photograph hangs at the Gananoque Inn & Spa, part of the memorabilia commemorating the life of Muskie Jake. It is credited from the Gananoque Reporter. The photograph also appears in Shawn Thompson's profile of Jake in his River Rats, published in 1989.
Born in 1916, Jake Huntley was one of the last fishermen on the Canadian side to make a living solely from guiding. Raised by his maternal grandparents he sent summers at their small cottage on a tiny river island. His grandfather worked for Jones Shovel and sailed or rowed to town each day, sometimes taking Jake with him and beginning his river education. A further influence in his young life was his uncle, fishing guide Ken Huntley Sr.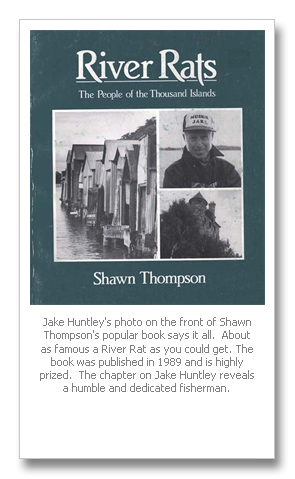 My grandfather, John Leeder, used to play checkers in the afternoons with Jake's grandfather at our family homestead on Charles St. in Gananoque during the long winter months as they both had seasonal jobs. Thus began the friendship between Jake and my family. I feel that I have always known Jake and I am honoured to have been his friend.
The first morning after I purchased the Inn I walked into the kitchen and there was Jake behind the line cooking. I said "Jake, do you cook here also?" He replied with a big grin, "No stupid… I'm making my breakfast"
Jake cherished each and every dollar that he earned. While walking across the lawn of the Inn one day I noticed a wallet which someone had lost. Upon opening it I found that it was Jake's. I knew just how upset he would be when discovering it missing. He was out guiding a party on this particular day and they returned to the dock in the late afternoon. The fishermen paid Jake for the day's work. He reached to his back pocket for his wallet and realized that it was gone. I was in my office when Jake came walking in, very red in the face with a worried look and said "Johnny, something terrible has happened, I've lost my wallet." He looked down at my desk and saw the missing wallet and got mad at me for not coming out to the islands to deliver it as soon as I found it. I said to Jake "How could I possibly know where you would be? There are more that 1700 islands." His reply was, "You know that I haven't been fishing on the American side for quite a while. It would have been easy to find me!"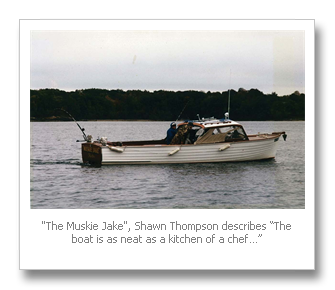 An engaging smile, hearty handshake and an amazing memory were his trademarks. There is not a week that goes by that someone doesn't come into the Inn and ask about Muskie Jake. All are always saddened to hear of his passing last year. They then go on to tell a Jake story. He was truly a memorable character.
For 66 years (1935 to 2001) with the exception of the war years, when he joined the R.C.A.F., the legendary "Muskie" Jake Huntley led guests of The Gananoque Inn and Spa on their quest for the illusive muskellunge. Taking fishermen from all over the world to his secret fishing spots to hunt muskie, as well as bass and pike, Jake has become a part of Gananoque's history.
The St. Lawrence River provides an excellent habitat for these amazing game fish, the giants of the pike family and "Muskie" Jake was a master of the chase. To honour Jake, in 2003 the pub at the Gananoque Inn & Spa was named Muskie Jake's Tap and Grill. Trophy muskies and some of Jake's memorabilia may be seen in the pub. Most days during the summer you can still observe his restored 1956 Chris Craft, the Muskie Jake (now belonging to the Inn) tied up at the dock. When I purchased the boat from Jake upon his retirement he made me promise that I would always take care of his prized possession. I kept my word Jake. She has been totally restored.
by John Keilty
A new era in the history of Gananoque's only waterfront resort was ushered in when the Gananoque Inn & Spa was sold to John and Noni Keilty in 1995. For John this was a return to the town where he had been born and raised. John Keilty remains committed to ensuring the Gananoque Inn as a very special property and to contributing to the revitalization of Gananoque's waterfront. In 2003, John renamed the Inn's pub after Muskie Jake – a tribute to the man that John so admired.
Editor's Note: Many Gananoque islanders knew Jake by name, by his boat or by his familiar " Winter Log". Every Fall Jake would make the rounds of the Gananoque Island cottages. Taking the time to find a small log and gently putting it on its end on each cottage door. Then throughout the muskie season, he would look out to make sure that the log was still balancing on its end, signifying that nobody had been by to disturb the cottage. We always knew Jake had been a visitor when we returned to Sagastaweka Island in the Spring and saw the familiar log!

We highly recommend our readers hunt out a copy of Shawn Thompson's1 book River Rats. Shawn's tribute to Muskie Jake is a pleasure to read. The book also captures the life of more than fifty other "rats"… each with a story to tell.