Written by
Susan W. Smith
posted on October 12, 2009 22:49
Nobody likes Jury Duty, but for Prudence Matthews, in 1992, it was life-changing.
"I knew we could not talk about the trial, so to start a conversation with the lady next to me, I asked what she did. She replied, "I teach rug hooking."
Prudence could not believe her luck as she had always wanted to hook and suddenly there was a ready-and-able teacher. Unlike others in the class, Prudence did not follow purchased patterns – she created her own patterns, the first being a chair seat for the Fisher's Landing Cottage.
Over the next twenty-five years, Prudence built up a reputation as an artist, an accomplished rug hooker and, most importantly, for capturing our St. Lawrence River history in her work. In 2006 Canton's Traditional Arts in Upstate New York (TAUNY) (a non-profit organization dedicated to documenting, preserving, and promoting, the traditional folk arts and folklore of New York's North Country), featured her work in an exhibition to celebrate its 20th anniversary: Hooked on the River: Picture Rugs by Prudence Matthews. 
It was TAUNY's founder,  Varick Chittenden, who encouraged TI Life to visit Prudence and present her work. Varick explained, "TAUNY has undertaken over the years to showcase the contributions of North County folk artists and the show "Hooked on the River", was a major and most successful effort."
Another of Prudence's great admirers is her husband Robert L. Matthews (Bob), who is an accomplished writer in his own right. This summer Bob's second book, The Thousand Islands Yacht Club was published. Together they have collected hundreds of pieces of 1000 Islands memorabilia, some of which is now on loan and exhibited in the Antique Boat Museum in Clayton. (TI Life will feature Robert Matthews and his passion for Thousand Islands collections in a later issue).
It was Bob who proudly showed Kim Lunman, our TI Life team member, and me around their cottage complex where we were constantly impressed and inspired by the wall hangings - each rug has its own story and most are bibliographic in nature.
Prudence has spent every summer on the river in Fisher's Landing. Her grandfather Charles Riggs came to the River in 1901. She and Bob lived in Binghamton, three hours south, so weekends and holiday visits became a ritual. Prudence explained in the "Hooked on the River" series, that the river is in every rug – "serving as the window through which Prudence sense of place developed."
We have taken the liberty of including some of the original text compiled and written by Jill Breit and members of TAUNY. We hope you enjoy this tour as much as we did. As Kim and I left Fisher's Landing on our October visit, we understood perfectly why Bob Matthews and Varick Chittenden wanted us to meet Prudence. We quickly joined her fan club.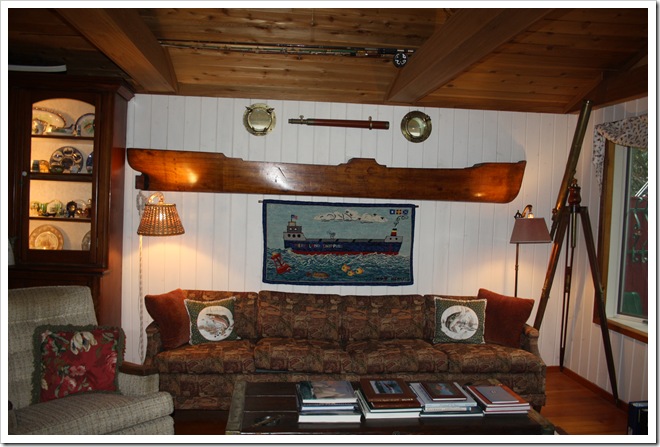 "Freeloader on the St. Lawrence" 1992, # 1 in the series.  26" x 48".  This hooked rug hangs proudly in the Matthews cottage.  The whole living space provides material for Thousand Islands research. 
Prudence explains, "I love that little rug because one of the things I love about the cottage versus some other cottages is that we get to see the ships. They're called Lakers because they go through the locks on the St. Lawrence and lots of the island you don't get to see the shipping channel and that's one of the things I love absolutely best about where we are.  It's still a thrill".  "I wanted  something fun.  I didn't want to do something technical. I wanted the Lakers, but I wanted my interpretation of the Laker.  That's what it is.  And the bird, I call Freeloader.  He's hitching a ride to who knows where. The little blue bird." [Photo by Kim Lunman]
Boldt's Yacht House, 1995, #6 in series, 48" x 68".  George Boldt's Yacht House is considered an architectural gem, visited regularly by groups of architecture students.  The doors are very tall to accommodate sailing yachts. 
 "I just love boats and I love the boat house.  I always have.  I used to drive around there as a child.  I can understand why people do study it.  I love the trees up there at the river because the winds from Lake Ontario come in the winter and blow and usually the trees are listing to one side." [Photo by Kim Lunman]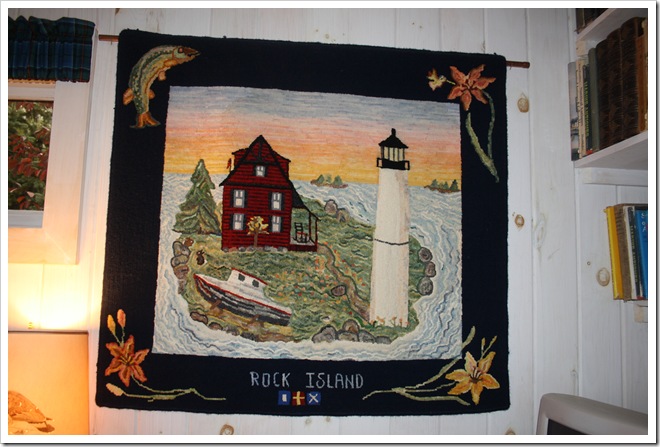 "Rock Island Lighthouse", 1993, # 3 in series, 39" x 43". From the front porch of the Matthews' cottage one can see this landmark out in the water.  At one time, the light keeper and his son were friends of Prudence's family.
"Around the edges there are three daylilies. In August that island is just profuse with daylilies and I like them.  Up in the left hand corer is a fish, that's a river fish.   I made that for Charles [her son] because he loves fish.  I put a little boat in there just for the heck of it.  Like the Lakers, this means something to us because we look at it every day." [Photo by Kim Lunman]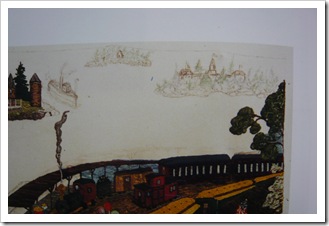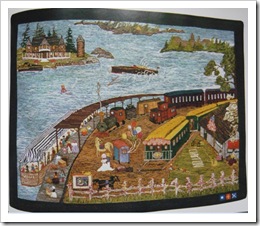 "Train Station at Clayton New York, in the Gay 1990s", 1996. # 8 in series, 48"x 72".  Often Prudence includes portraits of family and friends in her rugs.  This historical scene is a good example of how she brings the past and present together in her work.
"People would come into the train station from new York and all over and a lot of them had their own Pullman, their own private cars.  They would get off the train and get on these boats to get to the islands. This was taken from a postcard. That became my inspiration, but I certainly put in my own [touches].   My daughter-in-law was expecting a child when I was hooking this rug. She thought it would be a boy, so I hooked a blue blanket of the baby in the rug.  Then the call came that I had a granddaughter: Out came the  blue and in went the pink." 
Robert Matthews pointed out the drawings on the left, as it was the sketch that Prudence first made.  The detailed sketches on the drawing are outstanding.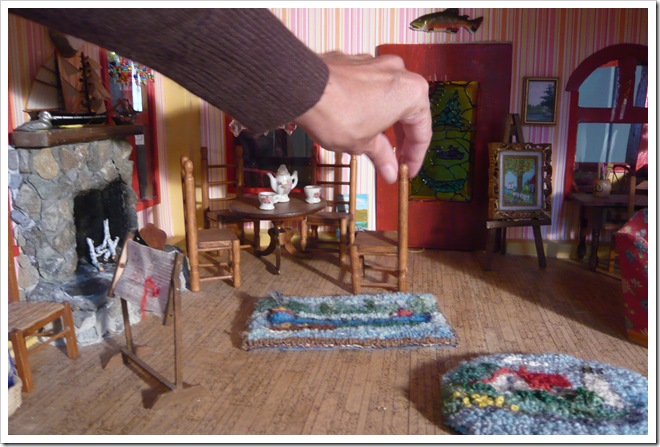 Located in a room of its' own is a charming dollhouse and Kim could not resist "moving a piece". 

"Prudence took just as much care in furnishing this house as she does for the big cottage" says Bob.  Lying proudly on the floor are two Prudence Matthew's hooked rugs.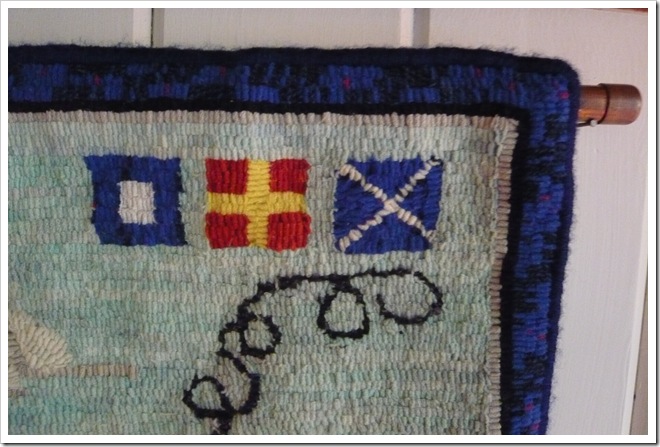 Each work is signed P.R.M. – this close-up of the hooking, demonstrates the intricate shading effected by the hooking technique.
In 2006 National Public Radio interviewed Prudence.  The audio tape of the interview with Todd Moe about the exhibit at TAUNY is available here. 
By Susan W. Smith, susansmith@thousandislandslife.com