Greg Lago welcomes winter. Everyday, snowy or not, Lago makes his way to his studio on James Street "The good thing about living here in this season, is that Clayton shuts down for the winter and you have time to do your work. It's invigorating."
The Winged Bull studio is located on the first floor of the 1890 Richardson Romanesque building, a block and a half from the St. Lawrence. Here, Lago creates ornamentations for limited edition presses, woodblock prints, linocut prints, watercolors and wood sculptures. Above all, the Winged Bull is a working studio.
Art has always been a part of Lago's life. It all started with laundry day, when he was only three. To occupy her two boys back in the days when laundry was an all-day affair, Lago's mother provided paper and encouraged the boys to draw. Lago and his older brother had drawing competitions to see who could draw the best horse or the best cowboy. Sometimes one would scribble on the paper and challenge the other to make a picture from the scribble. It seems he was always drawing.
Lago was also inspired by the letterpress books of his youth and their black & white illustrations. He was awed by the power of illustrators like Rockwell Kent. Lago loved Robert Lawson, who wrote and illustrated historical biographies told by creatures (Mr. Revere and I , Captain Kidd's Cat, Ben and Me.)
His love for sumptuous, thick, rag paper and off-set printing prompted him to attend the University of Buffalo, where he earned a degree in printmaking. "I still remember my first printmaking class. I was in awe. It was as if I saw the first illuminated Bible."
At his core, Lago is a printer. So it's not surprising that a Vandercook Universal One—an old cylinder proof press—stands almost as a shrine on the back wall of the studio. A shrine to the bygone era of offset printing.
Lago admits that the beauty of the Thousand Islands was what attracted him to the area. "It's a different kingdom. It's a fairy kingdom. The weather serves up a different palette everyday."
But Lago is equally inspired by the people of the area. His Folk Hero Series is comprised of wood sculptures that pay homage to river people. River country is a region rich in story. "In the North Country, tenacity, humor, resourcefulness and pride abound in all the characters who I've come to admire."
One of his wood sculptures features Antoine Tetrault, who lived just up the street. Tetrault was an internationally known faith healer "both revered and reviled." Another wood sculpture depicts a man who wandered home after an evening of drinking and fell through the ice. To keep from being swept away by the current, he froze his arms to the surface of the ice.
If you happen into the Winged Bull, you are stepping into a working artist's studio. Lago doesn't mind the intrusions on his work. Even in the dead of winter, there are people who stop in everyday. "I keep mindless activities on hand, like varnishing or cutting paper, so I can continue to work while I visit."
To be part of the "art scene," one might think you need to live in New York City, not a small town perched on the edge of New York State overlooking the majestic St. Lawrence and the Thousand Island region. Lago and his wife, Karen, have created their own little art scene in this quaint river town.
The Winged Bull is not just a working studio, but it also serves as a gallery, displaying artwork of friends and other local artists. Lago aims for two exhibitions a year. "We're sort of a salon for arts." Lago says. The focus isn't only on visual arts. A poetry group and different writers groups also use the Winged Bull as a meeting place. As Lago puts it, "The winged Bull is a general store for artists."
From the Winged Bull Studio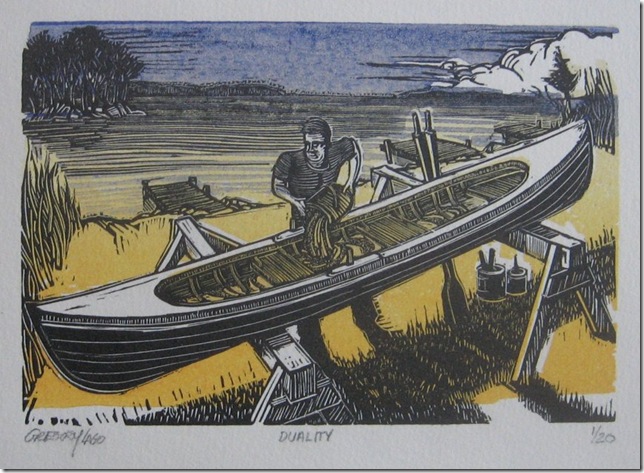 Duality by Gregory Lago
© Gregory Lago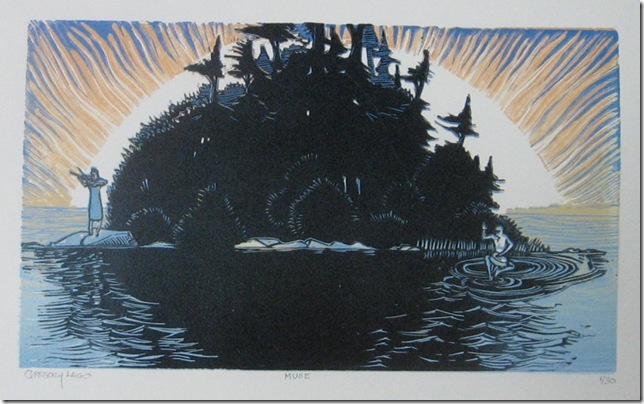 Muse by Gregory Lago
© Gregory Lago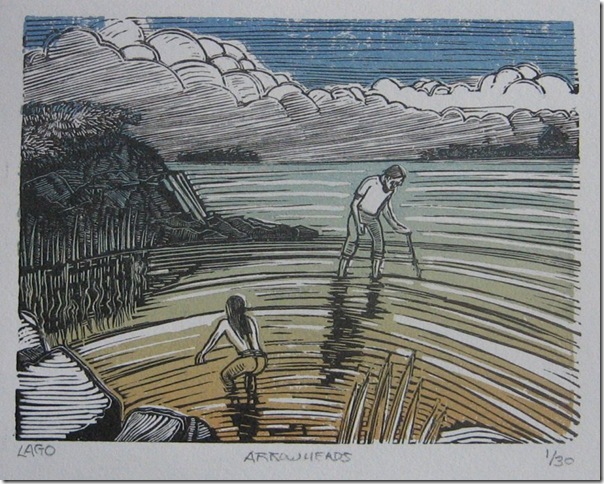 Arrowheads by Gregory Lago

© Gregory Lago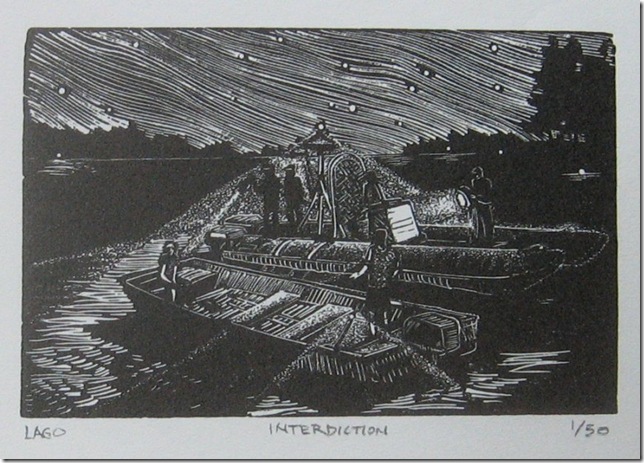 Interdiction by Gregory Lago

© Gregory Lago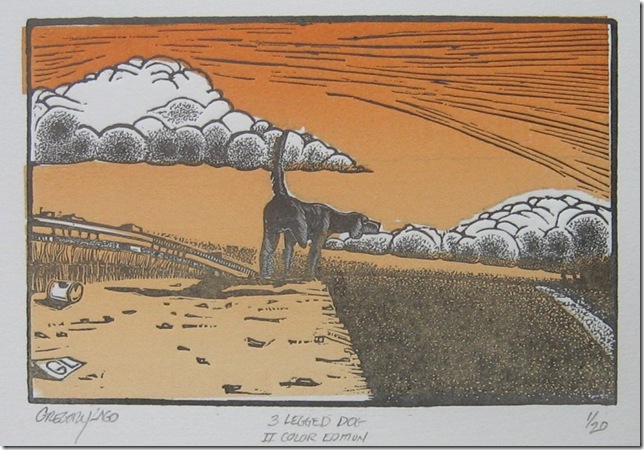 3 Legged Dog by Gregory Lago

© Gregory Lago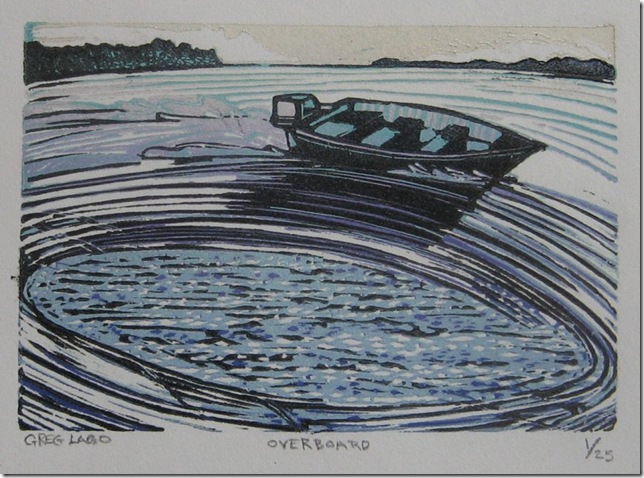 Overboard by Greg Lago

© Gregory Lago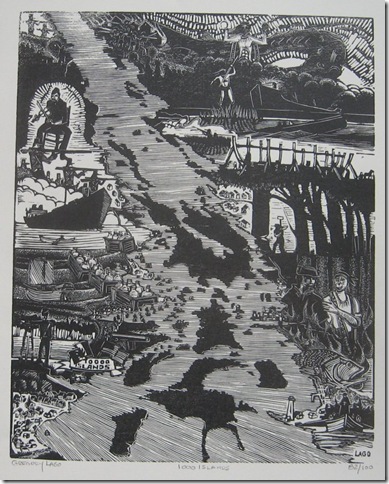 1000 Islands by Gregory Lago

© Gregory Lago
By Lynn B. McElfresh
Lynn McElfresh and her husband, Gary, spend their summers in the Thousands Islands on Grenell Island and their winters in Dunedin, Florida. Lynn is the author of Can You Feel the Thunder? Published in 1999 in New York by Simon & Shuster Children's Publishing Division. It is suggested for youth ages 10-14.  She is also the ghost writer for several other children's books. In August Lynn introduced J. Cervini Rector, Grenell's Resident Artist