Thousand Islands Life presents Part XI of Kristen Pinkney's research Thousand Islands Summers - Manhattan Winters: May Dewey's Diary, beginning July 1888 and culminating in August 1889.
PLEASE NOTE:  Part XII will appear in February 2010.
Part I December 2008,  Part II January 2009,  Part III February 2009, Part IV March 2009
Part V April 2009,  Part VI May 2009,  Part VII September 2009, Part VIII October 2009,  Part IX November 2009
Description of how the diary was discovered and researched Contributors in December 2008 article of Thousand Islands Life.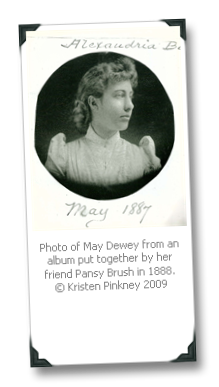 As we have stated in past issues, Kris' work goes beyond the text by providing hundreds of footnotes for readers to learn more about the life and times in the Thousand Islands.  There are more than 100  footnotes distributed throughout the diary, and 18 in Part XI.  Simply move the cursor over the highlighted text and the footnote will appear.  Click "close" and the footnote will disappear.  Also note that clicking on an image will enlarge it.
No spelling, punctuation or editorial changes have been made to the diary.
July 1889, Friendly Island, Alexandria Bay NY
Monday 1 This morning we took a short sail on the "Minnie". We have chartered her for all of July and every other day in August. Mr. Marsh has her half of the time or we'll have. This morning after we returned Mr. Oliphant and his friend Mr. Crowrice called. I don't care much for Mr. C. although he sings very well. They want us to go with them early on the "Ella" so we accepted. Much sang us. Emma came today.
Sunday 2 I have had a perfectly delightful day. Mr. Oliphant called for us about 8 o'clock, we were the only ladies on board. There was Mr. Oliphant, Mr. Crowrice, Mr. Soleiac1 and his son. We had quite a pleasant time. Going we caught enough fish for lunch but just as we were coming in it commenced to shower so we had to get in the yacht and go to Fine View House2 where we had the dining room and kitchen to have our dinner. After lunch we had the best time. It cleared up so we went out on the lawn and sang. Mr. Crowrice had his guitar. Then we cleaned the dining room and as we had two musicians we had a dance although it was so hot. They were seated on the Jubilee and we had the floor. It was a regal country dance. We had about 40 on the picnic. Mr. Singer got it up. All the Brownings next and Mrs. Gildersleeve3 had to leave about 5 o'clock, had to return to the City. Walter Edsall was there. There were 6 fellows and Ella and I were the only girls.
Thursday 4 Well today is the fourth of July. I have had a delightful day. This morning we took the Spencers for a sail and went to Clayton. They went with us this aft. also and this eve. the Brownings and the Spencers came over to see the Fireworks as our island on the point we can see all of the islands. We had rugs spread down on the grass. Harry and Will Browning & Walter Edsall, Ella and I had the rug. It was a magnificent sight especially Pullmans' he had a very fine display. Harry Browning is such a funny fellow. I laughed all the evening. He said that Julie Southgate's engagement is broken off but I don't believe it. We went home with the Brownings and Spencers. I had a delightful talk with Walter Edsall. We sat up in the end of the "Minnie" and really enjoyed ourselves at least I did.
Saturday 6 This afternoon Mr. and Mrs. Marsh called and we went with them in the "Minnie" to call. Went to Mrs. Spencer's and when Walter Edsall came in I never saw him so much embarrassed in my life. They must have teased him about us and I am so sorry for I am afraid he will not come here as often. Called also at Miss Hudson's4. The armors5 came. They are very handsome. We had them sent to us from abroad.
Monday 8 This morning Mr. Pullman and Hattie6 called. She was quite pleasant. She really did unbend quite a good deal. This morning the Brownings called and we all went over to Heart's Island. I had lots of fun with Harry. We went all through the house way up on the tower7 where we got a magnificent view. Harry keeps me laughing so I like him very much. I wish that he did not have to go back. This afternoon we went to Clayton with Papa and saw the Brownings again. They go on the same train as Papa does.
Tuesday 9 This aft. the Misses Southgate were here to call. We took a sail afterwards. Bertha came today. Walter Pullman8 was caught in the rain and had to run in here for a cloak and umbrella. This evening we took a sail on the "Minnie".
Wednesday 10 We went to call on Mrs. Alexander Mitchell9 but she had not arrived yet.
Thursday 11 This morning we called on Miss Pullman but she was out. We went over to the 1000 Hotel10 met her there. We took her and her friend home. This evening she called for us and we all went over to the hotel to dance. Had a jolly time although it is anything but gay. Her friend Miss Gunns is a lovely girl. I took a great fancy to her.
Friday 12 This morning we went out fishing but did not catch much. This eve. We took the Spencers and Walter Edsall out for a midnight sail. It was a gorgeous night. I do enjoy it in the water so much at night.
Monday 15 This aft. the Brownings called and took us all out fishing. Had a fair catch and a very good time although there were no young people. Aunt Nellie11 and Alex12 came this aft. Mr. Brown from St. Elmo called this evening. Spent a pleasant time playing cards.
Tuesday 16 We have spent nearly all day on the "Minnie". This eve. we took Mrs. Marsh and her friends for a sail. I took Ella and Bertha's picture in eve. dress.
Wednesday 17 This evening took dinner with the Misses Southgate. Spent a very pleasant eve. Misses Pierce (English) are very nice.
Friday 19 Papa came this morning with Mr. Fogg. Ella, Bertha and I went out fishing with the Brownings and I have had such a lovely day. We went down 12 miles to Chippewa Bay. I went out fishing with Harry and had a lovely time. We caught quite good luck nothing but bass. We were going out in the aft. but it rained so hard. We got home about 7 o'clock. I philopined13 with Harry and caught him also with Will twice. He caught me once and it remains to be seen if he catches me again. Hattie King came tonight. They stop at the 1000 Island House.
This morning we went over to see the Kings. We got them and took a sail and brought them home to luncheon. Charlie has changed. He is quite a young man and so handsome. Charlie will turn out and awfully handsome man and a great flirt. He will break lots of girls hearts with his beautiful eyes. Hattie is just the same as ever. Went out on the yacht this eve. Called and took Harry B. on board. Ella got a long box of candy from Mr. Woodruff as a bet.
Saturday 20 This morning we went over to see the Kings. We got them and took a sail and brought them home to luncheon. Charlie has changed. He is quite a young man and so handsome. Charlie will turn out and awfully handsome man and a great flirt. He will break lots of girls hearts with his beautiful eyes. Hattie is just the same as ever. Went out on the yacht this eve. Called and took Harry B. on board. Ella got a long box of candy from Mr. Woodruff as a bet.
Sunday 21 This morning I went to church saw Walter Edsall. This afternoon the Kings came over early. Dr. Warren held services14 here. We had them out on the lawn. It was a beautiful service. There were about 125 people came and lots of boats on the river around the island. Me, Hattie, was with Harry Browning and I was with Will and Ella had Walter Edsall most of the time. I shall always remember today it was so lovely. We had tea on the piazza15.
Monday 22 This morning we went to the hotel and listened to the music. I introduced Mr. Pierce to Hattie also Langdon Hayden16.  He came up to speak to me. He is another fellow I have lost my heart as he is such a lovely fellow. We staid to lunch with Hattie. This aft. we all went to Clayton. Papa has to return also Mr. Fogg. We went for a walk in Clayton. The Browning boys joined us. So we walked back to the depot with them. They also return to the city but come back in August again. We went over and danced this eve. The Misses Lewis were there.
Tuesday 23 Saw Hattie this am. Also this afternoon. This evening we took a sail. They leave tomorrow morning.
Wednesday 24 This morning Mr. Gedney came. We went out fishing to Goose Bay but had poor luck.
Thursday 25 Took several landscapes17 this aft. and spent nearly all the day on the "Minnie".
Friday 26 Aunt Frank, Aunt Nellie, Alex, Mrs. Gedney, Ella and I went out fishing. Took the yacht to Chippewa Bay. Had very fair luck. Took our lunch with us. This eve. Mrs. Mitchell and several others called.
Sunday 28 We all went to church and came home in the "Mamie C."18 As we were getting on one of the line boats came in and who should be on it but Mr. and Mrs. Delanoy. They were going to take us by surprise. They are stopping at the 1000 Island House.
Tuesday 30 This afternoon Gussie Prentice came. He is going to spend a week. He is a very handsome fellow but too stout to suit me. We had the "Minnie" and so went down to Clayton. He congratulated me on my engagement, for I had in fact all my rings on my left hand. I, of course, blushed it was so silly of me. This eve. we went to the Hotel but did not see anyone but Julie Southgate that I knew.
Researched and compiled by Kristen Pinkney   Kristenpinkney@thousandislandslife.com
© Copyright Kristen Pinkney 2008, All Rights Reserved
---