Written by
Rex Ennis
posted on February 12, 2010 22:17
When the St. Lawrence River freezes over, one mode of transportation is by "ice boat" or "air boat", as they are called in the south. These boats glide over the ice propelled usually by an aircraft or automotive engine and a propeller mounted on the stern. They are constructed of wood, fiberglass, or aluminum, wooden and fiberglass boats are equipped with aluminum runners on the bottom.
Ice boats are tricky to turn as they are turned by forcing air against "tails," which are similar to rudders on a regular boat. Aluminum and fiberglass boats have a short turning radius, while those made of wood don't turn as easily. Wooden ice boats are constructed with a wider bow than stern to help improve their turning radius.
Ice boats are capable of high speeds on the ice, but when they hit open water they slow down considerably. Brian Parker, the Grindstone Island postman, travels frequently by ice boat, when the river is not frozen enough for a snowmobile. Brian says that the trip from Grindstone to Clayton takes about one gallon of gas on ice. His wooden ice boat has a top speed of 70 MPH on ice, but in water the maximum is 25 MPH and gas consumption triples to three gallons for the same run.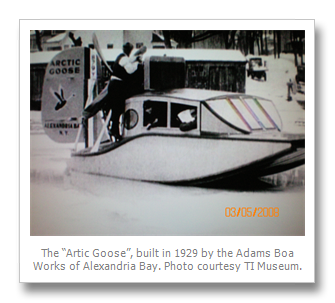 One of the most remarkable ice boats to ply the St. Lawrence was the Arctic Goose. It was constructed in 1929 by The Adams Boat Works of Alexandria Bay for Julius M. Brietenbach of New York and Alexandria Bay. The Adams Boat Works was acquired by Hutchinson Boat Works. The boat was almost 21 feet long and had a 7 foot beam. A ski attachment could be added for traveling in deep snow.
In trials on ice in Alexandria Bay the Arctic Goose obtained a speed of 131 MPH with 8 passengers aboard; in water the boat could reach about 40 MPH. It was powered by a Hispano-Suiza engine turning a four blade propeller.  Designed for a maximum of 200 MPH at that speed, the propeller would turn 1500 RPM. The boat was designed and built by commercial and military aviators Edwin White and Fred V. Barker.
Hispano-Suiza is probably better known for producing  luxury automobiles, but during World War I it started manufacturing  high quality aircraft engines. In the Thousand Islands, Brietenbach was well known in the 1920's and 30's for his hydroplane the Wild Goose, which was powered by a 300 HP Hispano-Suiza engine.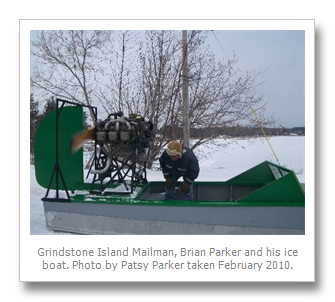 After the trials in January 1930 the Arctic Goose was taken to Ottawa and Montreal for their respective ice carnivals. Brietenbach made a 35 MM motion picture of the Arctic Goose trials and that film was given to the Thousand Islands Museum in Clayton. The Museum did not have a suitable storage facility for the film and gave it to the Library of Congress. In 2008, the T I Museum contacted the LOC and a DVD copy of the film was made. The DVD may be viewed by appointment by contacting the T I Museum.
Sources:
Lowville Journal and Republican, 16 January 1930, "New Boat Hits Speed of 131 Miles and Hour"

Watertown Daily Times, 5 May 1928, "Man Drowns At Bay"

Watertown Daily Times, 31 May 1928, "Three Escape As Boat Overturns"

Interview 4 Feb. 2010 with Brian Parker of Grindstone Island

Thousand Islands Museum Archives, various Brietenbach materials
By Rexford M. Ennis, Grindstone Island
© Copyright Rexford M. Ennis 2010, All Rights Reserved
Rex is a longtime volunteer at the Thousand Islands Museum, Clayton, NY. and has written several articles for TI Life.   His bio is recorded in Contributors in December, 2008.  Until this fall Rex and his wife Janet, spent several winters on Grindstone Island.  Currently they are experiencing their first winter in Tennessee where Rex is completing a biography of Charles G. Emery.