Written by
Michael Folsom
posted on March 12, 2010 22:41
The Thousand Islands region is filled with picturesque settings, making it a photographer's heaven. This photographer however has one primary photo he's after and manages to capture that photo each summer in an amateur form.
Personally, ships add to a photograph of mine here in the islands. They can be seen almost daily from March until December, making it that much easier to catch a glimpse. It's not like waiting around for the sighting of an eagle, which can be hard to come by and don't get me wrong, that is exciting to see too.
I enjoy watching the various ships that pass through our area, trying to photograph each one when possible. It is always fun to see them heading in your direction, but from a distance, watching as they slowly approach getting bigger and bigger as they draw near. Each one has a different look and each one usually looks different than the last time it passed through. Some days a ship is riding high out of the water, while others nestle down into the frigid water. Some own a freshly painted hull in the spring and others look like nothing more than a rusted mess. Some sport bright colors, while some are as plain as they come, black and white.
Did you know there is a reason behind most of the black and white ships?
It is said that the black ships are actually painted that color due to the fact that it likely carried or still carries coal, which is also black. This was done to avoid ruining a good paint job!
Ship watching definitely provides a number of interesting pictures. There are the bright sunny days with a big vessel in the American Narrows about to pass under the Thousand Islands Bridge. Ships crossing paths in front of a local castle or expensive home along 'millionaire row.' In the rain with the rainbow arched over the river. Or, as the sun rises or sets.
I have been lucky in my photo taking opportunities. I have been on shore with my camera in hand and caught the big red and blue Emerald Star passing Sunken Rock Island lighthouse giving the photo extreme colors of red, blue and green.
I have been on the stern deck of my in-laws 41' boat as we cruise the channel with the 700' Cedarglen baring down on us with the perfect blue sky high above and the sight of the big bridge behind us. I have taken our little jetboat just outside of the channel, turned it off and floated to snap photos of the former Lake Erie sail by with the morning sun shining against its body and reflecting into the water.
All of this is fun and easy to do and none of it has cost anymore than some time, patience and my "regular, everyday" digital camera. Some tips to keep in mind… a) Framing – if you are able to frame the vessel against a unique backdrop like a castle or skyline it will make for a great photo b) Click early and often – with the ship moving and the sun hiding behind clouds you should take a number of shots to ensure you get the perfect angle and lighting in your photo c) Keep clear – always stay out of the path of a moving vessel. Should you hear five horn blasts, you are definitely in their way and need to move right away d) Waves – when shooting from the boat it can be tricky due to waves. Brace yourself for that steady shot and finally e) Say hi – like a celebrity chased by the paparazzi, the ship and crew deserve some respect and credit so be sure to wave as a way to say thanks for allowing you to 'use' them for your photo taking experience.
Click away… a ship is headed your way soon!!! In fact, the 51st Seaway season sets sail on March 25 at 8:00 a.m.
By Michael Folsom, The Ship Watcher
Michael Folsom  is a regular contributor to TI Life.   You can visit him on the web at: the shipwatcher.  This is your source for ship watching information on the St. Lawrence.  You can also follow the ships and Michael at www.twitter.com/theshipwatcher.  Michael is also an accomplished photographer.  Several of his photographs have appeared here at Thousand Islands Life, in print in the Thousand Islands Sun, as well as appearing on the cover of the Thousand Islands Sun Vacationer.  In addition, some of Michael's work can be seen in the 51st edition of the book Know Your Ships. When not on the River, Michael can be found on the 'Ice' as the Senior Director of Sales & Game Operations for the Syracuse Crunch Hockey Club. He and his wife are expecting their first little "ship watcher" later this summer.

Editor's note:  Mike has a countdown clock on his website to announce the opening of the St. Lawrence Seaway. There are also many items of shipping news.  Do take the time to explore.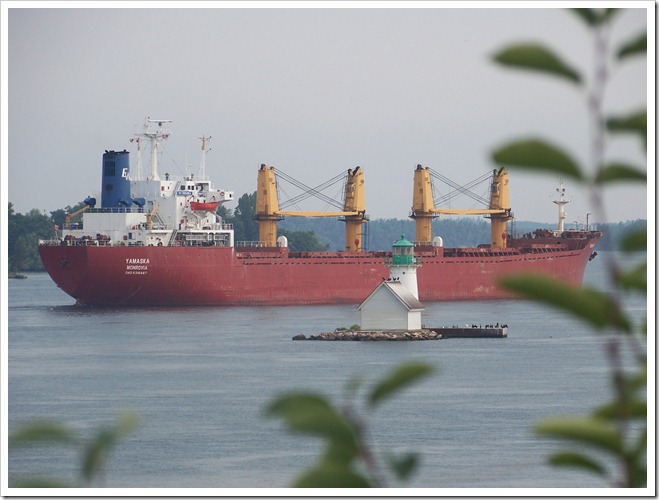 Yamaska and Sunken Rock Island Lighthouse, Michael Folsom 2008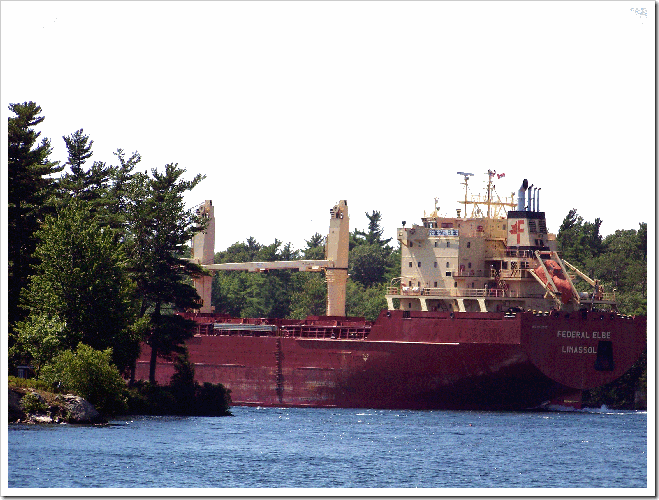 Federal Elbe, Michael Folsom 2009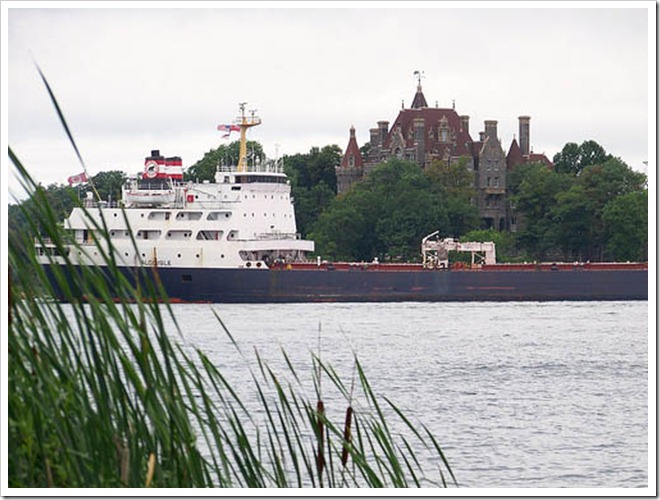 Algoisle and Boldt Castle, Alexandria Bay, Michael Folsom 2009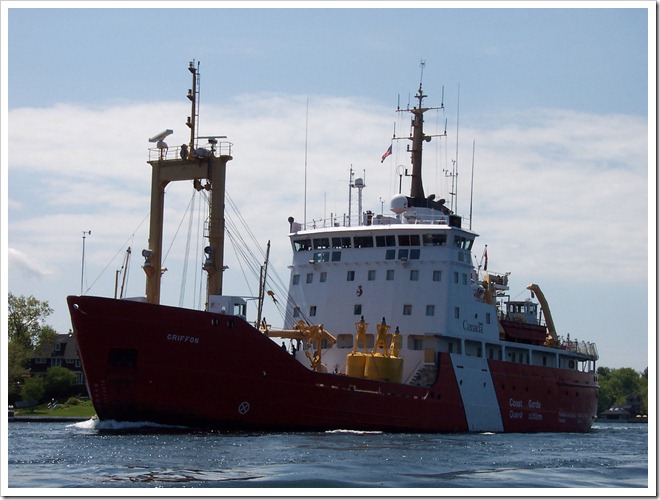 Griffon, Michael Folsom 2009