Written by
Susan W. Smith
posted on March 12, 2010 22:27
A special thank you to Jay and Audrey King. I met the Kings last month, in Florida, and came away with a treasure trove of North Country history. Jay, born and raised on the King Farm along Crooked Creek near Goose Bay, provided TI Life with a copy of his mother's book, "Things I Remember" (Mina Herrick King), which he published in 1990.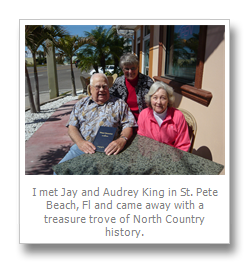 Jay also lent me a copy of his grandmother's book, "My Yesterdays" (Lillie Babcock Herrick), published in 1949. Not only do these books provide a window on what we call "pioneer life", but hopefully they inspire others to capture the history of their communities, and families.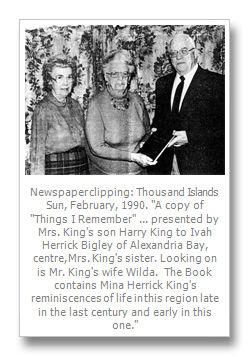 Both Lillie Herrick (1856-1949) and her daughter Mina Herrick King (1888-1983), wrote historical articles for local newspapers. Lillie was the "Grange" correspondent, providing regular articles for the Watertown Daily Times  for more than 25 years. Mina wrote for the Thousand Islands Sun from mid 1970 until her death in 1983.
In 1990 Jay published  a  collection of her articles in "Things  I  Remember".  The Introduction was written by Jean Miller, who helped edit and compile the material for the manuscript.  In addition Mina's sister, Ivah Herrick Bigley also wrote articles for the Thousand Islands Sun under the title: Recollections of a Goose Bay Gosling.
Jay has, very kindly, given TI Life permission to publish all the excerpts we wish.
This month we began by posting Chapter I of Things I Remember. It is located on TI Life under the tab THE PLACE, in the section entitled HISTORY. These excerpts will provide valuable material about the North Country for both researchers, and interested readers.  Over time we will place more maps, photographs and ephemera into each chapter.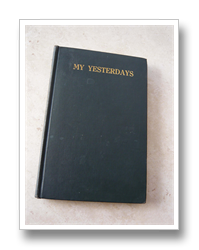 Want a sample? Here are three excerpts by Grandmother Lillie, Mother Mina and Aunt Ivah.