March and spring may share the same month on the calendar in the Thousand Islands but they are so very often not on the same page, not even the same chapter.
Sure the occasional blue skies bring along reminders of springs and summers past. But winter
lingers in the naked limbs of trees, its landscapes are painted from a drab palette of brown, beige, brightened by the white of clouds and stubborn snow. The ice melts and the River goes grey.
Snow, evidently, does not have a calendar. It is a matter of debate among linguists over just how many other words Eskimos and Inuit have for the word snow. I have only one other word for snow. Coincidentally, it also has four letters.
And yet the River is still beautiful in its seasonal slumber, slush and ice melting into its stark empty docks and shores. Cottages on empty islands sheltered by windswept pitch pines seem as solemn as ghosts.
April showers may bring May flowers but March, in is official capacity as host to the season of beginnings as spring starts to show its true colours in its own unique bouquet scattered over 1,865 islands large and small.
Travelling around the Thousand Islands while researching stories last summer for TI Life and Island Life magazine, I couldn't resist stopping to smell - and take photographs of its many eclectic gardens and flowers - along the way.
I came across the fragrant lilacs of Wolfe Island by its charming historical churches in the village where you can take the Wolfe Islander III ferry across the shores to Kingston and back year-round.
I also found a whimsical sunflower garden on the century-old cottage grounds of 91-year-old June Hodge, the unofficial mayor of Grenadier Island.
Grenadier Island, known for its lush golf course at the Grenadier Island and Country Club could be called Greenadier Island. The island's trails turn emerald in the summer months and are covered in thatches of orange lilies. And water lilies float in the River.
TI Life editor's Susie W. Smith's Sagastaweka Island in the Admiralty Group has towering trees and meadows of white trilliums. But the odd red trillium stands out from the carpet of white.
Some of the most beautiful gardens on the islands can be found and enjoyed by all at Singer Castle's Dark Island and Boldt Castle's Heart Island between May and October when the grounds are open to the public for tours and weddings. Dark Island's tranquil heritage rose garden evokes another era fitting of the Singer castle's royal setting.
Over on Heart Island, the grounds pay homage to the island's romantic love story of owner George C. Boldt and his beloved bride Louise. Boldt halted construction on the castle when Louise suddenly died. The castle's gardeners fill a heart shaped garden with crimson blooms and the heart-shaped islands grounds flower with colourful gardens throughout spring, summer and autumn.
While not on an island, there is another famous garden not to be missed in the Thousand Islands overlooking the St. Lawrence River Brockville's Fulford Place. Here is the idyllic Italianate garden in the heart of historic Brockville of Canada's Senator George Taylor Fulford on the grounds of a 20,000 square foot Edwardian mansion built in 1899 and 1901.
Fulford made his fortune on patent medicine called 'Pink Pills for Pale People' and spared no expense on this garden, which features a triton fountain, stone walls and gates and statues of Adam and Eve. The Ontario Heritage Trust restored this garden at Fulford Place, a museum and National Historic Site. The original grounds were designed by Frederick Olmsted of the Olmsted landscaping firm, which also designed Central Park in New York City.
Soon enough the blooms of grand and not-so-grand gardens will return us to the true colours of spring. Until then, enjoy a bouquet of Thousand Islands flowers.
By Kim Lunman, kimlunman@thousandislandslife.com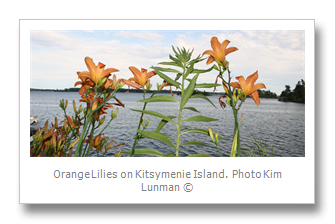 Kim Lunman is an award-winning Canadian journalist who lives in her hometown of Brockville, "the City of the 1000 Islands." The former national correspondent for the Globe and Mail's Victoria and Ottawa bureaus,Kim has also worked as a reporter for the Calgary Herald and Saint John New Brunswick Telegraph Journal. Her freelance writing has appeared in the Kingston Whig-Standard, the National Post, South China Morning Post, VIA Destinations and Reader's Digest.
Kim has graciously written an article for TI Life every month since 2008.  In a couple of months Kim will be "in an article" as TI Life will have the pleasure of reviewing her latest endeavor.  Kim is the owner of Thousand Islands Ink, a new publishing company which will go to print in May with Island Life magazine just in time for summer.
Fulford Place where the original grounds were designed by Frederick Olmsted