Sherman C. Ward Jr. is one half of the dynamic duo known as Sherman & Ann. A busy man with many roles: Director, Playwright, Artist and Community Advocate. It can be said that the role he takes the most pride in is family patriarch.
Sherman and Ann make their home at Dingman Point, Alexandria Bay, on the site of the former family cottage. The transformation from a 60 year old cottage to 4000 sq ft showcase was a collaborative effort between Sherman and his son Sherman C. "Buzz" Ward III. Designed as a place for the entire Ward clan to congregate and enjoy extended visits comfortably, it is a loving tribute to family and art.
Before making a permanent home on the river, Sherman and Ann lived in Haddonfield, New Jersey, where they were both actively involved in community theatre for over 50 years. Sherman has written 17 plays. He stresses the importance of community theatre for families. "It is a good way for families to be together and do something in accordance with their abilities".
When their children, Deborah, Andrea, and Buzz, were young their parents had them separate the screws from the nails during set construction. This seems to have paid off as Buzz is Executive Director of the Tony Award-winning Cincinnati Playhouse in the Park.
The dedication to theatre runs deep. Sherman and Ann both hold positions on the board of the Eastern States Theatre Association (ESTA).  Sherman as the Regional Representative to the American Association of Community Theatre (AACT); Ann as a Parliamentarian. In 2005, Sherman received AACT's "Robert E. Gard Superior Volunteer Award". They are also members of the Theatre Association of New York State (TANYS) with Sherman serving as a Roving Adjudicator. In 2009, TANYS honored Sherman when they named "The Sherman C. Ward Jr. Distinguished Volunteer Award" in his honor. The Wards are also proud members of the Little Theatre of Watertown.
On March 5, 6, 7 Sherman's play "Flowers" was staged at Trinity Church Auditorium in Watertown. This one act play is about a mother and her adult daughter who are accosted by the grounds manager and cemetery administrator for stealing flowers in the cemetery. Billed as a nefarious comedy with twists and turns of character, it offers interest to the audience and challenges to the actors. The play was attended by a TANYS Adjudicator and was then invited to represent New York State in the Eastern States Theatre Association Original Works Festival 2010. The festival is to be held May 7-9th, in Newark Delaware, at the Chapel Street Theatre.
From the ESTA Festival one Community Theatre production is selected from among its member states (NY, PA, NJ, MA, DC) to go on to the AACT National Festival in the odd years. AACT Fest '11 will be held in Rochester, NY, June 20-26, 2011 at The Geva Theatre Center.
And then there is Sherman's passion for art.  This passion began in 1949 when Ann's cousin sent a "paint by numbers" picture for Christmas. Upon painting that picture Sherman said, "I can do better than that" and painted his first oil, "Indian" which can be viewed at http://shermanwardart.com/ . He has since gone on to be held in high regard in the Thousand Islands region as a painter and sculptor.
He and Ann belong to the Arts Association of Northern NY (Sackets Harbor), Thousand Islands Art Center (Clayton), and are senior advisors to the North Country Arts Council (Watertown). As a member of the Dingman Point River Artists, Alexandria Bay, Sherman's home gallery is open to all visitors. Each year the works and studios of fellow artists Mary Compeau, Glenn Sweet, Hans & Ingrid Junga, Michael Ringer, and guest artist Cecilia Thompson are organized into The Dingman Point River Artists Studio Tour.  This year's show takes place July 24 & 25.
As a painter Sherman works primarily with oil and watercolor creating marvelous landscapes, portraits and still life. As a sculptor he has worked with plaster, bronze, silver and various other mediums creating abstract and figurative works. Various sculptures of all sizes and shapes adorn the front yard creating an outdoor exhibit, including a very realistic "Roland: the Man on the Bench" a polyester resin life size sculpture of a friend.
Along with organizing and contributing to Sherman's endeavors, Ann is equally busy with her own causes. She is devoted to Save The River and is an early member and past President of the organization. Ann is also on the Board of Trustees for the Macsherry Library in Alexandria Bay.
Sherman and Ann have been influenced from everything good that life has to offer and this is reflected in a nurturing and supportive nature. For the lucky ones who have been taken under their wing, they know that it is a very good place to be.
A Sherman Ward Sampler
[Editor's note:  We highly recommend Sherman's webpage.  Each album has a number of photographs, be sure to hit the small arrow to see all albums.   TI Life has chosen those linking to the Islands.  However there are many more for you to enjoy.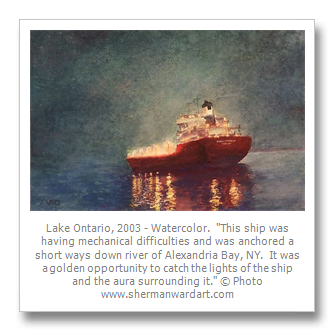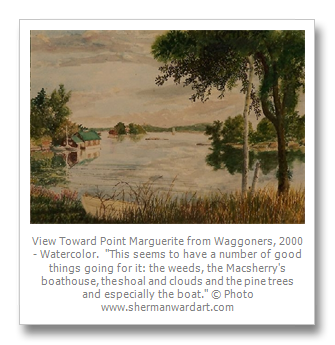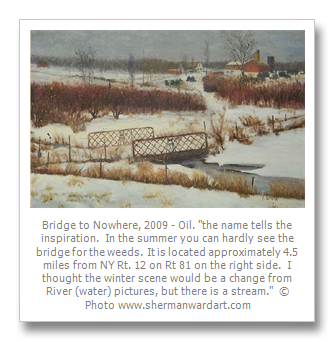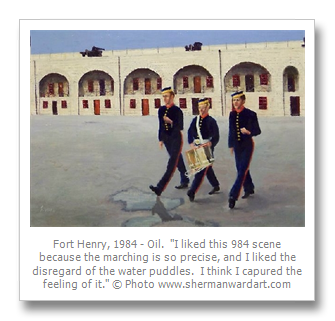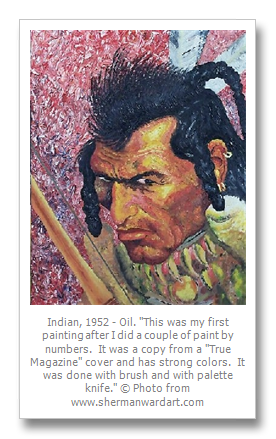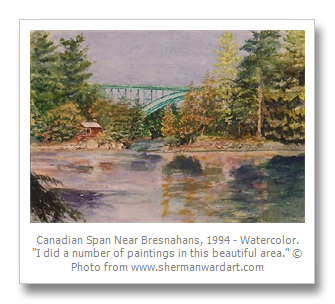 By Hope Marshall
Hope Marshall was born in Toronto but raised in the Ottawa Valley. For a change of pace she moved to Kingston where she attended college, worked and lived for eight years before meeting her husband and moving to the United States in 2001. Hope and her husband Joseph, have two daughters Miranda and Kendra. They live near Evans Mills New York, close to Fort Drum where Joseph serves in The United States Army , 3rd Brigade, Field Artillery.  In February 2010 TI Life featured Hope's photography.  She has recently been admitted to exhibit in "Exaggerate" Adirondack Theme Exhibition 2010 at the Old Forge Arts Center, May 9-June 6 th, and in the "Art Literally" Art Exhibit and Auction to benefit The Flower Memorial Library in Watertown May 24th -June 12th.
]