When Kim Lunman goes grocery shopping in her hometown of Brockville, she is often recognized. Kim is not remembered by her former classmates and teachers from her growing up years at Brockville Collegiate, or by those who know her as a twenty-five year veteran journalist, the reason that people often stop Kim is quite simply to say how much they enjoy her stories about the Thousand Islands. This is how Ian Coristine tells the story: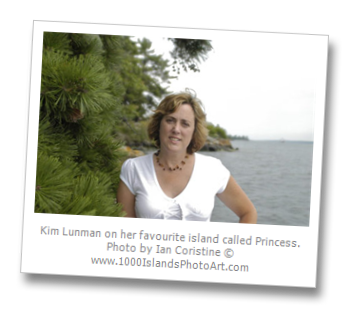 "Paul Malo and I became very close friends when we both discovered in the other not only a passion for the River, but the wish to build a greater appreciation for a world class place so many overlook or take for granted. We often discussed the need for an Adirondack Life magazine or a Down East, but were realistic enough to know that with a short season, it wouldn't be sustainable. Instead of wishing, Paul chose to do something about it and with Mike Franklin's help, ThousandIslandsLife.com was born online.
When I began showing Kim around the islands in 2008 for her newspaper stories, the very first was to take her to Paul's hospital bedside, then in his final weeks in a losing battle with pancreatic cancer. I knew she was serious about doing something of quality and wanted her to meet "Mr. Thousand Islands." That meeting resulted in an outstanding tribute to Paul when he passed away.
More importantly, she "got it." Paul had that ability to convey the importance of the subject.
A somewhat doubting city editor was talked into a feature story a week, on Saturdays, about the River in Brockville's Recorder and Times, and the enthusiasm Kim's writing talents and those stories generated, encouraged them to do the unprecedented. Assemble them into a color magazine and issue it at the very end of the season! Some criticized that she shouldn't be reporting beyond Brockville or the Canadian side, but to her credit, she sees this place as Paul and I do, a whole that is unique because of all its parts and ignored their complaints, reporting equally on both sides."
It was no wonder that people enjoy her writing style.  Her credentials are stellar. In 2000 Kim received the National Newspaper Award (NNA) for Feature Writing and received a NNA merit citation for Enterprise Reporting in 1994. Earlier she had been granted a Southam Fellowship, for journalists, at the University of Toronto's Massey College and she has been nominated for a Michener Award, Canada's highest honor for public-service journalism.  Kim received these awards while at the Calgary Herald and Toronto's Globe and Mail.   She spent time as the Globe's national correspondent in Victoria B.C. and served in Ottawa as parliamentary correspondent.
When Kim returned to Brockville in 2008 researching Island life and meeting islanders soon became Kim's passion.  Over the past two years, Kim has written almost fifty profiles. In the fall of 2008, Kim joined our TI Life team to help Ian Coristine, Mike Franklin, Michael Cox, and me (the new editor) carry on the work of Paul Malo who created Thousand Islands Life Magazine in 2005. Kim provides an article a month for TI Life.  Like all our authors, Kim is a volunteer. Her pieces bring hundreds of "hits" on the website as they are well written, contemporary, and great fun to read! 
So what comes next?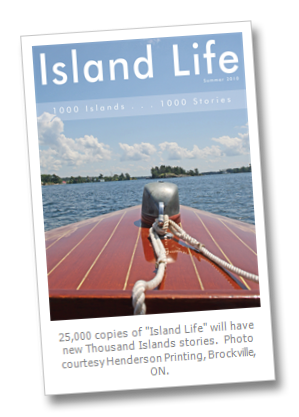 At the beginning of May 2010, Kim's new company, Thousand Islands Ink, will produce, and distribute, 25,000 copies of  Island Life, as an insert in eastern Ontario with distribution through the EMC papers and in New York though the Thousand Islands Sun. 
Kim credits the design to Lee Stover at Henderson Printing in Brockville.  And, with a subtitle, 1000 Islands…1000 Stories, Kim made sure the first issue will have new Thousand Islands stories, and the center-fold feature about Ian Coristine's photography.
Asked why "Thousand Islands Ink", she replied, "I knew I had to use 'Thousand Islands' in the name of my tiny media empire to reflect the region. The Ink is just short for "Ink-stained wretch."  
Kim also refers to her meeting with Paul Malo, "It was influential for me to meet Paul Malo in the hospital, just as I had embarked on writing about the Thousand Islands. He still had so much passion for the place and so many questions left to answer. His trilogy of Thousand Islands books: A Floating World, Fool's Paradise, and Boldt Castle, contain a boyish wonderment about a Golden Age in the Thousand Islands and an optimism in preserving its history - and perhaps in doing so - a return to another Golden Age."
Unlike her life before T I Ink, Kim is writing the copy, capturing the images, selling advertising, working with graphic artists, and making sure this publication meets her high standards.
And next?
When people ask Kim which island is her favorite, she will quickly say, Princess Island. We asked her why and she said simply, "I love the name. I also rented a cottage just west of Brockville six years ago on a holiday from Ottawa where I was working as a parliamentary correspondent for the Globe and Mail. The fairy tale name sparked my curiosity. I knew about the 'castle islands' of Dark Island and Heart Island but was surprised how little else I knew about the Thousand Islands. Two years later, I found myself writing about the Thousand Islands. I'm always intrigued by the names of islands like Willie Nelson Island, and Black Ant Island, Cleopatra Island. What's in a name? Usually an interesting story.
In fact, Kim says her next challenges are simple: "a) Find out how Princess Island got its name, b) take a good photograph of a blue heron and c) and learn how to drive a boat".
Everyone involved in Thousand Islands Life Magazine wishes Kim great success with her new venture. And as Ian says,
"Now 'Island Life', Kim's very own publication, is raising the bar further, producing a higher quality product more befitting the place than has existed before. And it's just the beginning. Paul would be very proud. I know I am."
If you love to read about our Thousand Islands, please pick up a local newspaper. You'll enjoy the stories, and don't forget to tell your family and friends about Island Life.  We want Volume II to follow.
By Susan W. Smith, susansmith@thousandislandslife.com
To see the complete list of TI Life articles written by Kim Lunman, click here