Many thanks, Ian
Written by
Susan W. Smith
posted on May 12, 2010 23:00
Ian Coristine has constantly told his friends, that "raising the bar" in the Thousand Islands is our Number One task and over the years he has spent countless days making this a reality.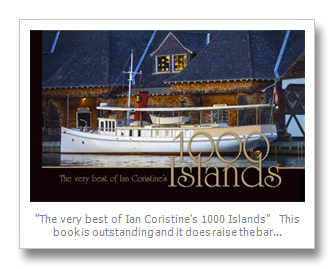 This month Ian took possession of his fifth book and the title says it all, "The very best of Ian Coristine's 1000 Islands". 
It is set in his familiar format, (9.5 by 6.75 inches or 21 by 17 centimeters); much like the original Thousand Islands guidebooks published a hundred years ago. However, this book is very different. As Ian says: "This is my last book of photography. I wanted it to be the very best in terms of images and quality. Surprisingly, it took a global search to find a printer who could produce pages with extreme gloss and the result is a wonderful surprise when you first crack the cover." 
I had the privilege of being presented book number 3, which came off the press in late April. As the editor of TI Life, I can emphatically say, "This book is really outstanding and it does raise the bar".
On June 4th (in Brockville) and June 26th (in Clayton), Ian's book will be officially launched. Erin McCarthy Brick describes these events in Photos and Music Celebrate the Thousand Islands in this issue. Erin tells a special story about Ian, stolen photos and … well, I don't want to reveal the whole story. (Paul Malo also told the story, in September 2007, in Ian Coristine's Galleries).
Ian is extremely generous with his passion for the Thousand Islands.  He has shared more than 65 photographs with us through our TI Life headers and monthly, from October to May, he sends a computer wallpaper photograph, to 4,000 + subscribers, with a quiz to test their knowledge of the River.
Well, Ian, thank you for giving us your passion and for the very best of Ian Coristine's 1000 Islands, and don't take my word of thanks, just keep reading below…
Page 66.  Caption: Sometimes it takes fresh eyes to see what's buried in the library.  I passed over this for years until a magazine asked to use it in a feature. Only through a two-page spread did I see the unlikely scene of a large ship emerging from a labyrinth of islands to stumble upon an island castle.
Judy Wellman, Fulton, NY
"We all love the Thousand Islands. They are places of beauty and peace. But when we view them through Ian Coristine's eyes, we see them from a new and nobler perspective. By sharing his own special vision, based on his lifelong love for this remarkable place, Ian Coristine brings us into a community of people who transcend time to delight in the sheer beauty of this special place."
[Judy is the wife of the late Paul Malo and a special River friend.]
Simon Fuller
It is hard to believe that it has only been two years since I first met Ian (we probably talked more in that time than most friends do in a lifetime!)
Ian is the ultimate "connector" bringing together so many of us (who share similar attention for detail and quality). More than anyone else, his enthusiasm and persistence has demonstrated that collectively "pulling in the same direction" we are capable of doing so much more than the sum of our individual efforts in creating a greater understanding and appreciation for this special place.
From his unique perspective through the lens of his camera out of his ultralight Ian has instilled a deeper passion within us for the wonders of the 1000 Islands in a way that inspires us all to want to raise the bar even higher!
A world class region could have no better international Ambassador. Bravo Zulu Ian.
David O'Malley, Aerographics Creative Services, Ottawa. ON
"Ian Coristine's passion for the Thousand Islands is visceral and contagious. You can hear it in the emotion of his voice when he speaks about his island. You can see it burning in his eyes when he looks out over these remarkable islands and channels. I have never met a man so in love with his home. Though not born to the Thousand Islands, Ian's soul permeates every bay and eddy. Ian's love for the Thousand Islands finds expression in his photography, but it was his photography that grew that love. He is as much a part of this place and its history as George Boldt, Frederick Bourne or Paul Malo. The River did indeed "choose him".
Kim Lunman, Thousand Islands Ink, Brockville, ON
"Ian Coristine is more than a photographer who happens to know how to fly a plane and, at the same time, take spellbinding photographs of the Thousand Islands. His images, which are published in his five books and other publications around the globe, capture this beautiful region in all its best angles for the rest of the world to see and for those of us who are lucky enough to live here to really appreciate. His photographs of 1000 Islands are worth more than a 1000 words: They tell a story of a most storied place that should be shared and cherished. Ian really is an ambassador for this amazing archipelago and his passion for his surroundings is contagious. He's more than a talented photographer and author: he's an educator who has genuinely and generously shared his information and images with others to promote the Thousand Islands and his influence is greatly appreciated. Congratulations on your very best, Ian!

Mike Cox, Creative Information Solutions, Dunrobin, ON.
I have never met anyone so obsessed with details. When working with Ian I am always pushed to see beyond my perceived limitations and a finer product is always the result.
Mike Franklin, Select Sotheby's International Realty, Saratoga Springs, NY
As Paul Malo would say…. "No one raises the bar in the Thousand Islands like Ian Coristine."
Page 31. Caption: Old charts use the name Three Sisters, though today it is known as Sister Island. The explanation came when I purchased a sketch dated 1870, the year the lighthouse was built.  It revealed three individual islands joined by bridges. The gaps were later filled, creating a single island.
Michael Folsom, the Ship Watcher, Clayton, NY
I remember being introduced to Ian for the first time - he happened to be sitting on my in-laws coffee table. Ian's work is utterly breath taking and brings you home to the Islands with the flip of every page. Whether you are 10 or 1,000 miles from the region, Ian is capable of making you feel as if you are always there. His work will be admired for years and years to come. If you haven't met Ian yet yourself, something even I have yet to do in person, I suggest you check the nearest coffee table, he may be sitting there waiting to take you on a photographic journey of this great place we call the Islands!
Brian Johnson, Kingston, ON
"Through Ian's lens, we are really seeing the islands for the very first time. I know I am. Thanks Ian."
Lynn McElfresh, Grennel Island, NY
"Ian, Thanks for island scenes that send my heart soaring."
Richard Withington, MD, Round Island, NY
"Ian's gift is not to us but to our children and grandchildren. We have all seen young people who have lived or visited here and then gone away. Many of them feel the tug of the River as their "home" or their special place in the world. Unwittingly, their anchor is set here, and years later it draws many of them back to their origins. Beyond the simple magnificence of Ian's art lies the realization that, for many, it is the line that connects them to their personal "anchors" here in the Thousand Islands. They can look at his art anywhere and feel the warmth of "home" revisited. Not everyone sees this area as a personal slice of paradise, but for those who receive the gift of "anchoring" here, Ian's work is the "anchor line" that connects them to their past,... and probably to their future. Art can be enjoyed for its own sake, but fulfillment is when it reaches deeper to capture, preserve, instruct, and captivate the human spirit. It addresses man's relationship to creation and puts it in perspective. It is in this that Ian's art excels. He has joined an elite group of "River Treasures"........."


Kristen Pinkney, Greenfield, NH
"Once Tom and I were talking to Ian about being on the River and what it meant to us and he told us "The River chooses some."  That kind of stuck with me!  His books show why."
Trude Fitelson, Thousand Island Park, NY 
It seems as though it was yesterday that Ian, Paul Malo and myself chatted on line about the Thousand Islands and the fact that it was not known in the way we 3 viewed it. Out of this conversation, thousandislandslife was born showcasing the islands in a way that raises the bar, in content and pictoraly (spelling) Ian and Paul were the most inspiring team and best of friends. Pauls dream is alive and Ian's vision frames that dream. Congratulations on the new book!
James Rappaport, Indian Point, Hammond, NY
"Ian, Your ability to visually capture this region in such a remarkable way is a true inspiration".
Erin McCarthy Brick, Wellesley Island, NY
"Ian Coristine's photographs give us wings.  We are earthbound in our view of the River until we turn the pages of his books.  His artistry allows readers to soar, to explore as never before the islands and shoreline on both sides of the border."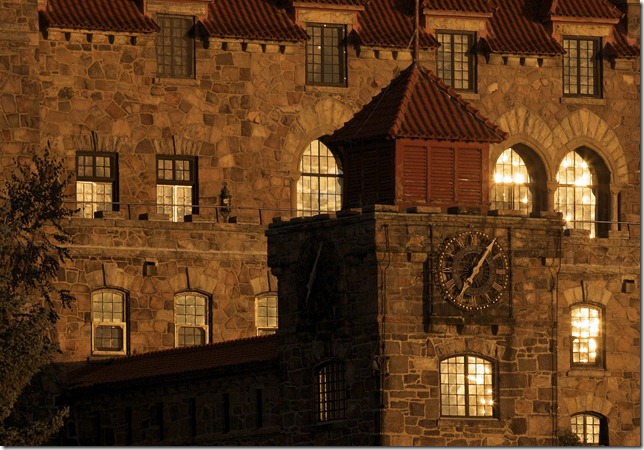 Page 17.  Caption: A rising sun glows in the windows of Dark Island's The Towers, originally built as a "shooting box" by Singer Sewing Machine's president Frederick Gilbert Bourne.  That's what he told his family he'd built, until they rounded Cedar Island in 1905 for their first visit.
Susie Wood, Chippewa Bay, Hammond, NY
"To look at Ian's images is to see into the essence of this extraordinary place – a place of edges between land and water, between wild and domestic, between neighboring nations – and to know the entirety of an ancient landscape that supports life and nourishes spirit. Thank you Ian!"
John MacLean, Antique Boat Museum, Clayton, NY
"Although no Peter Pan, Ian Coristine's wondrous images help us to see the River and 1000 Islands with all the mystery and magic of innocence."

Linda Mainse, Arthur Child Heritage Museum, Gananoque, ON.
" I met Ian Coristine before there were any books or prints or maps or postcards … when all the possibilities for his collection of pictures was just a twinkle in his eye. It has been a joy to watch the story unfold and I thank you Ian for giving the Islands their place in the eyes of the world through the gift of your photography."
Bud Andress, Hill Island, ON
"For those of us that have a deep love for the true beauty of the Thousand Islands, Ian Coristine's passionate photography reminds us exactly why." Bud Andress, Hill Island, ON
Amy Flack, Clayton Opera House, Clayton, NY
"We are grateful to Ian for his creativity and for sharing his extraordinary photography with the community.  Ian's work is truly an inspiration!"
 
Photo by Ian Coristine © www.1000IslandsPhotoArt.com
Page 1. Caption: The very best of Ian Coristine's 1000 Islands
For those of us who work on TI Life this particular article is special as Ian Coristine had no prior knowledge of this tribute!  For me, keeping a secret is difficult at the best of times.  This was tough.
By Susan W. Smith, susansmith@thousandislandslife.com
Comments
Comment by: Michael Laprade ( )
Left at: 7:54 AM Monday, May 17, 2010
---
I have been so taken by Ian's photos that I bought my own Challenger float plane so that I also can have the "Privileged View". He has been my inspiration.
Comment by: Ian Coristine ( )
Left at: 8:56 AM Monday, May 17, 2010
---
I got up this morning to find my favorite magazine in the in-box and opened it to find an amazing surprise! (I promptly emailed Susie telling her I loved the Magadoma story with no mention of this.)
Seriously though, when Mike Franklin and I first asked Susie if she'd take on the role of Editor of TI Life to continue my dear friend Paul Malo's important legacy, I suggested that she perhaps limit it to every two months or so, so she wouldn't burn out under the constant stream of pressing monthly deadlines. That was before I learned she was also president of TILT, on the board of the Arthur Child Center and managing countless other projects and commitments.
Not only did she take it on with energy and panache as a monthly, but she has built an incredible team of talented contributors to build this magazine into something Paul no doubt looks down on with incredible pride and (like me) not a little amazement.
Thank you all for your incredibly generous words. I know you all know and love this place exactly as I do, so your kindnesses are all the more meaningful. I am humbled and grateful.
Comment by: Jerry Marshall ( )
Left at: 12:50 PM Monday, May 17, 2010
---
Ian's Photographs bring back all the childhood memories growing up
on the river. Working on the tour boats availed me to see all of the great
pictuires Ian is recording.
Comment by: Tara ( )
Left at: 9:26 PM Monday, May 17, 2010
---
I love Ian's Photo's and his website. The ability to have the access to the river while in Ohio helps get through to the next summer! Great article!
Comment by: Patty Mondore ( )
Left at: 10:16 PM Monday, May 17, 2010
---
Well gosh! How can Bob and I possibly NOT jump in and add our 2 (US) cents! We haven't gotten our first copy yet but I've already thanked Ian in advance for making our Christmas shopping so easy this year. Ian doesn't raise the bar; Ian is the bar that the rest of us keep shooting (pictures) for. Ian, we can't wait to see your latest. As I anticipate this next book, I am reminded of how, just after his first book came out, we had asked if we could use one of his Singer Castle pictures for the cover of our first Thousand Islands music video. Not that we are big names now, but back then I don't think our chipmunks even knew who Gold-Mountain was. But Ian was so committed to seeing quality River productions show up on the market that he graciously gave us permission to use one of his stunning pictures. We later included some of his other Singer Castle photography in our documentary DVD for which Ian then offered us one of our very first celebrity movie reviews. So, we can testify firsthand that Ian is more committed to that ever-heightening bar than his own self-promotion. It is an honor to consider him a friend (and judging from all of the other endorsements so far, I'm gathering that anyone who is a friend of the River is, in some way, a friend of Ian).
Congratulations and blessings on your newest offering Ian!
Comment by: Linda Gayle Ross ( )
Left at: 10:59 PM Monday, May 17, 2010
---
Ian Coristine's photography simply takes your breath away.