Written by
Susan W. Smith
posted on June 12, 2010 22:26
When TI Life received a photograph of an Osprey fishing for his dinner, we immediately looked for the source.  We discovered the photographer was Martin Zonnenberg, who summers on Grindstone Island, and we asked for an interview.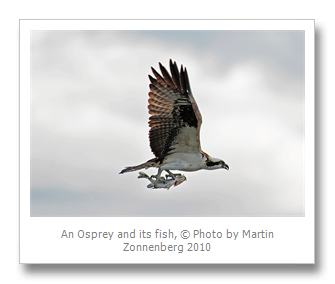 We arrived on a beautiful morning and moments after were taken on a tour to see his secluded "studio", a small, beautiful marsh tucked into the south side of the island.  On the bank was a photography blind big enough for a person to sit, camouflaged. A small slit allows Martin to watch the marsh and exhibit his greatest talent, patience.
He mentioned that he has taken photographs all his life and that led us to learn about the photographer, his early years and his passion for boats, wetlands and wildlife.
Martin is from Holland and came to the United states in the 1970s. Boats were a way of life in his village on the Rhine River estuary and sailing had a profound and lasting impact on his life.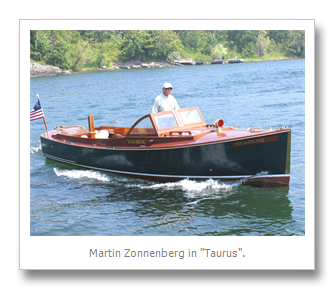 "Sailing broadened my horizons and sense of possibilities"  he explained. Zonnenberg went on to be a successful businessman in both Europe and the United States.
He came to the Thousand Islands with a friend and acknowledged the natural beauty immediately, returning often as a cruising family on a trawler and eventually finding the perfect location on Grindstone Island.
He learned to build wooden sculls with his uncle as a boy and enjoyed woodworking as an adult.  Both of these experiences naturally lead to his being involved in the Antique Boat Museum where he has demonstrated not only his sense of community through philanthropy, but  has also championed wooden boats and our Thousand Islands lifestyle.
In the winter Martin philanthropic commitment is transferred to Mt. Dora, Florida where he has created the lake Eustis Youth Sailing Foundation, providing unique scholarships and leadership programs in this central Florida community. 
Both homes on Grindstone and on Lake Eustis can boast some of the best habitats for water birds. Martin is out in his boat at dawn when the birds begin their day.  "By 9 A.M. you might as well go and have a coffee", he says, "by then the birds are gone". His new digital equipment allows him to capture hundreds of images, daily, and the evenings provide time to sort, discard and choose the very best memories.  He does not sell his photographs  but shares them with family and friends, although he does provide prints to non-profit organizations for an auction table.
Our visit to Grindstone Island and Zonnenberg's boathouse provided  the answer to our question as to who captured the fishing osprey - and as Martin was helping us leave his dock, he stated, "Photography is just a hobby, and it challenges me to keep on improving." 
TI Life is honored to share these incredible Thousand Islands photographs with our readers and we look forward to seeing the "challenges" in the future.
Photographs and Captions  by Martin Zonnenberg, 2010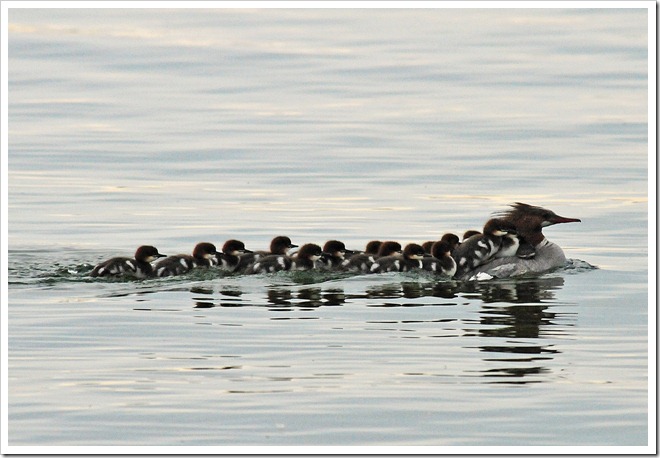 ©  Martin Zonnenberg 2010
"This is the most exiting shot I have ever made.......
The very elusive Merganser, who I knew had her nest somewhere on our place, showed up this evening showing off all her babies, I counted 16, HOW MANY DO YOU COUNT?
However, it was getting dark already when she was swimming by to bring her babies to a safe place to hide during the night. Also, she did not swim that close to the shore, It is a long distance shot with not a lot of light to make it a bright picture: BUT IT SURE IS UNIQUE!!!"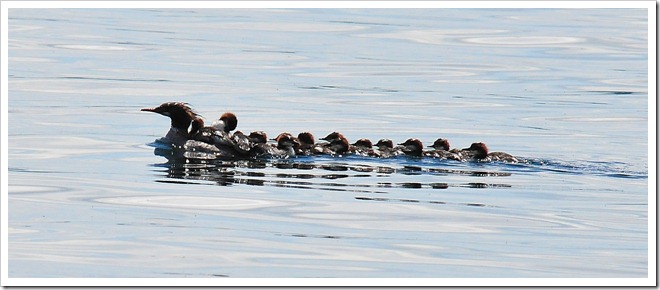 ©  Martin Zonnenberg 2010
Day after
"The next day, late in the evening, I saw the Merganser family again on the return trip to the Bay behind my boathouse: Did she look haggard... What had happened the previous evening was that she run into the fishing grounds of a loon family. The loons really made her life miserable for a little while, they were diving under the merganser train and swimming close by and the merganser had a hard time bringing her babies safe inside the reeds. However, now I only counted 14 baby mergansers, what happened?
© Martin Zonnenberg 2010
"An Osprey trying to chase a heron away: Heron stood it's 'branch'"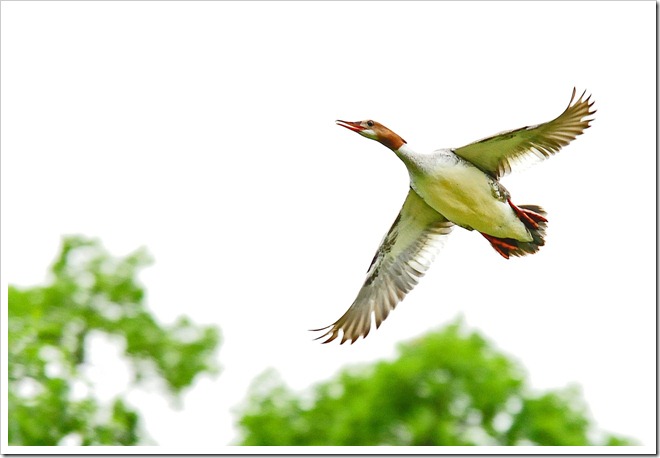 ©  Martin Zonnenberg 2010
"Soaring above in perfect flight"
©  Martin Zonnenberg 2010
"A heron was flying over the loon's nests and the hatching loon
had no trouble at all chasing him away with some choice words, hidden in his call...."
Editor's note:  Special recognition goes to Tom and Julie Tinnie, who live on the north side of Grindstone Island.  They build and maintain the loons nests each year.
Loon Series
Preparing for take off
"It happen so seldom to be so lucky to see a loon 'take-off', and to be close enough to capture  this exiting event on the camera.
The loon needs to make a very fast run for it to gain enough speed to get some lift to get up in the air. This whole running exercise is pretty difficult because his legs are almost located behind his tail..."
©  Martin Zonnenberg 2010
Editor's Note:  Click to enlarge each photograph. 
Each photo identification number is included so you will see how quickly the camera and photographer must work.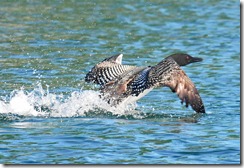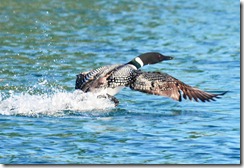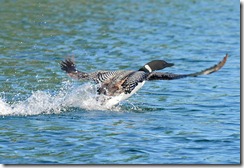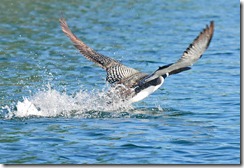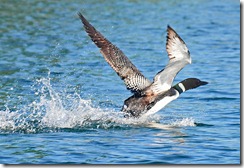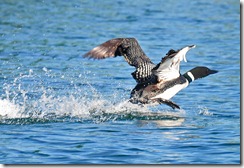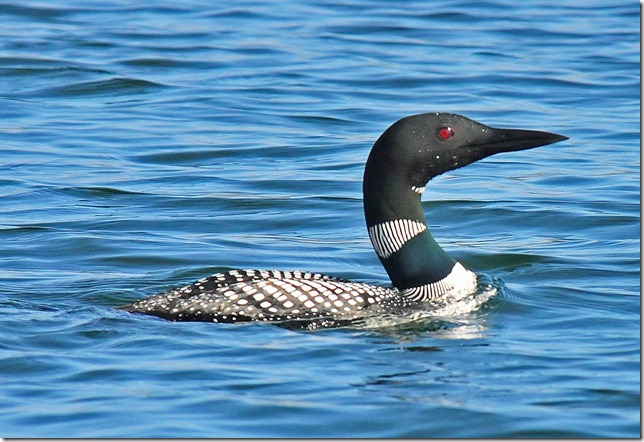 Ring-Billed Gull Series
Seeing a sea gull fly by our place on Grindstone is such a common sight that we do not give it much attention most of the time.
However, look closer.  They are unbelievable acrobats up in flight, have awesome eyesight and can spot a fish as good as any eagle or osprey! They will dive right in the water, head first, completely disappear, like a tern and come back with a fish with a hit record of 9 out of ten dives. Enjoy the ring-billed gull series.
© Photo by Martin Zonnenberg 2010
Editor's Note:  Click to enlarge each photograph – especially number 6 & 7. Again each photo identification number is included .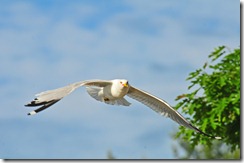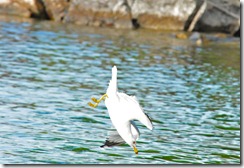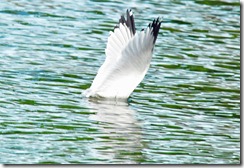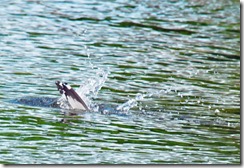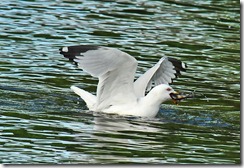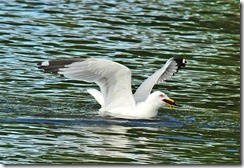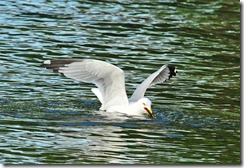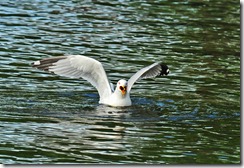 By Susan W. Smith, susansmith@thousandislandslife.com