Consistent with our mission of raising the bar, Thousand Island Life seeks to recognize exceptional quality. A new enterprise in Gananoque will fit this designation when Artouch opens in Gananoque's historic Britton House.
Asian art has found itself a home in a new fine art gallery that will feature an important collection of paintings, sculpture, ceramics and furniture.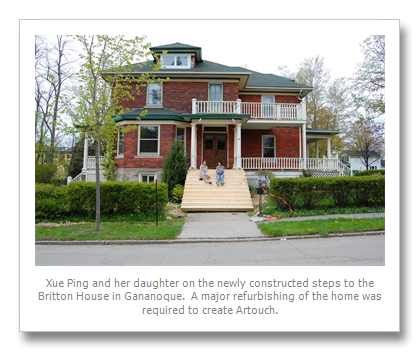 The property was purchased by Ping Xue and her husband, John Chi.  Ping and John maintain homes in Shenzhen, China and in Canada in Kingston.  They are both avid art collectors with an important collection of paintings, sculpture, ceramics and furniture. Their collection reveals a deep interest in the traditional arts of China, and is the background which led them to expand their activity in the art world by proposing to start a gallery in Canada.
The Artouch Gallery will be directed by Thomas Quirk, one of Canada's most renowned experts on Asian Art.
After university studies in Asian studies, Thomas began his career as the head of the Far Eastern department at Toronto's Royal Ontario Museum. After taking time to travel with his young family, in 1981 he joined Waddington's auction house as the Asian specialist and estate appraiser. In 1990 he moved to Kingston and began what has now been a twenty year career as a consultant to Waddington's. He continues to do valuations for museums, universities and institutions.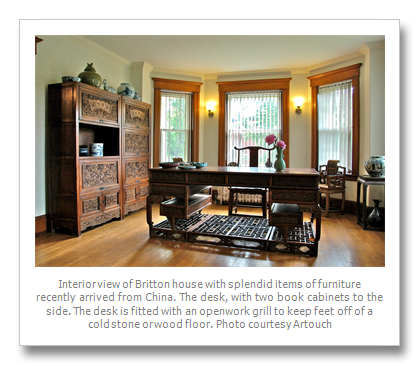 When asked how his interest in Asian art begin, Thomas answered,   "My grandmother was born in the early 1870s. Many of her generation were attracted to Eastern cultures. In Britton House today lies a Chinese carpet which I inherited from her. My grandmother's cousin also had a large and varied collection of Chinese and Japanese art. Seeing those porcelains and rugs in my early years led to a lifelong interest in Asia. When I entered the University of Wisconsin in 1964 I soon registered for courses dealing with China and Japan, and thus began a history that leads directly to Britton House".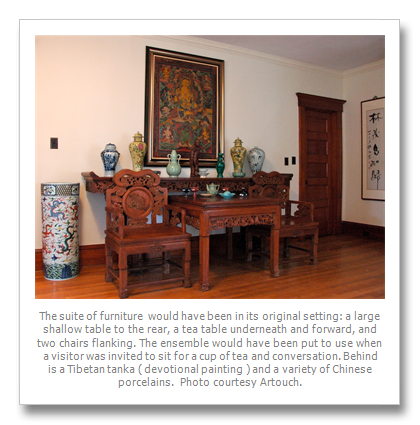 Thomas explains, "Artouch is the name we give the spaces at Britton House, in their identity as a display space for fine and decorative arts. The gallery will be a space where art works are shown as though they have meaning, as though they enrich our lives, as though they matter. This is because I do not regard fine or decorative works of art as background. I want the spaces at BH to be alive, not dead storage".
Ping Xue also expressed her view of the Gallery.  She explained,  "We hope that the Artouch Gallery will not only be a place to see and buy art works, but we also hope it expresses our philosophy for a sustainable living style. Everything in the gallery is a heritage from our ancestors of ancient generations.  These works of art can be passed on, and on, over time, still in good shape and still be appreciated." "Because," Ping said, "they are made to last.  This is in contrast to today's consumable lifestyle".
They have some interesting plans to involve the more knowledgeable collector by hosting seminars with trade experts and artists as well as informal talks by specialists on topics they believe will be of interest to their friends and customers.
Some items will come from China and the Artouch Gallery will also purchase works of art, as they are eager to meet Canadians and Americans who have items or collections to sell. Chinese buyers are intensely interested in acquiring Chinese works of art sourced in North America.
The Artouch Gallery website will bring an appreciative audience and newcomers as well as attracting international collectors and trade buyers. Local collectors, including beginners, merely need to call or write.  As Thomas is quick to note, "Introductions will be made both ways, and I will do whatever I can to ease a newcomer into a field of collecting or to help an experienced collector with a particular problem or challenge". 
The gallery will hold an opening reception in the summer and until then TI Life gives our readers a sneak preview of the range of items they will carry and that they are interested in collecting – Enjoy:
| | |
| --- | --- |
| | A superb Royal Worcester vase painted by Harry Davis, an example of the best grade of English porcelain, and part of TQFA's stock at Britton House. Photo courtesy Artouch, Gananoque, ON |
| | This is a rare ( in Canada ) 18th c. Bolognese fresco of a heavenly being, possibly Gandolfi school work. The Gandolfi brothers were followers of G-B Tiepolo and were major figures in the world of painting in Bologna in the hi18th c.  Photo courtesy Artouch, Gananoque, ON |
| | A Chinese hanging scroll by the noted Hangzhou painter Ren Bonian ( 1846-90 ). Photo courtesy Artouch, Gananoque, ON |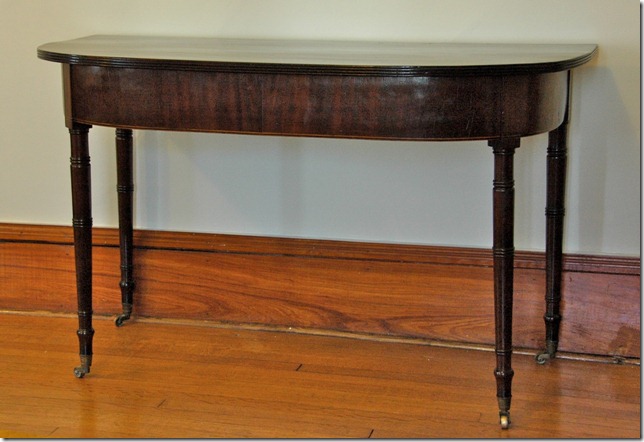 One of two ends of a Canadian, Nova Scotia, mahogany dining table, c. 1840. This type of table is often called a 'D' end table. Between the pair of matching ends is a single leaf. Both tops and leaf are single boards, not pieced construction. It has a lovely deep chestnut brown color and is in fine state for its age. Photo courtesy Artouch, Gananoque, ON.
Artouch Gallery @  Britton House
110 Clarence Street, Gananoque, Ontario   K7G 2C7
info@artouch.ca;   Tel: (613) 382-9888