Michael Ringer almost chose "Shop" when he was in Grade 7, but his best friend suggested that the two of them sign up for "Art", because it was sure to be an "Easy A…" For those who appreciate the landscape of the Thousand Islands and the Adirondacks, we are extremely grateful.
Kim Lunman and I recently met Michael at his River studio on Dingman Point. He credits V. Roger Lalli, his high school art teacher, for giving him a solid foundation in "perspective" and his college professors who challenged him to expand his horizons. He received his Associate Degree in Fine Art from the Rochester Institute of Technology and later received a Masters Degree from the University of Buffalo.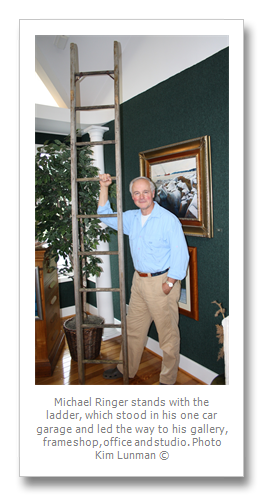 In the early 1970s Michael and his wife Meg moved to Alexandria Bay where he taught Art in the local High school for more than two decades. His art became his full-time occupation after judging an Art Show with Harold Herrick Jr., of Cape Vincent.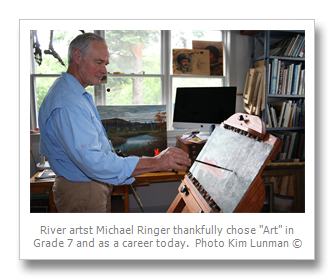 "I asked Harold if he would look at my art and give me his opinion." Michael remembered.
Herrick was already a well known, local historian and wildlife hunter. He is remembered for spearheading the first Art and Decoy shows in Clayton and was a founding member of the Thousand Islands Museum.
Even though it was late, Harold suggested he look right away. They went to Michael's home and in a few minutes Harold was climbing the ladder to Michael's attic studio. Harold, a man who did not give praise lightly, advised Michael that he was "a true artist but a poor promoter". He suggested that he put both his philosophy of painting, and a biography, on the back of each of his works. He also suggested, strongly, that Michael's prices were too low!
Others also helped Michael. The late Andrew McNally III wrote the foreword to For the Love of the River published in 1994, and considered a premier River book.  Clayton's Judy Foster  helped edit the book and her husband, the late Rett Foster, was one of Michael's closest friends. The Paul Regan family, of Bostwick Island, also provided encouragement.  They began the long list of patrons.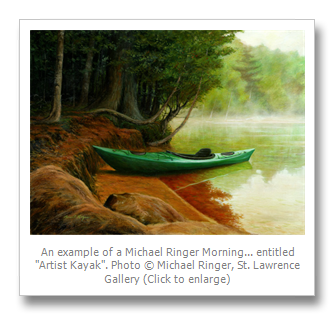 Answering how he begins his painting, Michael answered, "I use a series of techniques, including watercolor studies, photographs and sketches, but I think it is my ability to capture the volume and depth of a  scene in a sketch makes the difference for me. These sketches act as the primary source of most paintings."
He loves the morning light and has painted so many misty-river scenes that his friends are likely to refer to the morning mist as a "Michael Ringer Morning"
In addition to the land  -  the islands, wetlands, and river craft, are the subjects for his paintings.  Many are captured in his books:  For the Love of the River (1994), The River (1998) and River Life (1999). In the mid 1990s Michael began painting the Adirondack Mountains. He has written  Adirondack Seasons: Old as Time (2006), which has become a classic in the region.
To date, he has completed over 1,500 paintings in oil, watercolor, acrylic, and pastel, which depict the River, the Adirondacks and southern Florida. He has also created over 500 bronzes of 15 sculptural works.
After establishing himself as a River artist, he was the host for The Artist's World, a PBS Television series that ran for three years and went national (160 stations) in 1997.
Often over the years Michael has written essays called "One Artist's Perspective." As we left his studio on our June visit, I asked if Michael would share some of his latest perspectives with us. This is his first, we will publish others in future issues.
Bronze Casting in Lost Wax

Written by Michael Ringer

Old world civilizations made art castings in bronze from the time of the introduction of the alloy, making spearhead blades as weapons.  The ancient Chinese, from about 1200BC, knew the method of lost-wax casting. The Shang Dynasty created large ritual vessels with complex designs that have survived and are still intact in ancient tombs.

Essentially this is the process;  The artist first creates the sculpture which can be made from any materials, the most common are generally clay and wax.  An armature must first be built.  An armature, often made of wire, acts as the skeleton or framework support upon which the artist applies the clay.  Clay by itself, especially oil based clays, never harden.  Though the majority of sculptors use this clay, it does not have enough strength to stand by itself and needs a strong internal support system. 

Once the clay work is done, the sculpture is sent to a foundry to make a mold.  The clay model is simply a model or "makette" that is necessary to create the original bronze.  A makette could not be put on display in a  home as it would be extremely susceptible to damage, would attract dust and dirt and would not even withstand light feather dusting.  A mold cast is made of each side of the sculpture with a silicon liquid and then covered with a plaster. 

After the mold is removed from the clay it forms a "negative" with all the details from the original imprinted into the mold.  The two halves are then put back together.  Melted beeswax is poured into the mold. When the wax hardens the two halves are separated and a "positive" wax model is removed that looks exactly like the clay model it was made from.  There may be imperfections on the wax and these are "chased" or removed by skilled Artisans.

The wax is then dipped into liquid ceramic several times until a thick layer covers it.  This ceramic now is one solid piece,  totally encasing the wax positive.  After the ceramic hardens at room temperature the wax is melted out. This is how Lost Wax got its name.  With the wax removed, the hollow ceramic is fired at about 1800º and then liquid bronze is poured in at 2050º fahrenheit.  When everything cools and hardens the bronze metal is much more durable than the brittle ceramic mold.  The foundry artists will then "knock off" the ceramic with everything from hand mallets and chisels to pneumatic air hammers and sand blasters.  When all the ceramic is off,  a raw bronze remains. 

The raw bronze needs some refinement as well by a "metal chaser." This skilled artisan at the foundry will go over the surfaces with dremmel tools, sandpaper or any tools needed to make sure that the surface textures are exactly as they were in the clay.  Sometimes separate parts need to be welded on.  After metal chasing is complete it is taken to receive a patina.

Bronze is 90% copper and over the centuries it has been discovered how to change the surface of the metal or "patina"  the surface. There are two types of patinas, chemical and painted.  Hundreds of different colors can be achieved through different oxides and carbonates (oxidation and acidity).  If you have ever looked at your copper tubing in the basement of your home you are aware of just some of the colors copper can turn.  A painted patina covers the surface with an artist's pigment like acrylic or oil paint while a chemical patina reacts with the surface of the bronze.

After the patina is finished, the sculpture is mounted on a base and ready for delivery to the collector.  The life of a modern day bronze is long even in less than ideal conditions. Bronze is certainly one of the most enduring forms of art with a life expectancy beyond 20,000 years. 

Bronze Castings by Michael Ringer


To see these in detail, please see

http://www.michaelringer.com/site/Bronze.html
"The Market Hunter"
15" x 20" base by 28" high, bronze
© Michael Ringer, St. Lawrence Galleries
 
"Heron and Catch"
10" high x  6" circular base of green marble, bronze
© Michael Ringer, St. Lawrence Galleries
"Packing out"
12" wide x 20" high, rotating base, bronze
© Michael Ringer, St. Lawrence Galleries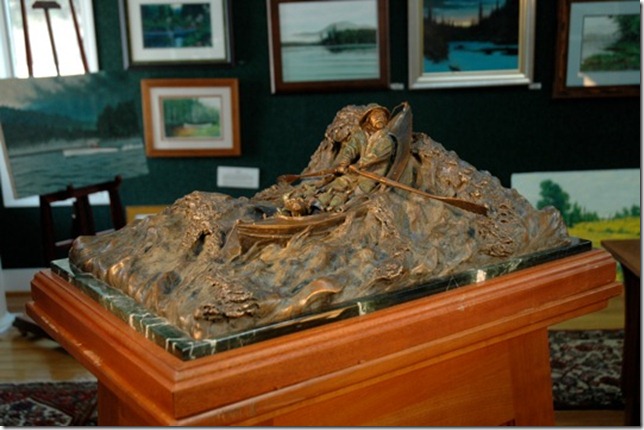 Riding out the storm
12" x 26" base by 10" high, bronze
© Michael Ringer, St. Lawrence Galleries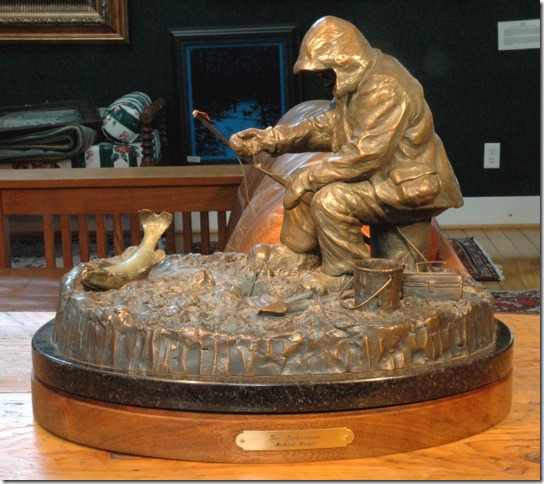 The Ice Fisherman
10" x 14" oval base x 12" high, Bronze


© Michael Ringer, St. Lawrence Galleries


 
Susan W. Smith, susansmith@thousandislandslife.com
Michael C. Ringer, St. Lawrence Galleries, Alexandria Bay and Clayton, NY.
To see original bronze sculptures and Michael Ringer's original art works, visit Michael Ringer's St. Lawrence Gallery on Dingman Pt. Rd, just a mile north of Alexandria Bay, or the St Lawrence Gallery 203 St. James St. Clayton NY, 13624.  For information call 315 482-2833 for Dingman Point or 315 686 1009 for Clayton,or visit them online at www.micharelringercom. 

Editor's Note:  As we go to press Ian Coristine sent this comment about Michael Ringer's work:

"When I first discovered the islands, I was extremely impressed with Michael's art, and more importantly how he presented the place, which it is very clear he held in high esteem. My son Scotty and I were thrilled when he signed copies of his early books to us and they still proudly reside in our library these many years later. His bronzes in particular are treasures and through the various forms of his art, it is very easy to see that the River chose Michael. He not only loves the place but clearly wants to build a greater appreciation for how very special it is.

His art and books have certainly done that, but perhaps even more important is the way it is all presented in his exquisite shops/galleries. They are home to so many tasteful and appropriate River items that may not all be of his creation but along with his many art forms, make for a very compelling and appropriate River experience. He has definitely raised the bar, considerably. If you love the River and haven't yet visited his galleries, you are the loser."  Ian Coristine