Written by
Dean Pagani
posted on August 13, 2010 22:23
This article is written for our young readers.  Please let us know if you have an island story that deserves to be told.  And enjoy...
They call me Higgins. I am a Welsh Terrier and proud of it.
My owners have allowed me to spend my first summer of life in the Thousand Islands and I have thoroughly enjoyed myself. I came here at ten months old after living in Washington D.C., where there is a lot to see, but it is mostly made of concrete and you always have to be on a leash, use fire hydrants and wait for your owners to pick up after you – which I still don't understand.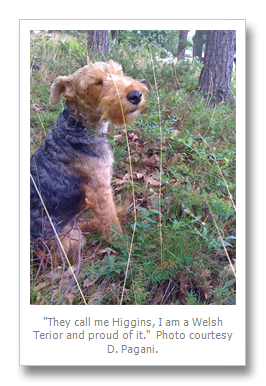 Here I have been able to run on grass, ride in a boat and protect our island from waves as they come ashore. Most waves are scared off by my bark and roll back out onto the river very quickly after hitting the rocks, others I have to be more forceful with and in some cases, unfortunately, must resort to biting. It is difficult work, because the island has a large shore that must be protected and the waves often try to come in all at once. So I really need to scramble. It can last all day until about the time the boats stop going by.
On my first boat ride I learned an important lesson; I cannot walk on water. The water looked solid to me so as we approached my first dock, I thought I would get a head start on the family and just jump off the back of the boat and hop up, but even at a mere 20 pounds the river could not support my weight and I sank in. It was cold.
That was the day I learned to swim. I didn't have to swim far. My owner grabbed me by the collar, pulled me back on board and then showed me the proper way to disembark. Only after the boat has been put on a leash and he says, "Okay."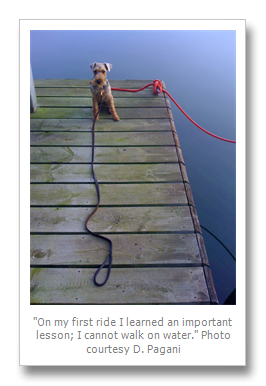 I don't like docks because they appear to be moving and I am afraid of falling through the slots. I have learned to not walk on the slots, but only on the boards and never look down no matter what smells may be coming from underneath.
Hunting is another pastime I have come to enjoy. I begin by finding a dead fish to roll on so my prey cannot smell me approaching. Or if they do smell something they say, "Oh, it's just a dead fish" and they walk right into my trap. I have gotten very close to many prey including; ants, bees, spiders, toads and geese, but all have managed to slip away before my opportunity to deliver the final pounce. To my surprise, the bees are actually willing to bite back. And the geese stick together no matter what. They have a funny bark and hearing them honk as they scamper away is half the fun.
After every hunting expedition my owners give me a shower or a bath which is not only humiliating, but completely ruins the effect of rolling in dead fish, so I eventually have to do it again. They just don't get it. They use a soap on me that smells like an orange and I can't rub it off no matter what I do. The only thing that seems to work on it is; you guessed it, dead fish. When will they learn?
I dread when fall comes because that's when we are going back to Washington. They keep saying it is right around the corner, but every time I go to the corner of the island to check, I do not see fall coming. Maybe they're wrong.
By Higgins, with help from Dean Pagani
Higgins lives in Washington DC with Dean C. Pagani.  Dean is a public relations consultant who lives in Alexandria, Virginia with his wife Kate Kiernan and their dog Higgins. He and Higgins have been working this summer from Butts Island in Ivy Lea, Ontario.