I remember the first time I saw a loon. It was in the early 1980's, because we still had that small aluminum fishing boat. My husband and I were taking the kids to Wellesley Island State Park to hike when I saw a "strange duck" in Eel Bay near the Wellesley Island shoreline. Gary slowed the engine.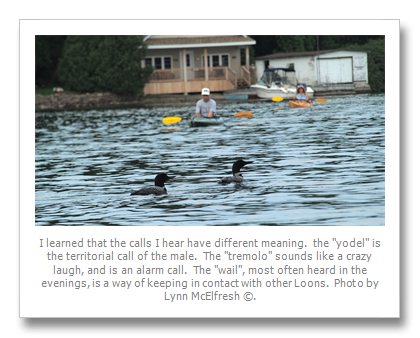 As we drifted close, the "duck" disappeared beneath the surface of the water. At the time, I was only familiar with mallards. I'd never seen a duck dive. The four of us leaned over the side of the boat, peering into the water wondering where it went. It suddenly resurfaced on the other side of the boat, behind us, and let out a piercing call. I jumped so high, I almost fell out of the boat! The "duck" dove again, but this time resurfaced 20 yards away. What was that strange bird?
We continued onto the Minna B. Anthony Nature Center, where I hoped I would find the answer. There, in a display case was a decoy of the bird we'd seen. It was labeled, "Common Loon." But there seemed nothing common about this bird with its elegant black and white patterning, jarring call and Houdini-like disappearing act.
Over the years, loon sightings have been rare around our island. I might see a loon early in the season, but usually we only saw loons while cruising Canadian waters. Sometimes late on calm, still nights we might hear loons calling in the distance.
Loon calls are magical. When I hear a loon, goosebumps prickle my arm. There is something primitive about the sound. It is the call of the north. The call of something wild and free. Something stirs inside of me.
In 2005, Grenell Islander and Thousand Island Land Trust (TILT) member, Peter Hendley asked if I would like to take part in a loon census. TILT was partnering up with the Wildlife Conservation Society's Adirondack Program to count loons in the Thousand Island Region and Peter organized volunteers on Grenell so all the waters around our island would be monitored between 8 and 9 on a Saturday morning in July.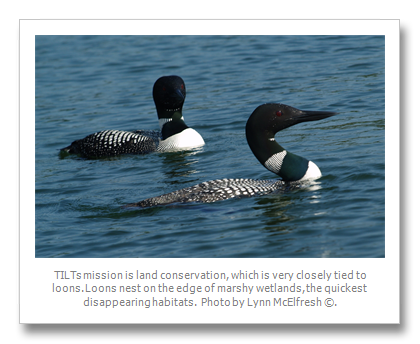 I said yes, but knew it would be an hour paddling around in the kayak and not seeing any loons. I was right. I hadn't seen a loon since late May, so why did I think this day would be any different?
Loon or no loon, Peter has diligently recruited volunteers every year since. The first loon sighting was in 2008, when Emma Sweetapple and Peter's granddaughter, Paige Steiding saw a loon on the south side of the island during the prescribed time. Last year (2009), I saw a loon during the loon count! Finally! Something to write on my form besides a big fat goose egg.
Last year, I often saw a single loon near the foot of Murray at the entrance of the Narrows. This year, I've seen a pair of loons in the area. In fact, I see the loon pair almost everyday en route to Wellesley Island State Park for my daily hike and we hear the loons call almost every night. They were very loud early in the season, especially on moonlit nights. Because I've seen them so often, I've witnessed some interesting behaviors so I called TILT's resident loon expert, Star Carter, to find out more about the loons.
"Loons are very primitive birds," Star told me. They haven't evolved like other birds have. They don't have hollow bones. So, because they are heavy and sit very low in the water.
I described to Star an incident I witnessed in May. Two loons put on quite a show. It started near Hub Island when one loon would rise up out of the water, exposing its bright white breast and flapping its wings. It would flap and dance across the water calling and splashing. The other did the same back and forth moving across the water between Hub Island and Wintergreen Island. This went on for about a half hour. I thought perhaps it was a mating ritual, but Star explained what I witnessed was a probably a territorial dispute between two males.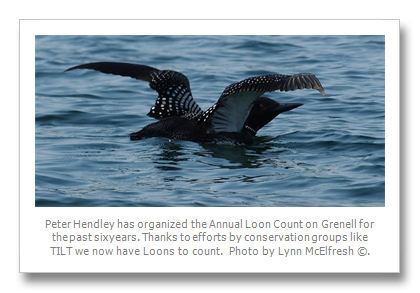 Star explained that loons are not only territorial, but also very loyal mates. Loons mate for life and they sometimes live for 25 years. Loons migrate south to Georgia and Florida, even around on the Gulf coast. Star told me the male and female adult Loons migrate first in October/November, but they do not always meet up in their wintering grounds.  They meet back at their nesting grounds the following spring.  She joked that perhaps loons are able to stay together for so long because they take separate vacations. 
Star also explained that the young Loons stay later, sometimes into December, building strength for the long migration south.
On Saturday, July 17, Fellow Grenell Islander, Kate Walsh and I dutifully got in our kayaks and went in search of loons. It was an overcast morning with a brisk wind whipping out of the SW. The choppy water made it more difficult to scan the water for loons. We paddled back into the more calm waters of the bay at the foot of Murray hoping to see the loon pair.
We spied another "odd duck" that had a strange clicking call. But no loons. I was very disappointed. I've seen a pair of loons almost everyday all season, but the day of the loon count …..nada. I later identified the "odd duck" as a pied-billed griebe, a new bird for my lifetime bird list, so that was exciting.
I don't think the loon pair at the foot of Murray Island had a successful breeding year, as I never saw them with a chick. But I was happy to hear they are very territorial and are likely to return to this same spot year after year. Apparently, the male loon thinks our little spot of paradise is worth fighting for. I look forward to seeing them again next season.
Note: To learn more about loons in the Thousand Island Region, stop by TILT's office at 135 John Street, in Clayton. Or take one of the Ecology tours at Clayton Island tours. As Star says, "It's a great way for those who don't have a boat to possibly get an up-close personal look at a loon and learn more about loons in the area.
By Lynn McElfresh
Lynn McElfresh is a regular contributor to TI Life, often writing stories dealing with her favorite Grenell Island and island life.  We have learned a great deal over the past year from her musings, from moving pianos to island weddings or from plumbing problems to meeting old friends.  Each article is appreciated and enjoyed by our readers. To see all of Lynn's island experiences, search TI Life under Lynn E. McElfresh.