Written by
Randy Rezabek
posted on September 13, 2010 22:31
Tucked in a corner of Sackets Harbor is a reminder of our military heritage, and of the generations of veterans who lived, worked, and died at Madison Barracks.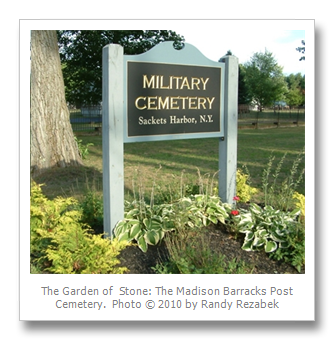 Madison Barracks was established in 1816 as a result of the War of 1812. During that war one third of the nation's Army and Navy were stationed at Sackets Harbor and the war demonstrated a need for a permanent military presence. Soldiers served here for the next 131 years; with the post serving as a frontier post, military depot, hospital and training center from the War of 1812 to World War II. Some of the famous military personalities who lived here over these years including U.S. Grant, Mark Clark, who was born at the Barracks, James Van Fleet, Korean War combat general, and the first women U.S. Army General, Elizabeth Hozington. Madison Barracks was host to a number of infantry and artillery units over the years including the 7th and 25th Field Artillery and the 3rd, 9th, and 11 Infantry regiments.
The Madison Barracks Post cemetery was established in 1909, when a number of graves were moved from near Fort Pike on the post grounds to the current location on Spencer Drive, just off Dodge Avenue.
It contains at least 257 gravesites, with veterans interred there from the War of 1812 to Vietnam and, sadly, the graves of a number of wives and children, dependents of the soldiers who died of disease.
One interesting feature of veteran's gravesites it that the inscription often give clues which allows a researcher to gain some insight to the service of the individual. An informed observer can infer and imagine some of what life must have been like for these forbearers.
Ownership of the military cemetery was transferred from the federal government to the town of Sackets Harbor when Madison Barracks was closed in 1949.
A website listing the graves interred here, can be found at http://www.findagrave.com/cgi-bin/fg.cgi?page=cr&CRid=65271&CScn=Madison+Barracks&.
[Click to enlarge photographs]

War of I812

Grave of one of the two generals buried at Madison Barracks. General Zebulon M. Pike was best known for his discovery of Pike's Peak, Colorado during his exploration of the west in 1806 to explore the headwaters of the Arkansas and Red Rivers. Pike was promoted to brigadier general in 1813 and sent to Sackets Harbor, where he soon departed in April to participate in the attack on York (Toronto) Canada. He was killed when the retreating British garrison blew up their ammunition magazine without warning. Pike was the first general killed in the War of 1812.

The second American general to fall in the War of 1812, Leonard Covington entered the Army in 1792, was commissioned in 1793, and fought in Northwest Indian War in Ohio. He resigned in 1795 to pursue interest in agriculture and local politics; he was elected to Congress in 1805 as a representative from Maryland. He returned to the Army in 1809 and by August 1, 1813 was appointed a brigadier general and given the command of the 3rd brigade of Wilkinson's northern army. He was part of the failed American attempt to invade Canada, and was mortally wounded at the Battle of Crysler's Field on November 11, 1813, dying at French Mills, N.Y., on November 14, 1813.

Another 1812er, LT. COL. Jonathan L. Tuttle, was an officer in Brig. Gen. Zebulon Pike's regiment. He died on July 22, 1813 of wounds received in the Battle of York. The 9th U.S. Infantry was organized in March, 1812, with Simon Learned, of Massachusetts, as colonel. The regiment was raised in Massachusetts, and served on the Northern frontier, fighting at the Battle of Lundy's Lane. The 9th Infantry was stationed again in Sackets Harbor as part of Madison Barracks from 1892 to 1905.

Sgt. J. D. Arlington, Pvt. Fred D. Petit and Pvt. Benjamin Wilson all drowned in Lake Ontario near the Madison Barracks at Sackets Harbor NY, December 11, 1888. All three men were members of Co. A, 11th Infantry Regiment. They, and a fourth man, Provost Sergeant Setwright were net fishing off Catfish point, 50 yards from shore, when their boat capsized while attempting to raise the net. The men attempted to cling to the boat as long as possible but hyperthermia set in the icy waters and three of them succumbed. According to the Oswego Palladium, "Setwright, being use to rough exposure, maintained the fight for life…he was saved after seeing his comrades sink one by one into a watery grave." Local fisherman William Galway rescued him.

The tree men are buried next to each other.

Three long lines of 143 unnamed graves save for the simple notation of "U.S. Soldier". Whether these are unidentified remains from the War of 1812 or just an indication of the 19th century Army's concern for the ordinary soldier is unknown. These were probably some of the remains moved from the original cemetery in 1909, since the headstones look newer than 1812.

As late as 1988 the remains of 28 unknown soldiers from Madison Barracks who were killed at the Battle of Snake Hill were discovered buried at Fort Erie, Ontario. Controversy developed over where their final resting place was to be, with local officials advocating Sackets Harbor. They were buried at Bath national Cemetery, NY with full military honors.

Another unknown grave of an 1812 soldier. It was unusual for an officer to remain unknown; his family may have never learned of his fate.

There were 19,465 military deaths in the War of 1812, but hasty on-site burials and poor record keeping meant that many of these soldiers were buried as unknowns.

At least ten graves of unknown children are interred here. They are most likely infant children of soldiers stationed at Madison Barracks. Another eleven are known only by their family names: Albert, Finney, Ginder, Goffenberg, Grant, Gulliand, Jaques, Minot, Richter, Robey and Shearer.

The 3rd Infantry Regiment is oldest active unit of infantry in the army, having been first organized as the First American Regiment in 1784. During the War of 1812 it fought in Canada at Chippewa and Lundy's Lane. Duty in pre-WWI Madison Barracks and Sackets's Harbor must have been quiet; but as the sad fate of Mike Fennesy attest, a soldier's life was never easy or safe. He was accidentally killed by a stray bullet fired during target competition in Put-in-Bay, Ontario Canada. No determination was ever made as to who shot him. - Source: The Oswego Palladium.