Written by
Liz Huff
posted on September 13, 2010 22:42
Karen Bockus and her friends have cooked up a creative way to give people a chance to observe professional artists at work, and at the same time, raise funds for a good cause.
On the weekend of Canadian Thanksgiving, October 9 -11, an event called Painters in Motion will happen, and there is a strong likelihood that magic will unfold before your eyes if you attend. Twice over the course of the weekend four of these fine artists from the Thousand Islands region will each start a painting. They will give themselves 30 minutes to get something blocked out. And then a bell will ring. At that point the artist will move to the next canvas, where they will have 15 minutes to add their own creative interpretations to the piece. And at 15 minute intervals the artists will continue to move around a circle, until the 90 minute mark, when every painting is declared finished.
Karen says it is a bit like "flying by the seat of our pants". The artists have agreed to work within a fall landscape theme this year, but beyond that it is just a series of blank canvases, eight individual artists with unique styles, and a willingness to take risks and have fun.
Karen and fellow area artist Leo Carl used to dream about painting when they both worked on opposite sides of the Canada Customs counter at the Thousand Islands Bridge crossing. It is hard to imagine a lovelier spot to soak in the majesty of the Frontenac Arch region. After she retired, Karen built a lovely equestrian arena at her home, and as she stood inside it she realized it was a perfect place to display paintings.
The membrane covering the barn-like building is translucent and the space is filled with soft natural light. There will be no glare on the paintings as you view them, and even if the weather is dull, the space is still light-filled. And another advantage of the arena is that viewers can get back from the works and have a really good look. Many shows and studios have to display their works in small and cramped locations, and it can be difficult to properly look at the art works.
Over time Karen and Leo met up with Sheila Ballantyne and George Hurst who added a lot of hard work to the effort, and then Kathrine Christensen joined them to complete the team of the five founders. Four years ago they decided they were ready to hold their first Annual Show and Sale in Karen's equestrian arena; every year since the concept has expanded and more people have come to appreciate the high quality work of the participating artists, not to mention how much fun it is to watch the frenetic spectacle of Painters in Motion.
Artists accepted into this show have all met jury standards. They have all won awards for their works, and have a substantial number of successful past exhibits to their name. Their individual art works clearly indicate they are inspired by the Thousand Islands region. Every artist will have some of their recent works available for sale during the event. You can see more examples of their works through links at http://www.thecoachhousegallery.com
The paintings completed during the Painters in Motion event will be auctioned off. This year's charitable recipient of the auction results will be the Gananoque Humane Society. A number of area businesses, including Wallack's Art Supplies, Todd Grier Excavating, Ritchie's Feed and Seed, the Gananoque Shoe Outlet, 1000 Islands Accommodation Partners, 1000 Islands Duty Free, and several others are sponsoring the event.
This sale and show will take place at the Three Horse Art Studio, which is at 859 County Road #2, just west of the village of Lansdowne, and just a few minutes from the Thousand Islands International Bridge at Ivy Lea. The show dates are October 9-11, from 10:00-5:00 daily. So before you sit down to your turkey this year, or to get a much needed break from closing the cottage, drive on over to the Lansdowne area and watch the magic of painters in motion.
2010 Three Horse Art Studio Artists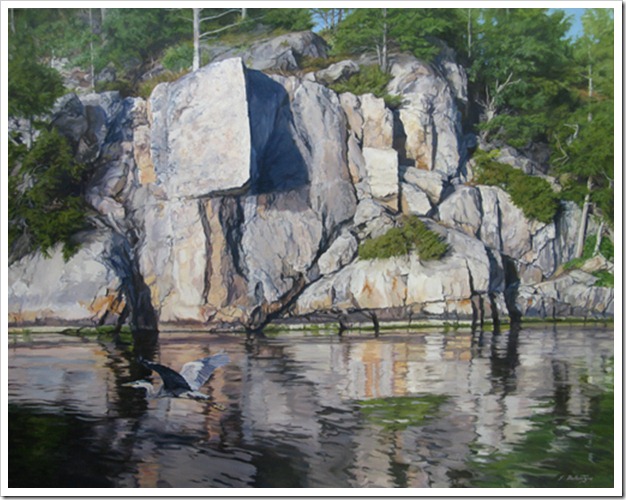 Sheila Ballantyne
Canadian born artist Sheila Ballantyne paints primarily in acrylic or watercolour. With over 35 years of experience Sheila captures the strength and beauty found in nature through dramatic composition and a soft life-like quality that draws the viewer into each painting.  Her paintings are found hanging in many private and Corporate collections around the world.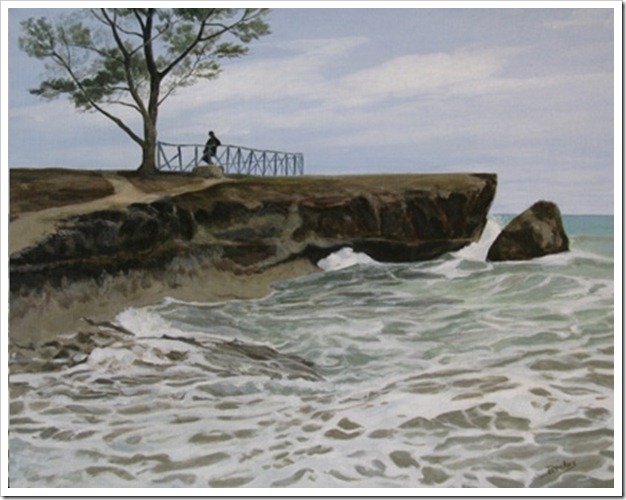 Karen Bockus

Karen Bockus was born in Toronto Ontario, where she studied and worked in the commercial art field. During the 1990's she became involved with the conservation organization Ducks Unlimited Canada where her limited edition print "Tough Retrieve" was sold successfully across Canada at their fundraising dinners.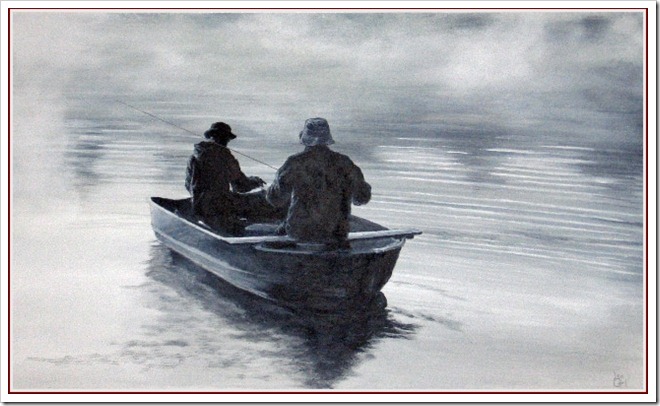 Leo Carl

Leo Carl was born in rural Lansdowne, Ontario and has spent most of his life in the area.  Examples of his  graphite sketches can be found in many homes in the area and also in the local Royal Canadian Legion where portraits of past Legion presidents are on display.
Leo helped co-found the Three Horse Art Studio Show & Sale.  Leo's range of works include land and seascapes, wildlife, pet and human portraits, illustrative art, and commercial advertising

Kathrine Christensen
Kathrine Christenson was a member of the inaugural company at the Thousand Islands Playhouse and has designed numerous productions at the Playhouse as well as coordinating their Gallery for several years. Katherine also produced the juried exhibition "Bones of the Mother" at St. Lawrence Island National Park in 2005. Her work hangs in private and corporate collections across Canada, in the US and Denmark. She is represented by the Cambridge Design Gallery, Ottawa; Eldon Gallery, Waterloo; and Cracker Crumbs Studio, Gananoque.  She is also a member of the Organization of Kingston Women Artists.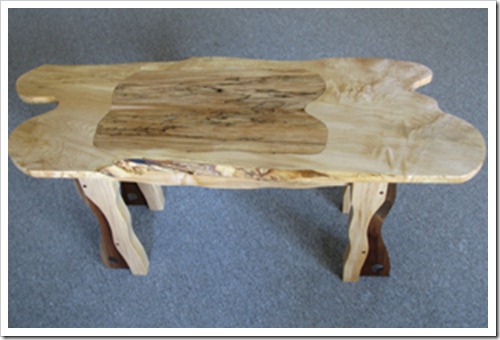 George Hurst 
 
Discovering the differences in the many available local hardwoods drove George to begin thinking about fine cabinetry versus "those run-of-the-mill projects I term now as carpentry". Being a maker of fine furniture was satisfying but after being introduced to the elements of designing "art" his use with wood took on a totally new meaning.  He says it is seeing the characteristics of wood through a new lens and finding so many pieces that can be used far beyond traditional uses in furniture making that he appreciates.
George is a member of Kingston Arts Council, Brockville Chamber of Commerce and 1000 Islands Art Center in Clayton New York.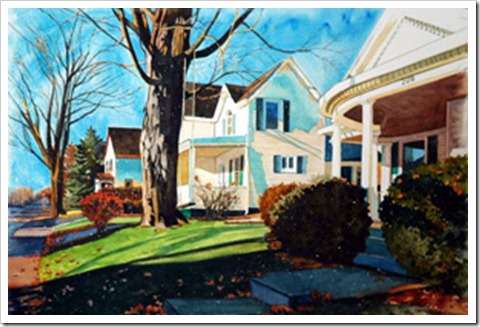 Pam Warren McKinnon
Pam Warren McKinnon is an award-winning full-time professional artist.  Her works are in private and corporate collections around the glove and she has sold over 800 original works of art.  Pam was elected as a signature member of the Canadian society of Painters in Watercolour.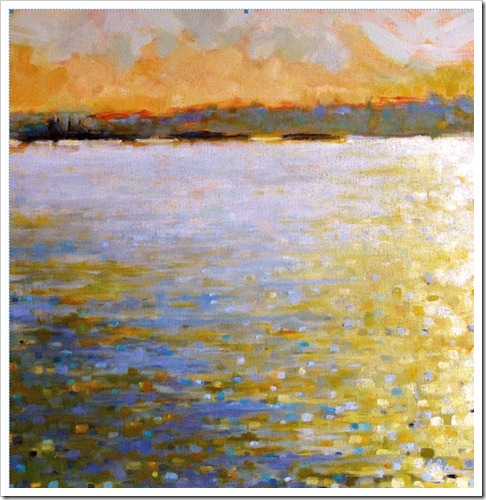 Lisa Free
Lisa Free first explored her interests in the arts professionally during a 15 year career in theatrical costume and subsequently as a commercial textile artist. A decade ago, she returned to her family roots in the 1000 Islands, taking the opportunity to explore local subjects in her oil paintings.
Lisa's work is enjoyed by an international client base across Canada, the United States and Europe.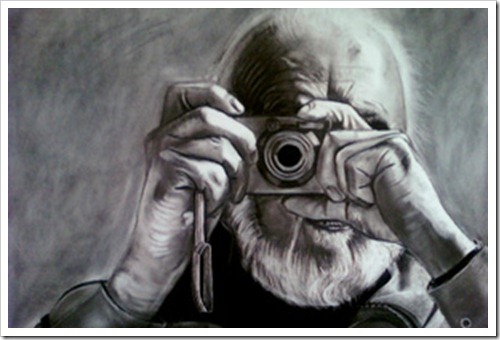 Mary-Louise Scappaticci-Olajos

For the past ten years Facescapes has been Mary-Louse Scappaticci-Olajos' main body of work consisting of large portraits painted in oils.    Mary Louise created a new  series of work for "Project Reach Out" in Brockville. She has been fortunate to use  images from Ghana taken by friends who do missionary work there. The proceeds from the Ghana paintings and cards are part of a fundraiser for "Project Reach Out".