When I met Anthony (Tony) Mollica at a recent gathering, I told him that I was reading his newest book, "Building Chris-Craft: Inside the Factories".  A book he wrote with Chris Smith, a member of the founding family.
Tony said his wife, Elizabeth, who proofreads his manuscripts, felt that the subject would not prove to be popular. I smiled as I would have agreed with her, until I began to review the book for TI Life!
Perhaps it is because my father's business was manufacturing industrial saws and I spent my youth visiting lumber mills, but seeing how things are made by craftsmen can be fascinating.  When I quickly assured him that this book is terrific, Tony said he was pleased.  He also said the book, only published this summer, was already proving to be popular.
The book's "Dedication" speaks to the goal Tony tried to achieve: "To three remarkable generations of the family of Christopher Columbus Smith, who successfully turned a backyard-duck-boat enterprise into the world's largest manufacturer of mahogany motor boats, a position held through over 30 consecutive years of exemplary production."
Chris-Craft is recognized as a manufacturer of quality craft. Back in 2001, Tony and his co-author, Jack Savage, created a beautifully-illustrated history (Chris-Craft Boats, Voyageur Publishing, 2001) of how the company began in 1922 when Christopher Columbus Smith and his three sons formed the Chris Smith & Sons Boat Company.  Thus began Tony's research on this company.
At many meetings of The Antique & Classic Boat Society Christopher J. Smith – a grandson of C.C. Smith – would tell stories of his career in manufacturing Chris-Crafts. Tony remembers being told, many times, "You and Chris should capture these stories on paper or they will be lost."  It took time to capture all the stories, but two years later, the book was ready for publication.
"Building Chris-Craft – inside the factories "
Voyageur Publishing, since 2007, has been part of the Quayside Publishing Group. Their many books, filled with photos and illustrations, rely on the author to provide same. Fortunately, Tony and Chris Smith found 180 rare photographs and illustrations thus ensuring that Chris-Craft enthusiasts will find dozens of interesting photos, never available before.
The nine chapters take us from the early years, through the Great depression through the post war years and in addition takes the reader inside factories, sheds light on marketing techniques and even describes the importance of inspecting and shipping.  But it was the chapter on The World War II that fascinated me and this description: 
"Perhaps the most laudable production record in Chris-Craft's remarkable history of volume boat building took place during World War II. . .  Well before the attack on Pearl Harbor, Chris-Craft was planning how the company could effectively convert its production facilities to building military craft and was already supplying target boats and rescue boats to the U.S. Army…"
Throughout the book are neatly placed "Text Boxes" allowing Chris Smith to tell a dozen personal stories. Each one gives an insight into the company as well as this man, who as grandson of Chris-Craft founder Christopher Columbus Smith, spent his entire business career working for the company, boasting, "every paycheck he received during his life came from Christ-Craft".
In addition to the general text are appendices including a list of the factories located in the US, Italy and Taiwan, as well as a glossary of "Examples of Chris-Craft General Shop Practices Terms".
Books on boats are always popular in the Thousand Islands and this will not be an exception. However, the book should have world-wide appeal as Chris-Craft's operations are a fine example of how the United States led the world in both manufacturing and marketing. From Tony and Chris' epilogue we see:
Chris-Craft was a family operation where quality mattered first. The Smiths created a thoughtful business program that reflected the values of a remarkable family. They took great pride in the performance and attractiveness of their products and enjoyed building good boats. They wanted their boats to be the best they could be and still remain affordable for most families …. Most of all they built a good boat that owners could take pride in. When a Christ –Craft owner was ready to move up to a larger boat, the company always had one that would suit his needs.

 
About the Author
Tony Mollica Jr. received his Bachelor's and Master's degrees in History Education from Syracuse University in 1955. He spent over forty years in public education as a teacher, followed by his position as Director of Education, Media Centre. The Centre provides educational-media resources to some fifty NY State schools in Madison, Onondaga and Cortland counties. He was also an adjunct Professor of Visual Communications at Oswego's SUNY, retiring in 1996.
Tony's love for the Thousand Islands began in the 1930s on family visits to the area. Boating has always been a part of his life and, for a while, he was a competitive sailor who owned a specialty-sailboat shop in Syracuse.  "I operated the shop during the summer months when schools were not in session. I became very active in competitive racing and was fortunate to win two, national, sailing titles. My sailboat shop prospered rapidly and after several successful summers, I sold the business when my educational responsibilities were expanded to a full year. The sailboat shop is still operating successfully!"
In 1970, the Mollicas settled on Cherry Island. "Within a year after we purchased the cottage I was able to find a Gar Wood boat very similar to the one my father purchased thirty years earlier. The boat needed to be restored and while I was working on the boat my years of Gar Wood research played a vital role in the restoration".
Well known in the region, Tony has played a major role at the Antique Boat Museum as a member, volunteer, contributor and active trustee. His published books (11) are a reminder of the great contribution this gentleman has made to the boating world, and the Thousand Islands.
By Susan W. Smith, susansmith@thousandislandslife.com
Anthony Mollica's Books
Chris-Craft Boats , 1999, Motorbooks International, St. Paul, MN
Gar Wood Boats, Classics of a Golden Era, 2001, Motorbooks International, St. Paul, MN
The American Wooden Runabout, 2002, Motorbooks International, St. Paul, MN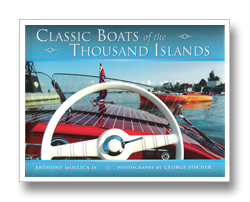 Dodge Boats, 2003, Motorbooks International, St. Paul, MN
Castles & Cottages, 2004, Boston Mills Press, Toronto, ON
Classic Boats of the Thousand Islands, 2005, Boston Mills Press, Toronto, ON
Boats of the Antique Boat Museum, 2006, Henderson Press, Clayton, NY
The Real Runabouts Index, 2008, The Antique and Classic Boat Society, Clayton, NY
Boldt Castle, The Story of an Unfinished Dream, 2009, Nimbus Publishing, Halifax, NS
The Thousand Islands, Unforgettable, 2009, Nimbus Publishing, Halifax, NS
Building Chris-Craft, Inside the Factories, 2010, Voyageur Press, Minneapolis, MN