Written by
Susan W. Smith
posted on September 15, 2008 22:33
The Thousand Islands' fine friend, Hal McCarney died on September 16th in Kingston General Hospital. He was 81. The Kingston Whig Standard immediately published on their website: "one of the most loved and respected persons in the history of Queen's University football and an exceedingly successful Gananoque businessman, passed away yesterday."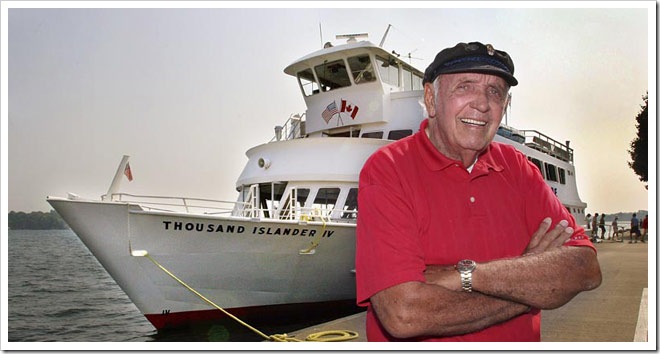 Photo courtesy of Chris McCarney
It is true that Hal was a valued member of the Queen's community - and his greatest love was promoting Queen's Football. The Queen's community will pay tribute in their way, but Hal was also one of the great promoters of our region.
Already published on TI Life is the following article about the installation of the Statue of St. Lawrence. Click here. However Hal was the prime initiator of other important projects. He is also a principal shareholder of the Gananqoue Boat Line. The list of organizations to which he was a member and trustee is too long to compile in a short time. But suffice it to say there has hardly been a person living in the Gananoque region that has not benefited from Hal's enthusiasm, wisdom or financial support.
Hal was a founding member and the greatest supporter of Gananoque's Festival of the Islands - an annual 9-day extravaganza. He helped build Gananoque's Arthur Child Heritage Museum and was a continual promoter to save Gananoque's Airport. He supported his church, schools and community programs. He also published a novel: Chess with Violence: Rum Running in the 1000 Islands, and wrote many lyrics relating to the Islands which he put to music.
Hal was a "doer". A story which illustrates that quality concerns the three exquisite large scale ship models proudly on display in Gananoque's Arthur Child Heritage Museum. Apparently he had been watching a documentary on CBC Television about an elderly gentleman, William Morrison who had spent years crafting these models to the highest imaginable standard. He was considering downsizing to a smaller home and discussing what he might do with them. One went to the Canadian Museum of Civilization in Ottawa but three others remained.
Hal missed the rest of the show while he frantically searched for the man's phone number and within minutes had successfully presented the case that the ships' best home would be Gananoque. He further arranged that Morrison would periodically share his knowledge and passion with the public at the Museum.
Most would have let the opportunity pass or not even seen it, but thanks to Hal's quick thinking and instant action, he was able to find an ideal home for them as well as a new friend while acquiring an important display that will be enjoyed by the community and its visitors into the future.
A wonderful doer. The Thousand Islands community has lost a great friend.
by Susan W. Smith and Ian Coristine
Susan W. Smith served on several volunteer boards with Hal McCarney, the most recent was the Arthur Child Heritage Museum. She also worked with Hal when he was a volunteer for Queen's University and Susan was the Senior Development Officer at Queen's School of Business, Queen's University.
Previously published article in TI Life: A new sight for sight-seers is the statue of St. Lawrence recently sculpted and erected in Canadian waters by "The Admirals," who passed the hat among club members for the project.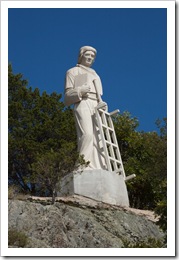 The Admiralty of the Thousand Islands Navy is comprised of "admirals" on both sides of the border. The organization, founded in 1938, is largely social in purpose, having two meetings a year. The group has acquired shoals and small islands to protect them from development. Members contribute to payment of annual taxes on the properties. Hal McCarney of Gananoque was prime mover in the St. Lawrence statue campaign.