DARK ISLAND N.Y.
It's hard to know what to pack when you're going to spend the night in the Royal Suite of a castle as its reigning queen on an island in the St. Lawrence River.
Do you take the tiara or leave it at home? Do you instead channel your inner Grace Kelly and include a scarf to throw over your head paired with sunglasses to evoke just the right air of mystery and sophistication? And you simply can't forget a pair of sensible shoes such as those favoured by Her Majesty Queen Elizabeth II to wander around its darkened hidden passages with a flashlight.
All of these thoughts were swirling in my head as the boat from Schermerhorn Harbor, N.Y., near Alexandria Bay made its way across the St. Lawrence River towards Dark Island.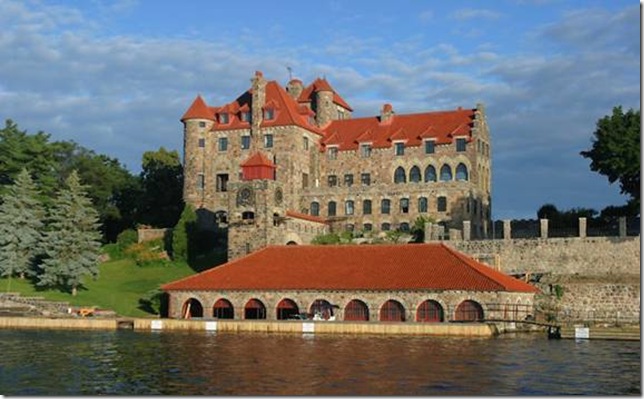 But it wasn't long before majestic Singer Castle came into view with its turrets rising tall above the pines. I was checking into a 28-room castle as its only guest. The only other person staying on the island was the castle's historian, Judy Keeler, who would also be my tour guide.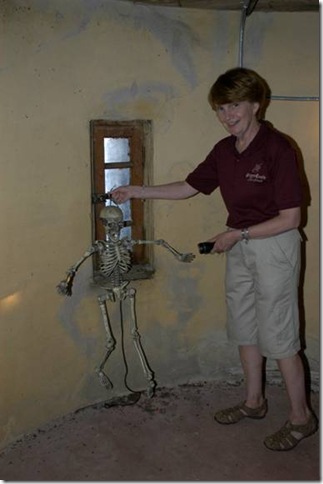 Photo credit: Kim Lunman, © Recorder and Times
Keeler was the first person to greet me as the boat carrying about 20 tourists to the island for a tour docked in front of Singer Castle at 3 p.m. near the island's towering clock. The other tourists would return to the boat in an hour to go home while I would have the run of the palace.
We walked up a steep path towards the castle's main entrance. It was pretty clear from the opening of its massive main doors this was no ordinary bed and breakfast. The "lobby" of Singer Castle, or the Great Hall, is decorated with medieval suits of armour and swords hanging on it sandstone walls.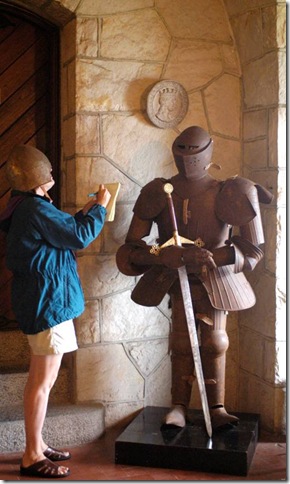 Photo credit: Kim Lunman, © Recorder and Times
There were leather buckets of sand in case of fire, placed along the winding steps of a staircase leading to the Royal Suite, the two-bedroom wing of the castle reserved for overnight visitors.
The door to the Royal Suite's main bedroom revealed quarters fit for, well, a queen. The four-posted bed, fireplace, plush sofas were lovely as was the view of the castle's courtyard and terrace below. But this was more than a room with a view. This was a castle with a view of two countries and the Thousand Islands.
I suppressed a Titanic-like urge to throw my arms out a window and yell: "I'm the queen of the world" for fear of being tossed off the island before checkout. My reign here would be brief and I had much to see.
Keeler was waiting for me back in the Great Hall to show me around the castle's many rooms, including its library, the drawing room, master bedroom, sports therapy room, not to mention hidden passages, tunnels, boathouses, gardens and scenic trails on the island itself.
The castle was built by Frederick Bourne of New York more than a century ago as a hunting lodge. He was the fifth president of the Singer Sewing Machine Company and the wealthiest of the business barons on the river when he purchased Dark Island (which was also known as Bluff and Lone Star Island) for $5,000 in 1902. He commissioned famous New York City architect Ernest Flagg to design the castle he called The Towers. It was completed when his family took its first vacation here in 1905. Flagg's design was inspired by the book Woodstock by Sir Walter Scott, which described a castle hunting lodge near Oxfordshire, England that had towers, underground tunnels, secret passageways, and even a turret dungeon.
"I think Bourne and Flagg were just having fun," said Keeler as she pushed a hidden button in the library's bookcase to open the wall's wooden panel and expose one of the castle's many hidden passages. "That's my theory."
Keeler, a retired school teacher, is an expert on the history of Singer Castle and has long been fascinated by the secrets of Dark Island, dubbed the Castle of Mysteries by the New York Times in 1905.
And although the property is listed with Sotheby's International Realty for nearly US$25 million, its owner Farhad Vladi, of Vladi Private Islands in Hamburg, Germany, has said he doesn't want to part with the castle. Vladi bought Dark Island in 2002 for about $2 million and poured millions more into renovations.
Today the castle, under Dark Island Tours, is opening its doors to more than 20,000 visitors annually, including day tours, weddings and parties.
Now tourists can visit Singer Castle and Boldt Castle on Heart Island, another turn-of-the-century castle. It was built by George C. Boldt, the millionaire proprietor of the Waldorf Astoria Hotel in New York City. Boldt built the grandiose six-storey 120-room castle but halted construction when his wife, Louise Boldt, died in 1904. It was left empty for more than seven decades until it was acquired by the Thousand Islands Bridge Authority in 1977 when it was initially opened for tours and subsequently weddings.
Three years ago, Dark Island Tours allowed overnight guests the privilege of staying in Singer Castle's Royal Suite for $700 a night for two as King and Queen of the Castle. The two-room suite accommodates up to six people and it costs an additional $50 for each person and includes dinner and breakfast.
Frederick Gilbert, of Brockville's Gilbert Marina, has taken all of his nine grandchildren to spend a night as royalty on Dark Island for the past three years.
He recently took Caitlin Gilbert, 5, and her brother Alexander, 2. They dressed as a prince and princess and explored the storybook castle together.
Gilbert said for years he used to marvel at the castle from his boat. "I used to look up and say 'Can you imagine living in a castle like that?' For me, it's the jewel of the river."
And this was just Bourne's cottage. He also had a 110-room mansion in Oakdale, Long Island. The commodore of the New York Yacht Club, he had a fleet of boats at Dark Island including a yacht and an electric gondola.
Bourne died in March 1919 leaving an estate worth $43 million. Daughters Marjorie and Mae bought Dark Island from their other siblings In 1919 and Marjorie Bourne was given lifetime use of the property.
She sold the property to LaSalle Military Academy of Long Island in 1961 for less than $100. In 1965, they sold the estate to Dr. Harold and Eloise Martin of Montreal for use by the Harold Martin Evangelistic Society. They called the castle Jorstadt and invited visitors to attend worship services on summer Sundays.
Keeler said the first thing many visitors want to know is whether the castle is haunted.
But Singer Castle's general manager, Thomas Weldon, said there's no need to worry about uninvited guests crashing your stay.
"We always say the only ghost we have is the Holy Ghost," he said.
The only other guest I encountered during my stay was "Little Fred," a miniature skeleton who takes up residence in the castle's "dungeon."
Later that night, I opened a book called Dark Island written by a mystery author known only as H.D.B. for Marjorie Bourne to give to her guests. The passage read: "When in this fairyland one feels the fascination of its history and the lure of one of the rarest gems of this sparkling river - Dark Island."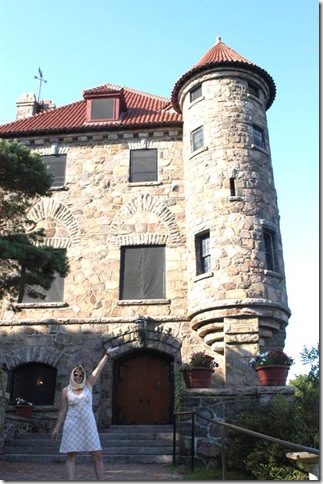 I watched the sun slide into the river from my majestic perch in the Royal Suite and I realized my reign over Singer Castle would be as short and sweet as the next sunrise.
I should have packed a tiara.
by Kim Lunman KimLunman@ThousandIslandsLife.com
Kim Lunman is an award-winning Canadian journalist whose work has appeared in The Globe and Mail, The National Post, Reader's Digest, The Calgary Herald and other newspapers. She has returned to her hometown of Brockville, "City of the 1000 Islands," where she is a staff writer and photographer for the Recorder and Times. Kim recently included this article in a series on the Thousand Islands called "Island Treasures" published by Recorder and Times as a souvenir magazine in September 2008.
For more information about Dark Island see www.SingerCastle.com