Written by
Susan W. Smith
posted on November 13, 2010 22:24
Tom Massey's was a fisherman, tour boat captain and tug boat skipper, but one of his most important attributes was being a story teller. 
This summer, Tom's son Dan published his father's stories, Truths, Half Truths and Damn Lies, the book's 72 pages having been designed to introduce us to more than thirty of the "River Men of the Thousand Islands".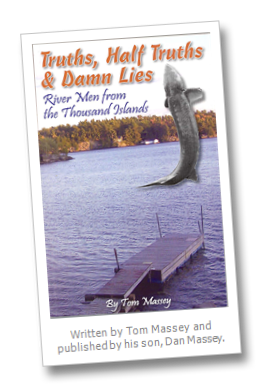 Luckily for TI Life readers, Dan has given me permission to present one of his father's tales. We don't know exactly when Tom Massey began compiling his stories but, when Dan discovered them, his father was too ill to complete the book on his own.
So, Dan helped his father - "Knowing that time was not on our side, I took the papers home and formatted them into a booklet as a draft for publication. Over the next few months Dad was excited to think that his work could be published so he began by both editing the stories and adding more people." All the stories were written by Tom Massey, or dictated by him, save for one which Dan wrote about his father.
Tom dedicated the book to his parents, Tod and Lillian Massey of Rockport.
For those unfamiliar with these remarkable River families, I know you will enjoy seeing the photographs and reading each and every one of Tom Massey's stories.  This will make a wonderful gift for family and friends.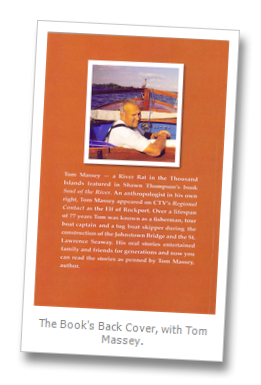 Joe Rogers (Mack & Joe Arthur Rogers)
Page 30 and 31, from: Truths, Half Trusts and Damn Lies, by Tom Massey
Joe was a fixture around Rockport a lot further back than I can remember and up until his death in the 60's. His wife died before my time, Joe and his son Mack batched it. The other son, Joe Arthur Rogers, married and moved out.

Mark Rogers was a licensed barber and we kids used to go there for a haircut. I think the rag he put around our neck had been around longer than Mack had and it had never been washed. They would never have won the seal of good housekeeping but they must have been healthy. I don't know Macks' age when he died but Joe was over 90.

Joe was a guide dating back to the day's when they guided with a skiff or rowboat. When I was a boy Joe had a big old boat with a Model A Ford engine.  The bottom was patched with pieces of tin and it smelled very fishy. Mrs. Cornwall, who ran one of the general stores in Rockport and owned the dock where Joe kept his boat, used to say that she liked to see Joe pull out for a day's fishing because every fly in Rockport followed him.

Joe didn't have much education but he was a very smart man in some ways. Years after Joe had quit guiding he told me how to find different deep shoals to fish on by lining up certain trees or buildings etc. These would be places he hadn't been to in twenty-five or thirty years but if I followed his directions the shoals would be there and I could usually catch fish.

We used to live next door to Joe when I was ten or eleven years old. Joe and Mack liked to celebrate on Saturday nights. Mack would quite often get in a big fight with his overcoat, throwing it on the ground and hitting and kicking it and saying, "Now don't you get funny with Mack."

After a while Joe would stagger out and say: "Ok now, son, it's all right. Let's go in now: Mack would get up and go in the house with him. They were good neighbors and didn't really bother anyone. When I was operating a tour boat for the Rockport Boat Line Joe used to be around the docks visiting with the tourists. They used to comment how remarkable it was that Joe didn't wear glasses. At this time Joe would have been in his eighties. Joe would look over toward Ball Island about a mile away and then he would say. "My eyes ain't as good as they used to be. You see that piece of gull shit over on the old Ball? Well, I can't tell if it is an ant or a fly sitting on it."
Tom Massey died on October 2, 2007. Dan organized the publishing. Tom and Jean Massey's children and their families stipulated that all proceeds from the sale are to benefit the Rockport Community Centre, the location of the former Escott SS 14. That was where Tom Massey attended grades 1-6 and, "when convenient", grades 7 & 8.
The first printing of the book was sold out within a few days. The second printing is available in some Rockport stores and can also be ordered on line at: www.tommassey.ca; or on Facebook:  Truths, Half Truths and Damn Lies.  The book costs $15.00 plus shipping where applicable.
By Susan W. Smith, susansmith@thousandislandslife.com