"Malo's gifts were, as his students, many. But his legacy lives on in his lessons about this special place he so loved to share."
SYRACUSE N.Y. - Paul Malo – architect, professor, historian and Thousand Islands author – was remembered as a mentor with "the heart of a teacher" at a memorial service in his honor this month.
More than 140 friends, family and former students attended a final farewell to Malo at Hendricks Chapel at Syracuse University Oct. 11. He died after a battle with pancreatic cancer at his home in Granby N.Y. July 22. He was 78.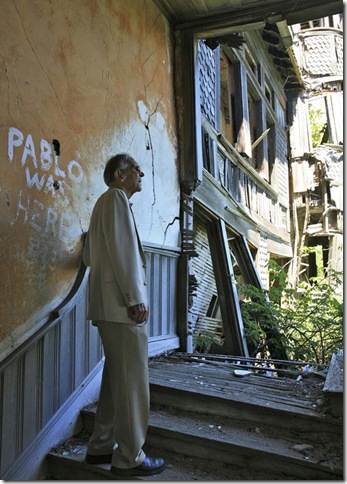 Paul Malo examining Carleton Island Villa
Malo, who remained a professor emeritus after his retirement, had many students both inside and outside the classroom. He taught for more than 30 years at the Syracuse University School of Architecture but he also counted photographers, writers, historians and preservationists among his pupils.
Former students paid tribute to the patrician professor who not only taught them invaluable lessons about architecture but about life too.
"Sometimes we have the great pleasure of meeting a great person and if we are truly fortunate, we might have the privilege of meeting a great person who becomes a great friend," said Thousand Islands photographer and author Ian Coristine, who collaborated on many projects and books with Malo. "And that was my privilege."
Malo, who founded www.ThousandIslandsLife.com wrote three books on the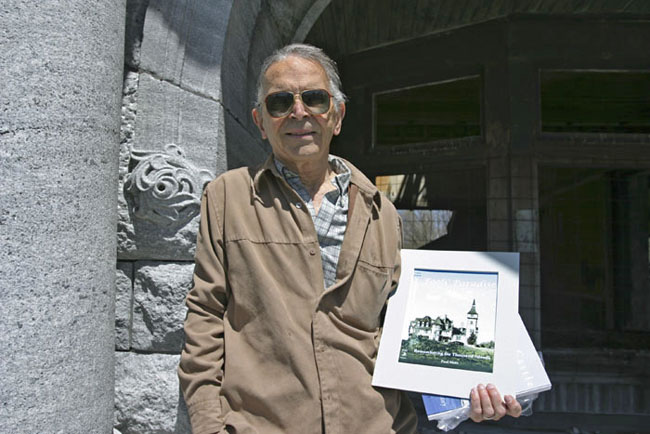 Thousand Islands: Fools' Paradise: Remembering the Thousand Islands, Boldt Castle: In Search of the Lost Story and A Floating World: More People, Places and Pastimes of the Thousand Islands. He also wrote books and was involved in preservation projects in New York's Adirondacks.
The father of two was also a pianist, painter, photographer, and gourmet chef who loved to cook for friends and family.
"Paul was never boring," said his wife, Judy Wellman. "He was truly a renaissance man. Full of grace, full of kindness, and full of strength. He's a role model for all of us on how to live and how to die."
Besides his work as an architect – notably designing Syracuse's Civic Centre - Malo was a preservationist who helped save Thousand Island Park's 19th century colony resort of gingerbread cottages on Wellesley Island and championed the decaying Carleton Villa on Carleton Island, once the grand estate of a New York City typewriter tycoon.
Trude Fitelson told the memorial service she first struck up a friendship with Malo 30 years ago when she requested his help in a brief note to preserve T.I. Park. He responded promptly with a five-page letter, she said, adding she has saved all of his correspondence over the years.
"He was my mentor and my dear friend and he will guide me every day," she said. "Every word he wrote was important."
"He had the heart of a teacher," said a former architecture student of Malo's. "Paul's gift was to help everybody else discover their own gift."
Mike Franklin, who helped Malo master technology at 75 to start the website ThousandIslandsLife.com said he was dedicated to educating others about the region.
"There was no benefit to him but he thought it was important," he said. "He was an amazing guy."
Malo was drawn to architecture as young boy growing up in Syracuse. He would later recall how he created buildings and entire cities on his neighborhood's sidewalks in chalk.
He was a gentle yet thorough professor, once casually re-drawing and correcting an astonished student's work perfectly from upside down.
"What a rich man," said former architecture student Bob Haley. "What deep passion."
He recalled how Malo asked him as a student to switch vehicles because the professor couldn't use the clutch on his Mercedes 190SL sports car with a broken leg.
Haley happily swapped his 1956 Chevy for the Mercedes only to have his professor break the news its front end had been crushed by a snowplow.
Malo delighted in relaying the look on the snowplow driver's face when he watched him step out of the wreck with his leg already in a cast.
"He was the kindest man I've ever known," said Haley, a Syracuse architect who served with Malo on the Landmark Preservation Board of Syracuse.
Malo's work was not restricted to research on the Thousand Islands. It also included an as-yet unstaged musical on the region.
Frank Ellis, of Lyndurst Ont. and California, said he and Malo were finishing a musical on the area's Golden Age called Heart's Desire.
Ellis said he wants to see the musical completed and staged at the Clayton Opera House.
One of Malo's lasting legacies will be his life-long love affair with the Thousand Islands that started when he was just "a curious boy" exploring the river in a St. Lawrence skiff during summers in Clayton. The castle on Calumet Island owned by American Tobacco Co. millionaire Charles Emery was a particular inspiration, igniting his love and appreciation of fine architecture. It would later burn down in 1957.
Malo's books recount the lavish Golden Age of the region when many of the wealthiest business barons built castles and mansions at the turn of the last century before World War I and the Great Depression ended the area's enchanted era.
In his book, Fools' Paradise, Malo wrote of his own passion for the Thousand Islands and recounts the Gilded Age through Julie, an elderly and eccentric former actress he befriended as a teenager in Clayton, who shared fond memories of the region with the author.
His favorite island was Hogsback. "My own fantasy house for that special place was still there, in my mind's eye," he wrote. "Farther distant, Pine, Bluff and other islands receded, still beckoning as they had to the boy in his skiff."
"The place, so changed in some ways, was still so little changed in others. It was magically alluring. It still called."
Malo recalled how he imagined the grand Frontenac Hotel on Round Island that once towered "so much higher than the trees. And those huge poplar trees were still there, leaves rustling in the breeze. It struck me as odd how trees outlast us, and how buildings outlast their builders," he wrote.
As in life, the Thousand Islands would continue to call to Malo. It was his dying wish his ashes be sprinkled at several of his favorite Thousand Islands locations.
Malo would later say in an interview weeks before his death he had set out to become "Mr. Thousand Islands." He was an authority on the region he felt was under appreciated even though it still captivated him after a half-century of research with its history, mystery and quiet beauty.
But first and foremost, to those who remembered him on the campus in Syracuse where he was a professor for three decades, Malo was a mentor.
"There is an ancient African proverb that says 'When someone dies an encyclopedia is lost forever," Malo's former student Robert Charron told the memorial service.
"He really became my mentor," said Charron, of his architecture advisor.
"Fortunately, Paul Malo still speaks to us through his writings and through the memory of his numerous lectures on topics he loved so well," he said.
"After Paul's passing, I decided to reread his trilogy of books on the history of the Islands - in reverse order. As I read them, I can still feel Paul's presence."
Malo's gifts were, as his students, many. But his legacy lives on in his lessons about this special place he so loved to share.
by Kim Lunman KimLunman@ThousandIslandsLife.com
Kim Lunman is the staff reporter at the Brockville Recorder and Times.  Kim is a member of the TI Life team and the other members of the team appreciate how she captured the many tributes given to Paul and his family on this special day.