A man just doesn't get up on Christmas morning and announce to his wife of 45 years that he is going out to view the neighborhood's holiday lights.
That thought came to Margaret Rifton's mind as her husband said he was going to do just that as he climbed out of bed just before dawn. Through a sleepy haze, she said OK, not realizing how shocking his jaunt was until she was fully awake.
Since their last child left home 10 years ago and they began spending Christmas alone, Roger and Margaret had a Christmas routine. Roger would make breakfast, she would make the coffee and after a special dessert of sweet rolls, they would open presents.
But not this year.
She heard of other people going around neighborhoods to view holiday lights, but not on Christmas morning. And Roger had never shown any interest in such excess decorations, as one could tell by viewing their house. He was a yuletide minimalist. Each year, the only thing that adorned their home was a small wreath on the front door and a dim electric candle in their attic window.
Maybe that instead of viewing lights he had planned a secret rendezvous with some wicked woman, she thought, even though she had nothing, besides this morning trip, to suspect him of that. On the bright side, she thought the light-viewing plan was just a rouse. Maybe he was going to pick up a gift. Maybe it was a new car. Or a boat.
"Nah," she thought, recalling past Christmas gifts her husband had presented to her. The most elaborate thing was a gold necklace. Dangling from it was a tiny jeweled tennis racket. She'd never played tennis in her life. But it was pretty and she wore it often,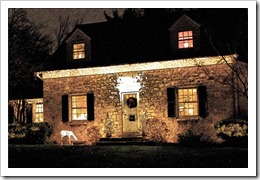 enjoying the baffled expressions it brought from her friends.
"I just thought it looked pretty," Roger had told her.
Her husband had taken up his walking hobby only recently, and preferred to go alone. In the early evening darkness of autumn, as November slid into December, he observed people through windows, as if they were performing under spotlights -- making goodies in kitchens or putting up decorations in living rooms. Outside of their homes, colorful holiday lights flashed. For Roger, walking down the street was like being on a runway of flashing snowmen, sleighs and candy canes. Never before had he noticed such holiday glitz. It was too much and it all made him wonder about his own holiday light display.
But it was more than the lights that had an effect on Roger. He felt there had to be a deeper reason why these people lit up their houses during the holidays. Was it something he lacked? Maybe he would find more of such a spirit on Christmas morning, he thought. He needed to go on a walk then; to immerse himself directly into it; into the belly of that holiday beast that escaped him all these years.
He took note of the weather forecast for Christmas morning. Light snow was forecast. And indeed, as he stepped foot onto the sidewalk that morning, big fluffy flakes fell, covering the sidewalks and roads.
The snow crunched softly as he made his way down the walk, almost stopping at times to gaze into homes. The people inside were too busy or they would have noticed and likely called the police on the pausing, peering man.
Roger developed a sense of peace as the snow continued to fall. The streets were the quietest he had ever heard. The holiday lights glistened against the snow. Inside, little shadows flashed by windows. At times, one of the shadows was seen leaping for joy, as he caught the head of a little child bopping up and down, arms flailing.
He caught the smell of wood smoke with a faint twinge of bacon. He realized that maybe he should be making breakfast at home. He also realized that maybe he should have bought a nicer present for his wife, instead of the automatic jar opener he had planned to give her.
But mainly, he realized he was a lost soul on this Christmas morning. He should be home like the rest of the village.
"What the heck am I doing out here?" he thought, as he gazed upon a star someone had put atop a 50-foot pine tree in their yard. He went one more block and turned to go home.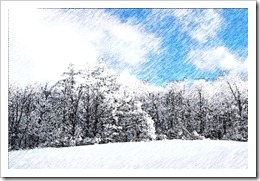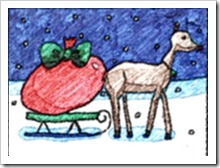 The sound that caught his attention was like nothing he had ever heard. It was a combination of a whoosh and rattle. It appeared suddenly and echoed against the houses. Looking across the street, Roger saw the cause. A giant inflatable decoration -- Rudolph pulling a sleigh -- was in distress. The unit's air compressor was smoking and Rudolph was losing pressure. The plastic globe surrounding Rudolph was closing in on him fast. Roger felt a strange sense of kinship with the decoration and went to the rescue.
He jiggled the compressor, which was hot. He threw snow on it to cool it down. The tone of the machine changed. It went from a rattle to an angry growl. But then it stopped and Rudolph began to inflate again. Roger knelt on the ground, looking up at the globe, and sighed, as the globe grew … and grew.
The explosion knocked him off his knees and into snow-covered lilac bushes. Pieces of Rudolph were scattered over power lines and trees. People came running out of their houses to see about the commotion, and seeing Roger, helped him to his feet.
"Bring him inside," said Mrs. Listorski, who owned Rudolph. Her children were wandering about the yard, crying in despair about Rudolph's fate.
"It's Mr. Rifton, one of the neighbors said. "He lives a few blocks down."
"We should call his wife," someone else said.
Seated in a rocking chair inside the Listorski home, Roger was just beginning to realize what had happened. "I'm sorry about your decoration," he said, as he was given a cup of hot chocolate.
"Don't worry," Mrs. Listorski said. "We were thinking about getting a new one anyway. You take it easy. Your wife is on her way."
'Wait! There's no need for that," Roger said, imagining the embarrassment.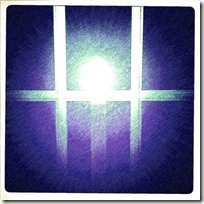 But it was too late. A few minutes later, Margaret came through the door. She dashed over to the rocking chair and held her husband's head.
"My poor dear!" she said. "Attacked by such a thing on Christmas morning."
A bystander – they were still in the Listorski living room discussing the tragedy
over eggnog and fruit cake -- said it was a good thing her husband noticed the situation. It could have caused a short circuit, burning down the Listorski house or something.
"Yes," Margaret said. "My husband is a good man."
She led him to the car and he leaned back in the passenger seat.
"What were you doing out here in the first place," she asked him.
"I don't know," Roger said. "But next year, I think we're going to put our Christmas candle someplace else."
"Like where?" his wife said.
"I don't know," Roger said. "Maybe someplace where more people can see it. No longer in the attic. Maybe in the kitchen window. With a bigger bulb."
"That's the spirit," his wife said.
By Chris Brock 
This is Chris Brock's third fiction piece for TI Life.  Chris is a features writer at the Watertown Daily Times. Writing humorous short stories is a hobby. He grew up on the St. Lawrence River community of Waddington, N.Y. Besides being honored at the North Country Writer's Festival, Chris' works have been published in Grit magazine and he is an essay contributor to North Country Public Radio. 

Photographs by Chris Murray.  Chris is a landscape photographer whose work was featured in TI Life in Chris Murray's photography, July 2010. All photographs were adapted to pen and ink illustrations by "fotosketch" (http://www.fotosketcher.com/).  We also have permission to use  "Rudolph pulling the sleigh" by  Anna Dzyak, from Encino, CA.  Anna is currently 12 years old, she was 8 when she drew this.