Written by
Mike Cox
posted on December 13, 2010 22:15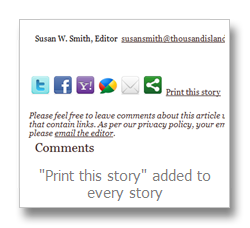 Printing stories from websites is not always easy to do, and TI Life has been no exception - but not anymore!  We have added a new print feature this month that will greatly improve the printability of the stories on Thousand Islands Life. The best news is that this feature has been applied to every story on the site.
At the bottom of every article, just above the comments section, we have added a link: "Print this story".  When you press on this link, your story will open in a new tab or window and only the story will be shown.  When you print this new page, your browser will fit the article to whatever paper you have in your printer.  This may not always give you the desired result, but it is the best we can do for now.
Printing websites is difficult due to their very nature.  The content of a webpage is made to adjust itself to fit whatever software that is being used for viewing it.  The content is not constrained by the physical size of a piece of paper, a page can be as long the writer chooses.  Consequently even when we strip out all the content you don't want printed, the printed result may not be exactly as you may like.  Page breaks may not be in the proper place and images may get broken by the page break.
Tips for printing sites that don't have a "Print" button.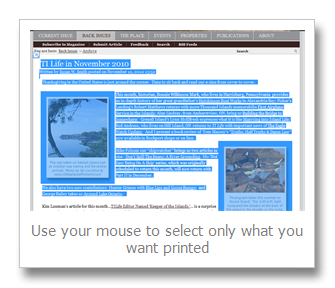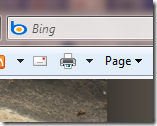 When you try our new print feature, you are not really doing anything you could not have done already.  You can print any part of a web page by simply selecting the area you want printed and choosing "Print Selection Only" in the print page dialog.  To do this use your mouse to select only the area you would like to print.  Selecting text is done by pressing your mouse button at the starting point and dragging to the finish point.
Once you have selected your text, press the print button on your browser or press Ctrl-P (windows) Command-P (mac) on your keyboard.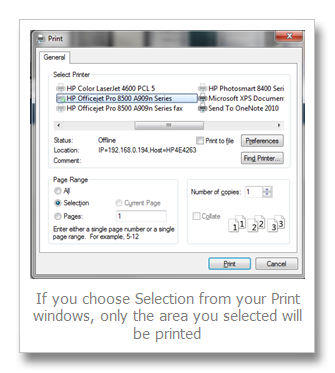 When you press print – you will see your print options.  On this window, you should see "Page Range" and if you choose selection, the only thing that will print is what you have selected.
This is a useful tip for printing anything from the web. Sometimes it is tricky to select just what you want, but with a little practice, it comes easier.
Using an online web page printing service and making PDFs
Before writing this article, I decided to see if it had already been written so I started with a Google search for "Printing webpages".  Because this is a very common problem, there are many articles already written.  I learned that there are some websites that specialize in making websites printable. 
Of notable mention is http://www.printwhatyoulike.com.  It is easy to use and it has a bonus feature of generating PDF files for you, should you wish to make and distribute your own versions of things you find on the web.  Here is how it works: Start by visiting http://www.printwhatyoulike.com.
| | | |
| --- | --- | --- |
| First you need to put in the URL (www address) of the web page you wish to print.  You can get this from the address window of your browser. | Then you choose just the region you want printed and press the "Isolate" button that appears. | From the left side bar you will see an option for "Save as".  Choose PDF and a free PDF will be made for you. |
I hope you like our new print button, let us know what you think by leaving a comment.  Feel free to share any tips you may have that others may find useful.  In this great information age that we live in, sharing links is the new printing, but sometimes, you just can't get away from paper and ink.
By Michael Cox, Creative Information Solutions
Hailing from North Western Ontario, Mike Cox spent his time working at his family tourist business in many different capacities.  Having a penchant for technology, he bought his first computer in 1995 and started developing web sites for Marina Operators. Mike learned that simply building web pages was not sustainable.  Businesses needed a way to manage their sites and to have their sites be more than HTML brochures.  Mike specialized in offering web database integration and created Content Management Solutions which enable his customers' autonomy from their web masters at affordable prices.  His company, Creative Information Solutions maintains our TI Life website - as a result, the TI Life Team has been given great tools to do the job.
Editor's Note:  If you like TI Life, this is the man who deserves our thanks!  He has volunteered hours of his time to making our site work - and as a result he keeps this editor smiling from ear-to-ear!