Written by
Susan W. Smith
posted on January 13, 2011 22:21
A new book, Canada's National Parks A Celebration, was published in December and is well worth celebrating. A number of Canada's most renowned photographers provided their finest images of Canada's National Parks, all 42 of them.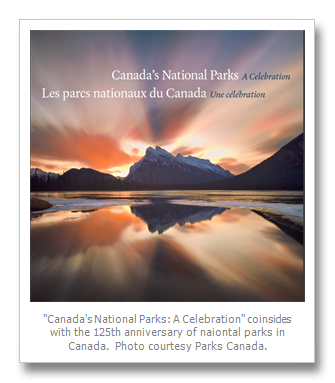 TI Life's Ian Coristine provided the three images which portray the St. Lawrence Islands National Park (SLINP).  "Our" park was considered exceptional enough to have been selected as the first national park east of the Canadian Rockies.
SLINP was created 1904, thanks to a deed of land donated by the Mallory family. The legal documentation includes the following: "Provided that if at any time the land thereby granted ceases to be used for public park purposes it shall revert to the municipal council of the Front of Yonge and Escott upon payment for the improvements therein." Soon, nine islands were reserved for the park system. Today, SLINP consists of 20 islands and more than 80 islets.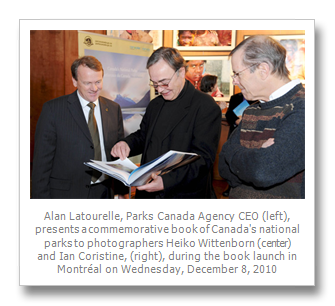 Ian gives this book high marks. "When you relinquish all artistic control over images purchased for someone else's project, there's always the possibility that the final presentation will disappoint," says Ian. "Add in the fact it was being produced by a government agency who might not be expected to exhibit much passion and a mediocre result becomes a real possibility. So it was an unexpected pleasure to be invited to Parks Canada's book launch in Montreal to discover an exceptional book."
The book's release coincides with the 125th anniversary of establishing the first national park in Canada, which was also the world's first national park. In December when the book was launched in Montreal, Parks Canada's CEO Alan Latourelle and Canopy's Executive Director Nicole Rycroft officiated. "This book celebrates our most treasured places and brings spectacular photos of these places into Canadian homes," said Canada's Environment Minister John Baird. "Through this book, Canadians will discover the magnificence of the Canadian National Parks: others will relive moments of awe and inspiration they experienced during their stay."
The book was published through a partnership with Canopy, a non-profit organization dedicated to environmental responsibility. Using paper that does not contain any fibre from endangered trees, the book was printed by Friesens Corporation in Altona, Manitoba. Parks Canada did the research, writing and design.  Included in the purchase price is a detachable coupon which can be redeemed for passes at any Parks Canada national park or historic site, including ours – up to a value of $44.

One of three photographs which represent the St. Lawrence Islands National Park in the Thousand Islands.  This photograph appears on page 51.  Photo courtesy Parks Canada.
Both Ian Corisitine and I are enthusiastic about the book. Ian says, "The photography not only shows Canada's most exquisite places (including ours), but was captured by the country's finest photographers. There are some truly outstanding images here which won't fail to delight, regardless of which side of the border you call home." He goes on to say, "I have to say it was an honor to be a part of it. An unexpectedly delightful book that I'm very pleased to add to my library."
I totally agree.
By Susan W. Smith, susansmith@thousandislandslife.com