"I never touched a paint brush until age thirty-five," Kelly Curry says proudly. But in the past decade, she has painted over 250 murals in seven states.
I'm lucky to live in two of those states. Some of the first murals Kelly painted were in Clearwater, Florida just minutes from my winter home. Next month, I'll be able to see Kelly in action in Clayton, NY.
Last August, Kelly painted a barn on Route 12 near Alexandria Bay. She also painted the north side of the Koffee Kove on James Street in Clayton. On her docket this summer are several projects in the Clayton area, including the alley side of Koffee Kove where she's going to paint something a little more interactive, perhaps with a 3D effect.
Like many of us, even though she lives elsewhere during the winter, Kelly calls the Thousand Islands home. Her father grew up in Alexandria Bay and she's spent nearly every summer on the river.
Currently, Kelly spends her winters in New Orleans, but that could change. "I feel like I have wings. Tomorrow I could get a call to paint a mural in France and I could pick up and go." Kelly wasn't always so footloose. At age 35, Kelly was looking for a different direction. She investigated franchises and other businesses, but nothing seemed to fit. Desperate to figure out what to do with her life, she took the suggestion of a friend and went to see a psychic. She was not impressed. In fact, she thought she had wasted her money. The psychic told her that an older man named Charlie would be very important in her life. Trouble was, she didn't know anyone named Charlie.
Who was this Charlie? The answer was hanging on the wall. In her farmhouse kitchen hung a two-man saw painted with a beautiful mural. She'd found the saw in the barn when she moved in. The saw was painted by some guy named Charlie Flagg. Kelly had always admired that painting and wondered if she could paint like that. No, she didn't wonder. Deep inside, she knew she could paint like that. Was this the Charlie that the psychic told her about? When she asked her friend that question—the same friend who had suggested the psychic—she gasped. "I just got off the phone with Charlie Flagg right before you got here, she said. "I know him."
Emboldened by the psychic's proclamation, Kelly contacted Charlie Flagg. He told her he would teach her to do what he did—paint murals. For the next year and a half Kelly worked side-by-side with Charlie as he painted murals. She learned by doing. "When I saw that I could paint trees and a sky, I saw the first glimmer of what I could be," Kelly says.
Often the old man was gruff in his direction and criticism. Kelly took his tone in stride. "I knew he was my teacher. Whatever he said would serve to benefit me in the long run." One day after finishing a beautiful mural, instead of giving her a compliment he told her to, "get out of my backyard." Kelly says she cried for two weeks, but ultimately saw his dismissal as a compliment. She was no longer a student; she was his competition. Kelly respected Charlie enough to do as he requested. She got out of his "backyard" and moved from upstate New York to Florida, where she painted her first mural on the outside of a motorcycle store.
She was no longer an apprentice, she was now a mural artist. It was more than just a profession, it was a spiritual journey of sorts. She was living "The Art Life", a "Bohemian Life." Before she met Charlie, her life was locked down. She worked 9 to 5, had a mortgage, worked five days a week and had only a meager two weeks for vacation. "Becoming an artist freed me of all of that."
It freed her of a lot of stuff. "I gave up fake nails and dying my hair and expensive clothes and shoes. I lived out of one duffle bag for four years. I moved around. I lived out of my truck. I learned how to live simply and enjoy having less."
She didn't just put color on walls. Her new career colored her thoughts. "I've become educated by what I do," Kelly says. And she's not just talking about painting techniques. It started back in her days of living out of her truck. "I got into reading," Kelly says. She started with the bible, then moved on to other religious texts on Buddism and Hinduism. "All those things color my thoughts and created pictures in my head."
Now she does research before starting new projects. She recently painted a mural on the cafeteria wall of a science and technology academy. "They asked me to paint a mural to spark the thinking of the children," Kelly says. Kelly started with research that took her from ancient times to today. When she finished, she gave a seminar to the faculty to explain the symbolism in her mural. Kelly Curry—a former biker chick—teaching teachers about the history of science and technology. "It was one of my greatest moments."
Having learned to paint in front of an audience, Kelly is not shy. For Kelly, art doesn't happen in some cloistered studio, it unfolds in front of the world. It's almost performance art. "I love it when people come up and talk to me while I'm working, especially kids." Kelly has several jobs lined up in Clayton this summer, the alley side of Koffee Kove being only one of them. When you see her, stop and talk to her.
Transforming the Koffee Kove
Painting murals here in the Thousand Islands won't require hours of research. This summer Kelly Curry will be painting from her heart. "Being that I've been looking at these islands for forty-five years now, I could close my eyes and paint them anywhere."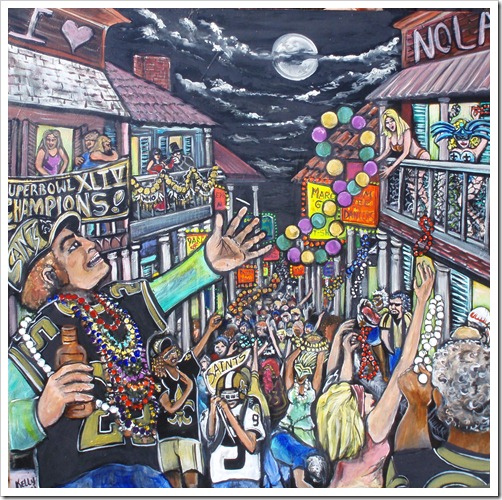 "'Saint Mardi Gras' and was painted after the Saints won the 2009 Superbowl and represented the handoff from Superbowl celebration to the upcoming Mardi Gras festival.  It is acrylic on canvas".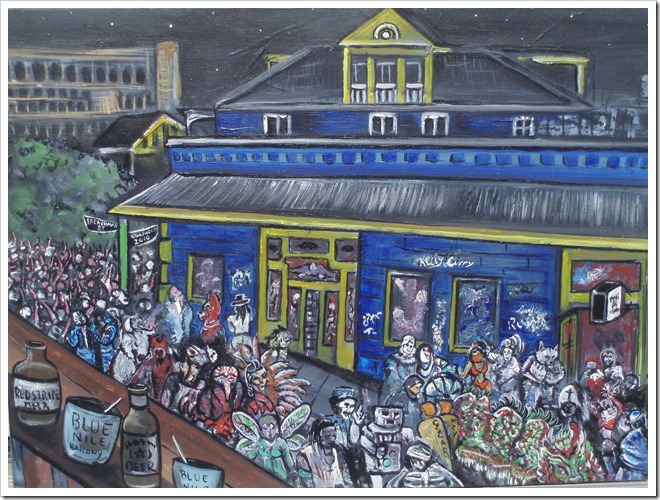 "'Live on Frenchman St. Halloween 2010',  it was painted live while I sat on the balcony overlooking the parade of costumed partiers.  It is acrylic on canvas".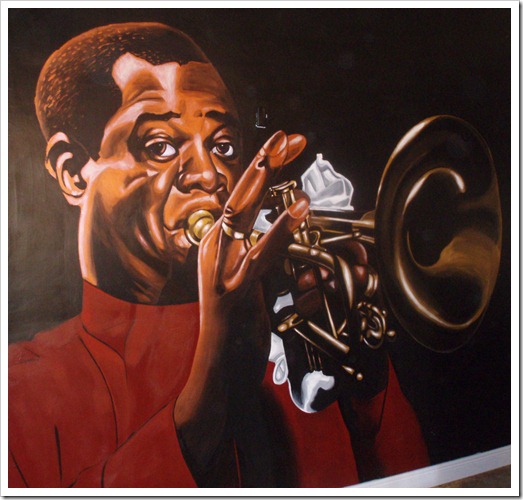 "This is Louis Armstrong and native of New Orleans and was taken in 1953. It is 12ftx12ft and is also at the Jazz Cafe and is on drywall with Benjamin Moore house paint".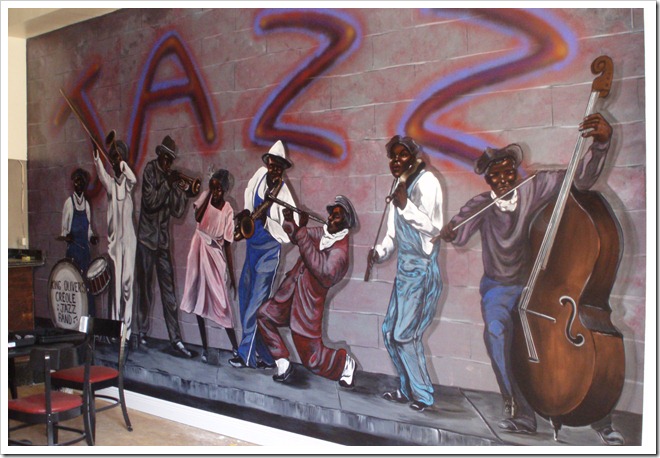 "This a mural 27ft. long by 11ft. high and is painted on the wall at a local place called the Jazz Cafe in downtown New Orleans. It depicts the 1921 photo of the Creole Jazz band from New Orleans that was on tour in San Francisco CA. one of the first jazz bands to travel about the country sharing the 'NOLA" jazz sound for the first time. The Mural is on drywall with Benjamin Moore interior house paint".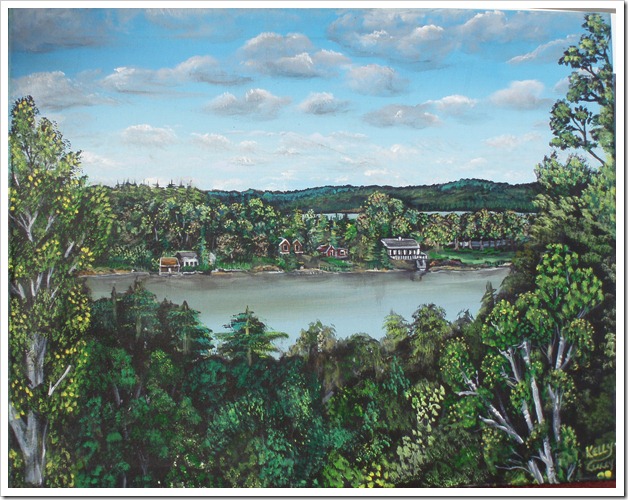 "The Goose Bay painting  shows #9 island in the background and shows David Garlock's home on the island. I 'live painted' that sitting on the side of the rocky overlook. It is acrylic on canvas."
By Lynn McElfresh