The House that Jack Built
Written by
Portia Leggat
posted on April 13, 2011 22:33
Editor's note:  It is with sincere appreciation that I thank Portia Legatt for writing this very special book review.  It not only pays tribute to Deming Pratt Holleran, whose generosity to Queen's University  is outstanding, but it also pays true homage to Portia's former professor,  Pierre de la Ruffinière du Prey, Research Chair, Department of Art, Queen's University.   

In my professional life I was a development officer, raising money for institutions, including Queen's. Throughout those years I wrote dozens of thank you letters. However the gratitude I have for Deming Pratt Holleran, the owner of Niagara Island, and to Professor du Prey, is difficult to put into words. Suffice it to say the late Paul Malo would be thrilled to learn how much effort has been expended to preserve architectural drawings for the "House the Jack Built" in his beloved Thousand Islands. This would never have happened without Professor du Prey's interest and passion for our Island history.  I truly hope this story will inspire others to take advantage of the Queen's University Archives and allow them to preserve more architectural drawings for posterity.  

Susan W. Smith
The House that Jack Built on Niagara Island, Ontario
 Edited and with an Introduction by Pierre de la Ruffinière du Prey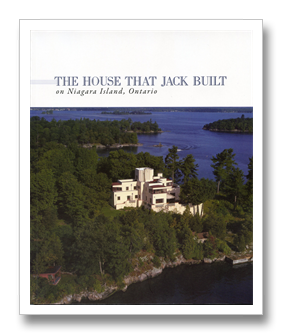 With architectural drawings' catalogue entries by Anne Brûlé, Brooke Charbonneau, Lara Connolly, Douglass Dawson, Sabrina DeSousa, Tammy Georgiou, Kyle Gonyou, Eliza Grossman, Dean Hamann, Olivia Hannigan, Jenna Jorgenson, Caylen Heckel, Alexandra Kirsh, Heather Montague, Stephanie Pacheco, Matthieu Préhu-Quillard, Rebecca Ross, Timothy Simpson, Brennan Smith, Colin Storrs, Kirsten Taylor, Jeffrey Thorsteinson, Hannah Tjaden, Angela Wright.

Queen's University Archives, 2010

161 pages, illustrated
In 2004 Professor Pierre de la Ruffiinière du Prey collaborated with his Queen's University art history students on a delightful exhibition and related catalogue entitled Ah Wilderness! Resort Architecture in the Thousands Islands (Kingston, Ontario: Agnes Etherington Art Centre, 2004) The exhibition and catalogue documented the heyday of the area as a fashionable summer destination for Canadian and American vacationers and focused on houses and hotels (most of the latter destroyed by fire) located on the islands and on the shores of the St. Lawrence River. In the course of their research, the students located fascinating archival materials including drawings, photographs and correspondence handed down over generations to the current owners of many of the Thousand Islands properties. Following the 2004 loan of several architectural drawings of her father's 1930 building on Niagara Island to the Ah Wilderness! project, Deming Pratt Holleran decided to donate the entire corpus of 196 drawings relating to the house to Queen's. Thus in 2009 Professor du Prey rallied another group of students to revisit the Thousand Islands – this time to undertake a thorough examination of one of the most intriguing summer houses in Canada.
The result of their year long study is The House that Jack Built, a 161 page illustrated catalogue that examines Sherman Pratt's remarkable and little known residence on Niagara Island, located in the Thousand Islands near Gananoque, Ontario. Designed by New York architect John (aka Jack) Walter Wood III (1900-58) for his childhood friend Sherman Pratt (grandson of Standard Oil magnate Charles Pratt, the founder of Brooklyn's Pratt Institute), the house is one of the first modern residences in North America to incorporate innovations in design and construction thanks to technological advances made possible through the use of steel and reinforced concrete. Ah, Modernism!
Perched high on the crest of Niagara Island's rocky and well-wooded eight-acres, the massive pink stucco house, with its three defining wing-like sleeping porches and tall communication tower, stands in striking contrast to the sloped roof, shingle-style houses on many of the surrounding islands – including architect John Walter Wood's childhood house on nearby Hickory Island. In his introduction to the catalogue, Professor du Prey wonders why The House that Jack Built failed to ignite the popular imagination and why it has been eclipsed by Richard Neutra's 1927-29 Lovell Health House in Los Angeles or by Frank Lloyd Wright's 1935 Fallingwater, one of the most celebrated vacation homes in the entire history of architecture. Although published in several well-illustrated magazine articles in the early 1930's, the Niagara Island property descended into obscurity during the years of the Great Depression and World War II.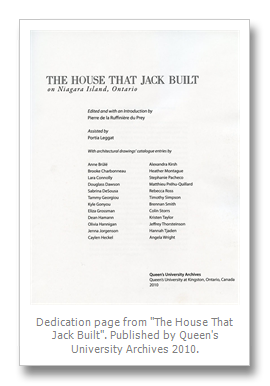 With the assistance of University Archivist Paul Banfield and his staff, the 196 drawings relating to The House that Jack Built were photographed by Chris Peck, encapsulated by Queen's conservator Margaret Bignell and Heather Wolsey and arranged by Pierre du Prey into six thematic groups: earth, fire, air, water, interiors and addenda (devoted to the minor repairs that the architect carried out on the Niagara Island buildings after 1935). The themes aided the students in their research and helped them follow the unfolding evolution of the work on Niagara Island: the section on earth deals with excavating the granite island, landscaping it, and the use of natural materials; fire pertains to the large concentration of steel in the reinforced concrete buildings and to the cooking and heating systems; air focuses on the sleeping porches, roof terraces, and cross ventilation; water relates primarily to the boathouse; the section on interiors highlights Wood's concern for built-in furniture, cupboards, and Dark Room. Following a lively class trip to Niagara Island in September 2009, each of Professor du Prey's 24 students was given a group of architectural drawings to analyze. Assisted in their research by architect Tony Barlow (Dip. Arch RIBA), the students prepared term papers that appear as the 196 catalogue entries in The House that Jack Built. These entries are interspersed with 48 illustrations of architectural drawings (sketches, drawings, plans, elevations, sections, details, schedules, revisions, and a key blueprint) from the John Walter Wood architectural fonds now permanently located at Queen's. The students were also required to catalogue each drawing according to a system developed by the Architectural Drawings Advisory Group convened by The Getty Art History Information Program in the mid 1980's, and refined by Jill Lever, consultant to the drawings cataloguing project for Sir John Soane's Museum. 
The student entries are prefaced by Professor du Prey's insightful 30-page introduction in which he tells the story of the virtually unknown vacation home and matching boathouse, power house, servants' house and 1934 tennis court designed by John Walter Wood III for Sherman Pratt. Illustrated by period photographs, the introduction tells the story of the friendship between architect and patron and retraces John Walter Wood's architectural evolution following his years as a student at Middlesex School outside Concord Massachusetts, to Harvard (1919-1923), Rome (where he was a Rome Prize in Architecture finalist), Harvard (where he received in M.Arch in 1928), France (post-grad year of study) and New York City where he practiced architecture following his studies.
When Sherman Pratt purchased Niagara Island in 1929 he consulted his friend Jack Wood for advice regarding the type of house he might build. Having recently returned from post-graduate studies in Paris, Jack showed Pratt his elaborate grand scale Harvard thesis design for an imaginary Mediterranean Despot's Retreat. According to the anecdote often related by Pratt's daughter Deming, her father commissioned Jack on the spot to replicate the design on Niagara Island and gave him carte blanche to do so. How a young architect's fantastical thesis design was adapted to reflect the personal requirements of Sherman Pratt and the specific needs of living in the Thousand Islands is the subject of many of the student catalogue entries. Sherman Pratt's determination to build an economical, simple, easy to maintain, and above all fireproof house, dovetailed perfectly with Jack Wood's early advocacy of the strength and durability of reinforced concrete.
One of the most striking and perhaps most interesting aspects of the Niagara Island House are the three sleeping porches and adjacent dressing room/studies. Originally designed wire mesh screen for protection from bugs, the porches were large enough for two single beds. The detailed drawings of the adjacent dressing rooms reveal ingenious built-in furniture that could be folded and flattened out to make room for the beds to come inside from the porches during inclement weather. Designed for Sherman Pratt before he married, the club-like features of the dressing room/studies and the communal living spaces below were built to meet the needs of the bachelor owner and his friends. The days of bachelor parties are over and the terraces of the house are now covered with tricycles and other children's toys. The tennis court is still in use - by three generations of Sherman Pratt's family - and the boat house still houses their canoes and motorboats. Many of the timeless interior details from the 1930's remain, such as the built-in furniture and the hand-painted mural in the tower room, as reminders of the friendship between two childhood friends who collaborated to create one of the most fascinating summer getaways in the Thousand Islands. The House that Jack Built reflects the inspired present day collaboration and friendship between Professor Pierre du Prey and his appreciative students at Queen's University and its Archives.
Copies of The House that Jack Built can be found at Queen's University and at the Kingston Frontenac Public Library.
By Portia Leggat
Portia Leggat studied architectural history at Queen's University before completing a Masters Degree in Library Science at the University of Toronto.She has worked at the Canadian Centre for Architecture, the Harbourfront Reading Series and several Canadian publishing firms. Portia currently lives in Kingston where she works part-time at the Kingston Frontenac Public Library. 
Comments
Comment by: Rex Ennis ( )
Left at: 10:25 PM Thursday, April 14, 2011
---
Happy to see this book. Years back, when I was a bit younger, I can remember visits to Niagara and the tennis courts.
Comment by: Alan Lindsay ( )
Left at: 9:00 AM Friday, April 15, 2011
---
The late Walt Pullaw was caretaker at Niagara for many years. As a teenager I worked for him one fall on weekends painting the windows on the main house at Niagara. What a beautiful place. The views are fantastic from that upper room with the painted ceiling. Ate our lunches in the big diningroom.Brings back a lot of memories.I must get this book.
Comment by: Tom King ( )
Left at: 10:24 AM Friday, April 15, 2011
---
Although I have probably boated by Niagara Island literally hundreds of times over the years I never knew the history of the "factory" cottage, as we used to call it. Thank you for sharing the rich history of this unique and striking piece of architecture. I will definitely try and find a copy of the book so that I can learn more!
Comment by: Carolyn McCarney ( )
Left at: 1:34 PM Wednesday, April 20, 2011
---
As a girl spending my summers on Belabourer Island, the back screen porch of our summer house faced Niagara. Niagara couldn't help but be a focus for us and we spent many idle childhood times wondering what mystery and excitement could have been going on in that large impressive building. Even the boat house seemed to hold intrigue. We kids were sure that on Niagara something out of the Hardy Boys was going on!
Fortunately for us our Dad gave us strict orders about NOT nearing their shore line. It seemed to make it all the more exciting. My little red canoe wanted to go there so badly!
As we grew up we saw the family boats come and go and then one day, an older gentleman came out to the point. We watched as he tied a line to a tree and ran it off the point and into the cold swift water. He and what appeared to be his family went down over the rocks holding the line into the swift water. They were swimming and having simple family fun. We could hear their laughing. Then they made their way back up the rocks with the aide of the line. No one was lost and the mystery was solved.
It was at that point that we realized the Hardy Boys weren't needed after all and that this was a family, like so many other River families, just trying to get the very best River offerings. I will always remember the grand background of Niagara and the family choosing to swim off the point. Thanks for the memories, Carolyn McCarney
Comment by: Deming Pratt Holleran ( )
Left at: 7:50 AM Wednesday, June 1, 2011
---
Having just returned from a long weekend on Niagara -- opening up for the season, planting flower beds and reawakening the tennis court from its winter slumber -- I was thrilled to find reference to this wonderful online magazine in the TIARA newsletter, and to look back on the April issue with this review of Pierre du Prey's marvelous book. The richness of our 1000 Island heritage deserves to be highlighted with these varied, interesting articles, and I am so happy to have been a part of the river life for almost 70 years.
Comment by: Dee garwood ( )
Left at: 11:42 AM Wednesday, August 31, 2011
---
My husband did a great deal of repair to the exterior of this concrete cottage. He is very interested in getting a copy of the catalogue. Can anyone tell me where I can obtain a copy?
Comment by: Susie Smith
Left at: 11:59 AM Wednesday, August 31, 2011
---
Queen's University only did a small print run. I understand they are all gone, but if you contact Queen's University with your request,they may be able to arrange for you to get an inter-library loan of a
copy.
Comment by: Carolyn Brewer ( )
Left at: 1:00 PM Sunday, July 15, 2012
---
I own an island adjacent to Niagara & am so interested in discocvering this information. Walter Pullaw helped us with our island also & I hope to be able to see a copy of the article. I regret I am just now finding this.
Comment by: Diane carte ( )
Left at: 8:09 AM Monday, March 25, 2013
---
I am delighted to find the stories of Niagara island.
I worked two Summers on the island
It leaves me with found memories,Walt Pullaw, kept things running.
l feel lucky to have spent sosme of my life in the incredible environment
Comment by: Meghan Webb ( )
Left at: 1:59 PM Tuesday, September 24, 2013
---
I had the pleasure of working there for one summer as a maid, I think it was probably 1996 or 1997, what a great experience that was, the family was very nice and the grounds were amazing. It was a wonderful summer job for a teenage girl and feel very blessed to have been able to experience it.
Comment by: Christine Leakey ( )
Left at: 11:55 PM Thursday, June 5, 2014
---
Hello!
Thank you so much for writing about the Niagara Island estate. I've long wondered how the family are. I spent part of one summer working there as a Governess during the 1980s... I got to know Deming and many other family members during my stay and to this day, it's a memory I treasure. I was quite into architecture during my teens so staying here was like a dream!
I almost pursued architecture however, last minute I changed my mind and pursued Graphic Design.
Please extend my greetings to everyone....
Christine
Comment by: The House that Jack Built > Thousand Islands Life Magazine > Thousand Islands Life Magazine All Archives
Left at: 10:07 PM Tuesday, July 18, 2017
---
25 Blidi Wreh-Wilson Jersey - 94 Richard Ash Jersey site is the best site
to buy 53 Deiontrez Mount Jersey! A complete selection of American football jerseys,
Cheap Authentic hockey Jersey and baseball.
Comment by: Heidi Buchegger
Left at: 9:22 AM Wednesday, December 13, 2017
---
I too had the privilege of working on Niagara Island along with my sister Erica for a couple of summers, in the early 80's. What fun in the kitchen and around the big old house, sweeping its marble stairs and floors, making up beds for a new week of guests--yes, including in the tower room, collecting glasses and tidying up the cushions in the big window seat in the living room each night, playing the piano and singing hearts out when the guests were in transit, learning to follow menus and recipes from the Joy of Cooking and from visitors, having the privilege of meeting and serving Mrs. Esther Sherman Pratt, the painter our first week, her daughter Deming Holloran and fun and athletic family, along with many other kind guests--the creative games in the dining room, free time in early afternoon between meal clean-up and prep canoeing, blueberry picking on Government Island, swimming at 'the rock' with the long rope to pull us into safety when waves from a passing 1000 Island Tour boat or other had gone by, waving to strangers on the water who instantly became friends, sunshine, brisk river water swims, reading, dreaming, learning (to play tennis or to water ski from very patient guests--thank you!!), meditating...thank you, Mrs. Holloran and family for this memorable experience. "In My Father's house are many mansions. I go to prepare a place for you, that where I am, there you may be also." (John14:3) Am hoping to see His mansions up there some day, by God's grace and also to see you again one day. Until then, precious memories of Walt and Ruby Pullaw, his boat and garden, the snow peas, lively, gracious and generous guests, listening to Keith Green tapes during free time and special times with my sister on lovely Niagara Island. Thank you again!! Heidi