A visit to Clayton NY on a beautiful day in April gave me the opportunity to take a photograph of the newly appointed executive directors of two important North Country organizations.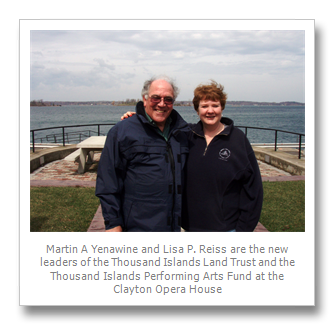 Lisa P. Reiss has assumed the position of Executive Director of the Thousand Islands Performing Arts Fund (TIPAF) at the Clayton Opera House.  Across the street at the Thousand Islands Land Trust (TILT), Martin A. Yenawine took charge.  Both organizations have a lot to boast about, celebrating strong volunteer and financial support which comes from both year-round and summer residents.  Both candidates bring several decades of administrative experience in their respective fields.
TIPAF's Lisa P. Reiss
Lisa P. Reiss comes to Clayton from Connecticut.  She is a graduate of Penn State University.  In 1996 she founded Pearl Productions, a talent-booking and performance-consultation business, in Brookfield, Connecticut.   The company started with a focus on sponsorship opportunities for venues, events and artists such as the Maui Music Festival, Gathering of the Vibes and the Magic School Bus touring company but quickly branched out to assist several not-for-profit venues with their programming needs.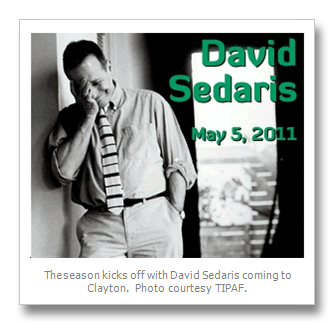 Her clients have included theaters, performing arts centers, and festivals in New York and Connecticut. She was the executive director of the 5,500-capacity outdoor amphitheatre at Ives Concert Park in Danbury, Connecticut.She also spent 13 years as associate manager for MRAI in Danbury, Connecticut, where she worked with notable country music stars Willie Nelson and Kris Kristofferson, and jazz legend Miles Davis among others.
Lisa takes over from former director, Amy Flack, who has moved down river as executive director of the Community Performance Series in Potsdam.  Amy and her TIPAF team led the $3.25 million renovation of the historic Clayton Opera House and expanded programming to increase ticket sales three-fold from 2006 to 2010.  The 2011 season is already well underway with community events and important productions including bringing author David Sedaris to Clayton on Thursday, May 5th.
TIPAF's Mission:  To foster appreciation of the performing arts in the Thousand Islands region by offering and promoting outstanding performances and events.
The Clayton Opera House underwent a $3.2 million historic preservation in 2007. This project rendered the 1903 structure a year-round center.

Photos courtesy TIPAF
TILT's Martin A. Yenawine
Martin A. Yenawine is well known in the Thousand Islands and the North Country.  He has over 35 years of experience leading and growing both public and private corporations and non-profit organizations as well as public health service companies, emergency medical service providers, and serving on the boards of countless civic and community organizations.  Martin and his wife Linda, now live year-round on Seven Isles, Wellesley Island. He grew up in the Syracuse area.  After graduating from the University of Louisville, earning his degree in Political Science and Urban Planning, he spent his career in health and human service organizations.
Martin's work centered on areas of staff development, fundraising, marketing, strategic planning and management of compliance and community positioning issues for non-profit agencies as well as public and private companies.
He was also a founder and member of the Thousand Islands Emergency Rescue Service (TIERS). He is currently a trustee for and serves on the finance and audit committee of the Sonoran Institute in Tucson, Arizona.  He is also a trustee and first vice president of the Samaritan Foundation of Northern New York, in Watertown.
The Thousand Islands Land Trust, (known as TILT) was established 25 years ago in 1985.  TILT conserves land in the Thousand Islands region of New York State, which includes the islands in and the shoreline along the St. Lawrence River between Cape Vincent, NY and Oak Point, NY on the US side of the Canada/US border.   Martin joins the other staff members including Jake Tibbles, Assistant Executive Director and Land Steward, Star Carter, Director of Land Conservation and Susie Wood, Membership Coordinator.
"I look forward to working with the committed volunteer board of trustees and the young dynamic staff," says Marty, "to ensure that TILT is able to safeguard the region's natural beauty and wildlife habitats and to promote the many recreational activities that we all enjoy". 
One of Martin Yenawine's first tasks of the season was assisting to install the tern grids on shoals off Clayton. Sarah Walsh, Program Manager for Save The River who partners with TILT for the annual project, said "It was a joy to work with Marty putting up the tern grid. He has a deep love for the river and preserving its natural spaces. We're looking forward to working with him. He's a great addition to the TILT staff."



TILT partners with several organizations over the summer.  In April they join Save The River by installing grid wires to protect the Common Tern, a state threatened species.  The grids and nesting boxes help terns establish a nesting colony on the shoals by preventing other birds from landing on the nests and feeding on the eggs and chicks.
Over the summer, you are encouraged to learn more about these two important organizations by paying them a visit when in Clayton.
By Susan W. Smith, susansmith@thousandislandslife.com