Written by
Susan W. Smith
posted on June 13, 2011 22:53
Robert Orr, of Lemon Island in the Admiralty Islands, admits he can't draw and that he is color blind, but his prize winning wood carvings express a remarkable talent.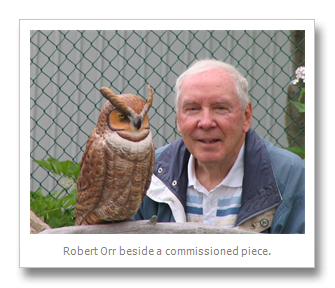 Wood carvings start from a pattern which is then transferred to a wooden block. Rough carving and the fine details of feathers are then carved individually, wood burned or painted to give the carving a truly lifelike appearance. His carvings are very realistic and with exquisite detail.
Robert retired from a career in education, culminating in various schools around Brockville as Principal.  In 1997, he found he had a passion for carving, but this did not happen overnight.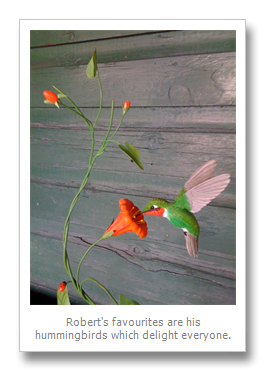 His first project was made while attending Ontario Teachers College in the early 1960s. "Carving sounded more interesting than the other course choices" he said.
It took 30 years before he tried his second project. His late wife Lynne realized that retirement called for another hobby. He already loved photography, often capturing Thousand Islands' herons and other familiar wildlife. So, why not look for a complimentary craft.
He remembers his first carving, "Lynne bought a book with bird patterns and I found a piece of cedar." The result was a Scarlet Tanager. However, Lynne, his best critic announced, "This project needs some work. How about taking a course?" Robert enrolled at St. Lawrence College in Brockville and soon joined the St. Lawrence Woodcarvers. The rest, as they say, is in the "carvings."
Robert has devoted much of his time to refining his wood carving skills. For the first few years he only used knives on his blocks of wood, then came a Dremel and over time he has acquired an impressive selection of tools. He has also learned to distinguish colors: years ago, he entered a carving at a show only to learn that the brown feathers he so painstakingly painted were actually red!
He also spends considerable time creating the "habitats" to display his carvings. The tall grass reeds are cut from aluminum.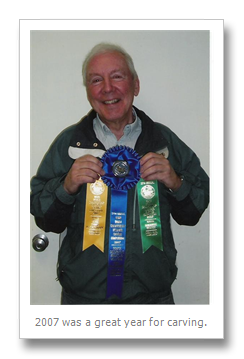 "The carving community is generous with its advice." claims Robert. The St. Lawrence Woodcarvers Group, 40 in number, meets once a week in Brockville from September to May. It is there that Robert has devoted many hours - both learning and leading - conducting classes of his own and serving as president, and for the past decade as show chairman.
One of his greatest experiences was a week-long intensive course in Michigan with master carver, Gary Eigenberger, whose works have been featured in many national wildlife art and collecting magazines. Since then Robert has entered his work in numerous juried exhibitions and competitions including the World Carving Championships held each spring in Ocean City, Maryland. It was there that he earned a first place in the novice category. Always learning, he credits the success of his winning models to the advice received from judges in previous shows.
This past April he attended the Canadian Carving Championships in Kitchener, ON and came home with another 1st first place ribbon!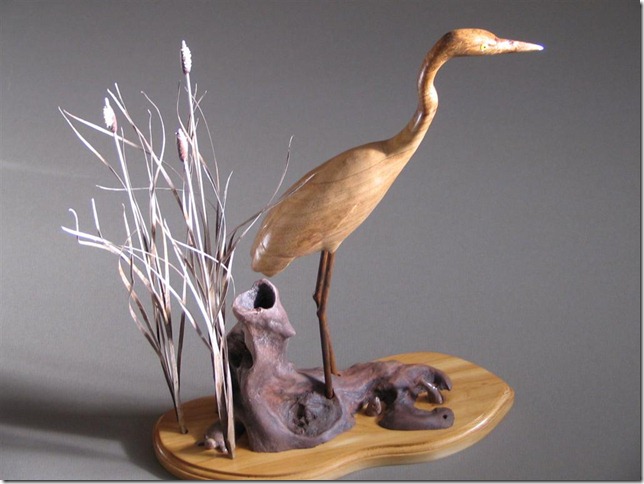 Heron in the weeds:
"This was made for the S.A.I.L. auction in Gananoque this winter. It and the base are carved from butternut. The weeds are aluminum strips, the wood on the base is driftwood, and the fish and turtle are walnut. This is sort of my "signature piece". I do many of these, all similar but none exactly the same."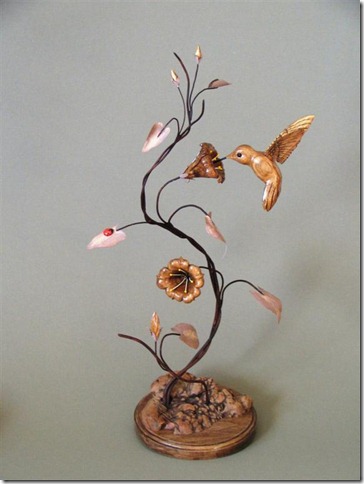 Hummingbird:
The bird and blossoms are butternut, the vine and leaves copper. This received a 3rd place (Intermediate) at Ocean City, 2009.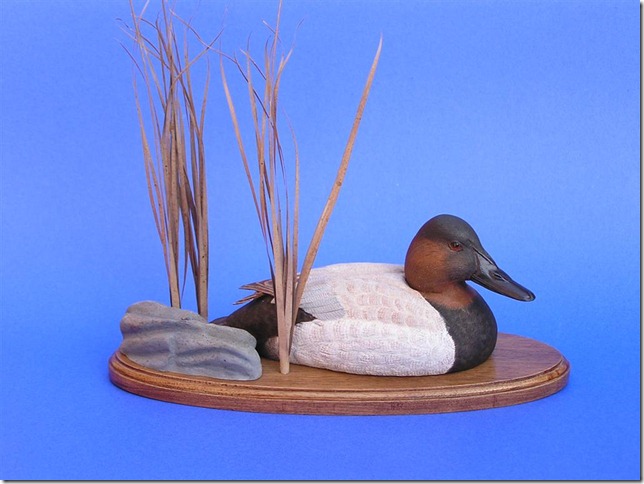 Canvasback Duck:
"The Canvasback was my first entry at the World's Championships in Ocean City, Maryland. It won a 1st place blue ribbon (Novice Category, 2007). The bird and the rock are basswood, base butternut, weeds aluminum."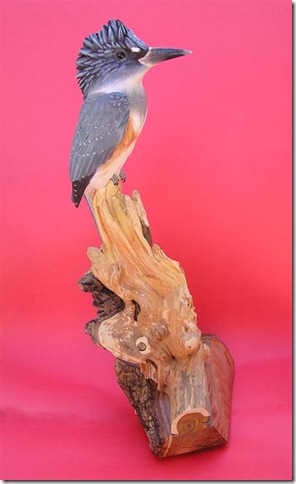 Kingfisher:   This full sized Belted Kingfisher was carved in a class with world champion carver Gary Eigenberger in Northern Michigan in August 2009. The bird is Tupelo, and painted in oil instead of acrylics, the base is both Juniper and Elm.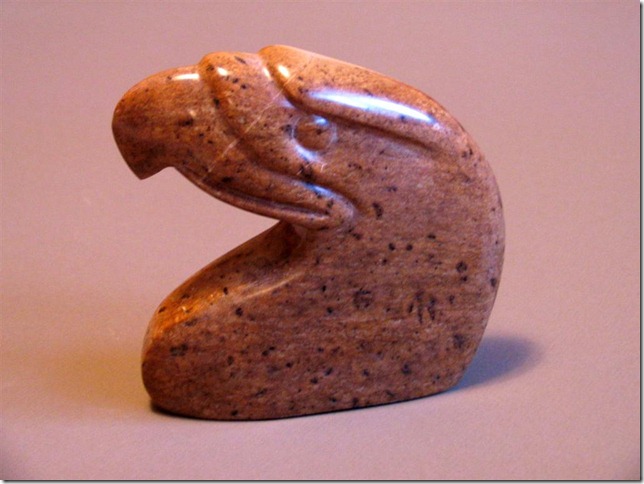 Soapstone: "Slowly moving into a new medium. This was done in 2011, a combination of Inuit and T'linglit style."
Totempole:   "Designed by my cousin's 10 year old grandson, Jonathan, who designated an animal for each family member, (13 including the dog). It took me two years to complete - a year and a half thinking about it and finding appropriate pictures (suitable for a 10 year old, and carvable), and about six months getting the wood and carving it."
(Robert exclaimed this was one of his favorite carvings.  Iit stands several feet in height and has been photographed by many visitors to Kitsymini Island, Admiralty Islands.)
By Susan W. Smith, susansmith@thousandislandslife.com