I carry around a little notebook with me everywhere I go that contains my current 'to do' list, which includes everything from calling the Seaway Administrator about ballast clean up programs to meeting with a member who has a concern about pollution nearby. The little book also contains a running list of 'things we're not doing', and includes topics large and small such as 'develop stronger partnership with Canadian friends and members', 'tackle regional sewer overflow issues', and 'expand school program'. Even though I'm so proud of the great work our staff, Board of Directors and members are doing to protect our river, that list of 'things we're not doing' never seems to shrink and we have more work to do than ever to protect this amazing River for future generations.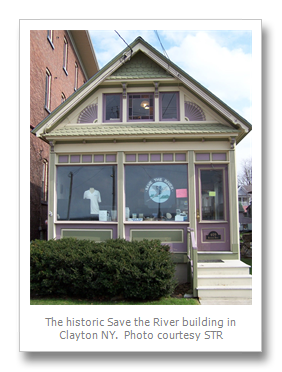 About three years ago, Save The River's Board of Directors and staff gathered along the river's edge for a day-long retreat on Governor's Island to map out a plan to guide the organization's growth for the coming years. At that retreat, we talked at length about that 'things we're not doing' list and quickly agreed that as the only advocacy group on the River, we needed to grow to tackle that list.
But, we also had a very practical problem – space. Our great little historic office in Clayton, next to the Clayton Opera House, packs a huge amount of activity into a little more than 900 square feet. Each year we manage to squeeze in everything from t-shirts sales to informational displays to four year-round staffers and summer interns and volunteers. In short, we're bursting at the seams.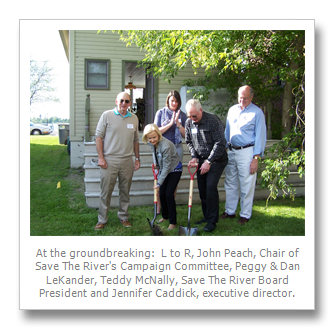 To tackle this growing 'to do ' list and address our space problems, earlier this month we announced Save The River's largest ever fundraising campaign, From the Founders to the Future….A Campaign to Enhance River Protection. The campaign will raise $700,000 to support the expansion and renovation of Save The River's offices, provide seed funding for program growth, and begin an endowment-like Legacy Fund. On a beautiful June evening a few weeks ago, Save The River staff, board, and friends joined together for a ceremonial groundbreaking and announced two fantastic milestones.
First, we announced the largest gift in Save The River's 30+ year history, a very generous $100,000 contribution from Dan & Peggy LeKander. "We purchased our home at the river in 1983 and as the years progressed we became more and more concerned about the viability of the river ecosystem. Last year we learned about the Founders to the Future Campaign being launched by Save the River with the goal of enhancing river protection. We felt that contributing to the Save The River campaign was the perfect way to participate in protecting the St. Lawrence for future generations," noted Dan and Peggy when asked about why they chose to support Save The River.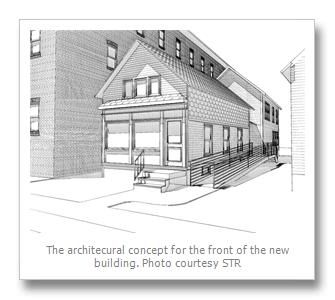 And, second, we announced that nearly $600,000 has been raised to date toward our campaign goal of $700,000 thanks to generous gifts from the LeKanders and nearly 60 other River families.
Our campaign is raising funds to not only meet our space needs but to also set the stage for future program growth. Funds raised through the campaign will be used in three areas:
Seed Money for Program Growth – Over the next three to five years an additional two and half staff members will be added, which will enable Save The River to expand our growing environmental education and citizen monitoring programs, expand our advocacy and outreach programs to all communities on the Upper St. Lawrence River, and strengthen current advocacy programs.

Building Expansion & Renovation – Save The River contracted Grater Architects to design an addition for the organizations' historic office space, which will roughly double the square footage, and include energy efficient renovations on the current structure. The new space will provide additional office and meeting space. The existing office will remain as the Save The River information center and storefront.
Seed Money for a Legacy Fund – We strongly feel that there will always need to be a Save The River to watch, protect, and promote the River. Campaign funds will be used to start a Legacy Fund, which is an endowment-like fund, to support the organization's long-term financial health.
Construction on the expansion and renovation of our historic office space in downtown Clayton will begin in the next week or two. We have been working closely with Grater Architects and Goutremout Brothers Construction to design and create a structure that, to the fullest extent possible, becomes a model for green building practices in the St. Lawrence River valley and North Country.
As we enter this final, big push to reach our $700,000 goal, we'll be blogging about the building project and our campaign progress on our website at: http://www.savetheriver.org/index.cfm?page=app.involvedFounders We hope you'll stop by our office to see our project and learn more about how you can get involved. Each contribution will help us reach our goal of a healthy River for future generations!
By  Jennifer J. Caddick, Save The River Executive Director & Upper St. Lawrence Riverkeeper
Originally from northeastern Pennsylvania, Jennifer has worked for a variety of environmental and conservation organizations in upstate New York and on the Chesapeake Bay. Since 2006, Jennifer has served as the Executive Director of Save The River and lives year-round in Clayton. Her family has spent time along the St. Lawrence River for many years and they are summer residents on Linda Island.