Ghost of a gilded age: Carleton Island's Wyckoff Villa
Written by
Kim Lunman
posted on September 15, 2008 19:51
  CARLETON ISLAND
This is the second story in a series written by staff reporter, Kim Lunman, for the Brockville Recorder and Times. The series was entitled " Island Treasures". The newspaper has given Thousand Islands Life permission to publish these articles. We hope you will join us our appreciation to Kim and her paper.
On the tip of an island where Lake Ontario flows into the St. Lawrence River stands a piece of history slowly crumbling into so many yesterdays when it was once the grandest estate in the Thousand Islands.
More than a century ago, before the famous Boldt Castle and Singer Castle were built on islands that have now become international tourist attractions, there was Carleton Villa.
Carleton Villa has not been inhabited for more than six decades, but its fading facade remains majestic even set behind a fence and barbed wire, its towering turrets covered in cobwebs, its once stately walls the victim of vandals despite the 'Keep Out' signs posted around the property.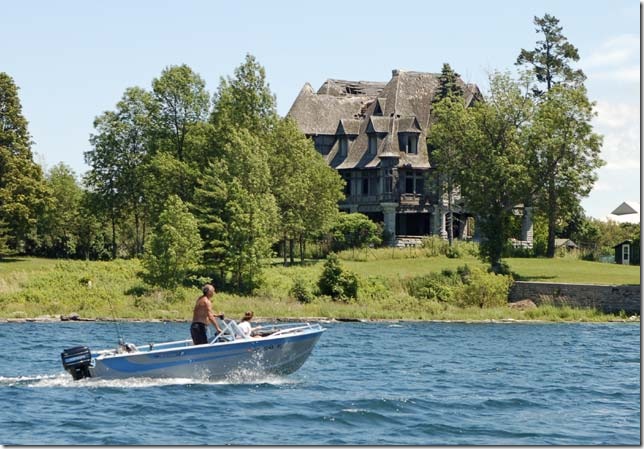 Photo by Kim Lunman © Recorder and Times
Boaters get a closer look at Carleton Villa on Carleton Island near Cape Vincent, N.Y. located across from Wolfe Island. The historic villa, listed for sale for $495,000 US, was one of the first grand properties built in the Thousand Islands. It was constructed in the 1890s by William O. Wyckoff, who made his fortune marketing Remington typewriters. He died on his first night in the mansion in 1895. No one has lived in the estate for six decades.
Graffiti graces a main entrance on the ground floor where someone has written: 'Pablo was here.' The words 'Help Me' are scrawled on a ceiling of the villa's top storey near a window overlooking the sprawling waterfront estate built in 1894 as a summer retreat for a New York tycoon.
Now the villa is all but a ghost of a gilded age on an untamed island near Cape Vincent, N.Y., not open to the general public.
"It seems the only people that know about it are those that pass it in their boats," said Mike Franklin, a historical property specialist with Saratoga Sotheby's International Realty.
Franklin, who started raising public awareness to save Carleton Villa along with the late Syracuse architect and Thousand Islands author Paul Malo who featured the once-grand estate on the cover of one of his books, is hopeful the building can be preserved.
It is currently listed for sale at US$495,000 but would require millions more to restore. It has been listed for sale for years now by the current owners who have a cottage next door to the decaying villa.
"Every winter, it gets worse," said Franklin. "Someone needs to get in there and stabilize it."
Carleton Villa was built in 1894 by William O. Wyckoff, who made his fortune selling a new invention of the era: the Remington typewriter.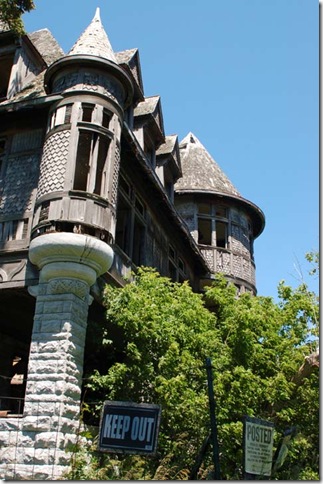 Photo by Kim Lunman © Recorder and Times
Mike Franklin, a historical property specialist from Syracuse N.Y. with Saratoga Sotheby's International Realty, has been raising awareness about historic Fort Haldiman and Carleton Villa on Carleton Island and hopes the once-palatial estate can be preserved.
But Wyckoff never got to live at his villa designed by architect William Miller, known for his work at Cornell University.
Wyckoff is reported to have died his first night in the mansion on July 7, 1895, of a heart attack at the age of 60.
"It's a tragedy," said Franklin. "His wife (Francis) died of cancer a month before he moved in and then he died of a heart attack. They never got to enjoy it."
Wyckoff had two sons. The youngest, Clarence Wyckoff, acquired Carleton Villa after his father died.
The mansion is perched on a rugged point of the island with sweeping vistas overlooking Cape Vincent and Wolfe Island, the largest Thousand Island on the Canadian side, with Kingston in the distance.
The realtor who has listed Carleton Villa said he has been trying to sell the prime waterfront property for years. It is listed on historicproperties.com.
"Over the past years, I've had many people interested," said James Wiley, of Bowes Realty in Clayton, New York. "I have two or three inquiries on that property once every week."
Wiley said he's had potential buyers from as far away as Australia and England and all over the U.S. express interest in purchasing Carleton Villa. "I get inquiries about it from all over the world."
Carleton Island is rich in history predating its once-opulent villa. It was a British military fort during the American Revolution. More than two centuries later, that history is still evident. Remains of barrack chimneys from Fort Haldiman can be seen in meadows of wild grass where deer roam among rows of lilac trees. The British warship HMS Ontario, discovered by divers last month in Lake Ontario, was built and launched from Carleton Island in 1780 - the same year it sank.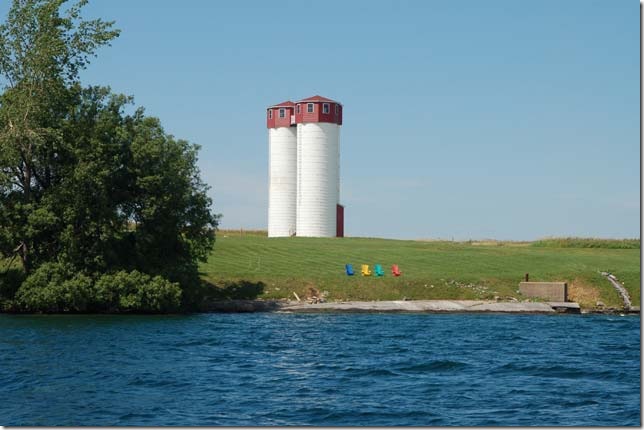 Photo by Kim Lunman © Recorder and Times
These converted silos on old farm property on Carleton Island give the property's residents a unique view.
Today, 54 landowners and 34 residences spread over the 1,800-acre island make up its summer community. Once settled as a farm community with a schoolhouse, now silos on one private property have been converted into residential suites overlooking the water. Snorkelers explore the island's bays along with curious boaters while kayakers paddle along its rugged shores.
Summer residents rely on all-terrain vehicles to get around the island. "This is Carleton Island traffic," said Franklin, steering a John Deere Gator along the unspoiled surface of the middle of the island as two boys rumble past in their ATVs. "Most people don't see the island this way."
The island was subdivided by a developer in the 1980s and its dozens of summer residents are mostly Americans. Vince Williams, of Syracuse, makes his Carleton cottage his summer home with wife Traganka, son Steele, 6, and daughter Navada, 4.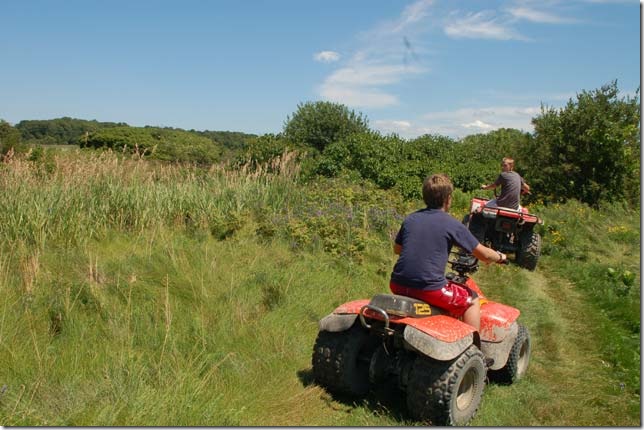 Photo by Kim Lunman © Recorder and Times
Carleton Island 'traffic.
"The history of the island is pretty fascinating," said Williams, enjoying a sunny day repairing his dock as a ship glided past in the channel.
"The kids love it," said Traganka. "They can't wait to come here."
The Thousand Island Land Trust in Clayton, N.Y., has owned seven acres of land on the island, including the ruins of Fort Haldiman, since 1986.
"That landscape is unique to the river," said Aaron Vogel, executive director of the non-profit conservation agency. "It's this open grassland.It's like being in another world."
But the future of Carleton Villa remains as unsteady as the harsh winds off this forgotten Thousand Island.
The mansion has survived vandals - some even shot some of its stonework off the entrance with rifles - and a brush with demolition after the General Electric Company acquired the property in the early 1930s intending to build a corporate retreat. Its tower, deemed a hazard, was toppled. General Electric sold the estate during the Second World War and it has been empty ever since.
Carleton Island's military history attracts archeologists to the area in search of artifacts while others are hoping the villa can be preserved as a legacy to the region's golden age.
"It's worthy of preservation," said Vogel of the landmark estate. "It's an interesting mix of natural and cultural histories. It's a beautiful island."
by Kim Lunman KimLunman@ThousandIslandsLife.com
Kim Lunman is an award-winning Canadian journalist whose work has appeared in The Globe and Mail, The National Post, Reader's Digest, The Calgary Herald and other newspapers. She has returned to her hometown of Brockville, "City of the 1000 Islands," where she is a staff writer and photographer for the Recorder and Times. She recently finished a series on the Thousand Islands called Island Treasures to be reprinted by the Recorder and Times as a souvenir magazine Sept. 29.
Comments
Comment by: justin olson ( )
Left at: 8:59 AM Thursday, June 4, 2009
---
hi i was wondering how long ago the picture with the atv's were takin trying to figure out if the one in front is me or not... the atv's most definitly belong to the Eckrich, Olson, Rajca residence to the left of the Iron man!
Comment by: Michael Wyckoff ( )
Left at: 11:57 PM Thursday, June 11, 2009
---
Hello,
I was wondering if the owners have considered sending information about this place to the Wyckoff House Museum in Brooklyn, NY? Perhaps they would be interested in purchasing it since William O. Wyckoff is a descendant of the first Wyckoff in this country.
Comment by: Dave Hall
Left at: 9:55 PM Friday, January 1, 2010
---
my brother and I were on Carleton Island last year!! The villa is amazing but really needs help! Wont someone do something about this? I only wish I could!!!!!!!!!!
Comment by: Steve ( )
Left at: 11:47 PM Monday, February 8, 2010
---
Another optiion would be to deconstruct the house and reassembly it somewhere else...Just a thought
Comment by: jeanette Rangel ( )
Left at: 7:34 PM Monday, April 12, 2010
---
My daughter and I have been looking at his Villa for years . It is a disgrace the that anyone would let this priceless piece of history get in this kind of condition. I can't understand with all the multi millonaires we have that no has tried to save it it is so sad. Maybe we start a fund called SAVE CARLETON ISLAND VILLA AND SEE IF ENOUGH PEOPLE ARE WILLING TO MAKE DONATIONS TO TRY AND SAVE IT.
I f I had the money I would do it. that place after it was restored would made money.
Comment by: Susie Smith
Left at: 4:05 PM Wednesday, April 21, 2010
---
Ti Life received the following comment for posting from Andrew Hamilton of Olde Mohawk Masonry and Historic Restoration.
Just like great men, great structures hold up longer and fall the hardest. I have been watching this amazing home and wondering for years now. As a native Bostonian who grew up in a very unique Queen Anne victorian and lived through a painstaking labor of love,15 year restoration, I know the value of craftmanship such as this. Sadly there are not many people nowadays who know how to restore a structure such as this. From the turrets to the stone steps, it is truly a work of art. These tradesmen may be found, but they come at a price. Some of them are willing and would be available to donate their time on a project like this. I imagine that the most difficult obstacle is stabilizing the structure and keeping the weather off in order to attack the work in a timely fashion while actually getting people to the location with materials etc. There would have to be temporary/permanent lodging set up for the men, etc. etc. My husband is the owner of a historic restoration company specializing in slate roofing and masonry, operating mainly throughout the NY and Massachusetts area, on to Rhode Island and basically everywhere that it is worth his efforts to go. He has worked on numerous historic projects. We would be interested in seeing the home and the site. I'm not sure that the owners are interested in doing the work themselves and actually am a bit perplexed as to why someone would take something like this on and then just let it sit? I notice a pricetag of 495 on the home. Would it not be a better solution to let the home go for less with a promise from someone to fix it up at least to a point where it could then be developed further by the next person who wants to step up to the plate. It may just be too much of an overwhelming project for anyone to take on. Just looking at the place and coming up with a game plan would take days and then weeks at the hands of a skilled person. The roof itself could be a "million dollar" roof. I read somewhere that the walls etc. are still straight just because of the sheer fact that it is such a substantial structure. This leads me to believe that once the place is stabilized, it needs a new lid/roof that way all the rest of the work can be done underneath it. Anyway this is truly a shame, the islands and area are such an amazing place, if I was living there I could not sleep at night knowing the old place was there dying like that. I can barely take it inbeing where I am and knowing about it.
Comment by: Heather R.
Left at: 9:59 AM Tuesday, April 27, 2010
---
I found this article after coming across the real estate listing. It's so sad that such a gorgeous estate is now in such disrepair. I'd like to know more about why it's been uninhabited for so long. This article jumps a bit too much for that to be clear. What happened in the years between Clarence Wyckoff, GE, and the current mystery owners with the cottage? There's a very interesting story there.
Comment by: Julia B. ( )
Left at: 12:21 PM Friday, July 16, 2010
---
I saw this property on the Historic Homes website. This house pulled at my heart strings and if I had the money I'd purchase it and restore it to its original beauty. I agree with Jeanette Rangel, with all of the multi millionaires in this country why doesn't someone purchase it and turn it into a beautiful 'Bed and Breakfast'. The property and the house would be a beautiful place to vacation. I know I'd come visit!
Comment by: Jon Campbell ( )
Left at: 11:24 PM Tuesday, August 24, 2010
---
I wonder what the square foot of the home? Does anyone have a blue print or a floor plan of this place. My thoughts would be around 20 to 30 million to restore the mansion. It is a beautiful place.
JC
Comment by: John De Reggi ( )
Left at: 4:12 PM Friday, December 31, 2010
---
My father Aime S. De Reggi was a polymer physicist with NIST mother Marylin Boyd DeReggi was a world renowned opera singer. I was once a highly respected Residential General Contractor for 15 years in the construction industry for another 10 years before that. More than 25 custom homes under my own GC and many more (over 100) prior to that. Helped or restored and renovated some old ones. Live in a historically significant 1886 home that I restored to an exemplary form with the help of my wife (an ex-manager of Home Depot) and my crew during some prosperous years. The sucessful restoration was by way of a fairly creative public private partnership that I owe credit to my mother and the Mongomery County Park and Planning Commision for. One of very few succesful such agreements in this area. Emotionally inspired, I did spend too much money on the project but I was happy to at the time. I have felt betratyed by the Park in the past but, the recession has really opened my eyes, in that now as I am nearing the end of my 20 year curatorship agreement uncertanty is unsettling. I would not agree to the same thing as I have had better investments in that regard but, I would consider the worthiness of the restoration and I am available for consultation. I have done less with residential contruction in the past 5 years. I have consentrated the bulk of my time to not so much green architechture but, to green infrastructure. Off grid combined heat and power, fuel, waste and recycle products, and alternatives to conventional agriculture are all intersting to me. Curently designing systems for a 3200 lot subdivision and 100 acre commercial/ industrial complex and considering a move to Texas where the winters are warmer. A summer project in NY is interesting. My wife would love it. I would think that immediate weatherization is in order. I can be reached by leaving a message with your contact information on my Maryland home number 301-540-6691 or by way of email.
Comment by: Dan Denney ( )
Left at: 5:38 PM Tuesday, January 18, 2011
---
I had not realized that the builder of Carleton Villa had died his first night there. My wife and I lived in Cape Vincent for 11 years and I accompanied the first TILT expedition to stabilize Fort Haldimand. I shot a video report of the day's activities which, while not used by local news, got a reporter from local TV out to do a story on TILT's plans. Haven't heard a thing about it in at least a decade.
Comment by: Eileen Whited ( )
Left at: 1:11 PM Monday, February 21, 2011
---
I am a direct decendent of the original Wyckoff immigrant; my family and I have been visiting the Thousand Islands for nearly 30 years, and I had never heard of this island or villa. I would love to see this beautiful structure restored. I agree...I will contact the Wyckoff Association, although I know thier priority is the homestead in Brooklyn.
Eileen
granddaughter to Irene (Wyckoff) Whited
Comment by: Viola Riggs ( )
Left at: 2:58 PM Tuesday, April 26, 2011
---
For years I have gone back in hopes someone has purchased this wonderful home and started restoration on it. I wonder if anyone anyone has thought to set up a fund to save the home, it might take awhile but it couldn't hurt and maybe it would help us all.
Comment by: CHRIS ( )
Left at: 7:10 PM Thursday, June 2, 2011
---
Help is on the way!!! Stay tuned.
Comment by: Nikki ( )
Left at: 7:57 PM Sunday, June 26, 2011
---
Obsessed with this house. I so want to put her back together again!!! Husband doesn't share the vision. Please someone do something.
Comment by: sarah derrick ( )
Left at: 9:19 PM Sunday, July 31, 2011
---
july 30,2011 -i just saw the villa yesterday and was so sad i almost cried because it looks so bad. I could picture this mansion when it was beautiful house at one time. someone please help rebuild this house!
Comment by: Misty ( )
Left at: 12:18 PM Monday, October 31, 2011
---
This house looks like it has amazing "Bones" and I hope that someone is in the works of helping it to be restored to the greatness it once was. I saw that back in June someone posted that help was on the way and to stay tuned...and knowing that things can fall through, I hope this hasn't happened.
Comment by: Sylvia ( )
Left at: 4:11 PM Monday, October 31, 2011
---
Why on earth do Americans let this happen? No wonder we will never have anything nice, we don't appreciate what has been given to us. That is the most beautiful house as it stands now, but it looks sick and someone needs to step in and help. I hate to see homes like that die because we neglected them. I hope it gets the help it needs.
Comment by: georganne
Left at: 10:21 PM Monday, October 31, 2011
---
Did anyone figured out how the man died of a heart attack the night he moved into the villa?
Comment by: Janet ( )
Left at: 1:02 AM Tuesday, November 1, 2011
---
After reading all the comments left, has anyone thought of not only getting ahold of the Wyckoff House Museum, in Brooklyn N.Y. but asking them to set up a non-profit organization to where people who are really interested in helping save this piece of history can donate money, set up fund-raisers?
Comment by: Nikki ( )
Left at: 8:01 PM Monday, November 7, 2011
---
If you have questions, feel free to ask.
msnikki5678@yahoo.com
I was just there with the intention of putting her back together.
I walked through, and dreamed. There are so many
Hoops to jump through.
Neighbors in very very
Close proximity on either side, not much property
Or room for expansion. The grounds have sadly been divided.
I cannot express the overwhelming sadness pouring out of the villa. So very tragic.
Comment by: georganne
Left at: 9:49 PM Monday, November 7, 2011
---
Without the homes of history makers there will not be any history to hand down to future generations.
Comment by: Nooooooo ( )
Left at: 7:25 PM Tuesday, December 6, 2011
---
This place is haunted! A ghost lives there duh he died the first night! CREEPY!
Comment by: R Beisser ( )
Left at: 4:05 PM Tuesday, January 17, 2012
---
I had owned a parcel that I purchased from Patten corp in the 1980's. There is another abandoned house at the northwest corner of the island. It had been a Coast Guard Station. I am wondering if anyone knows the status of that house.
Comment by: Ken Heit ( )
Left at: 11:07 AM Monday, January 23, 2012
---
Last poster - What is the connection with the Patten Corp? (just curious). As an architect, I share with all the disgrace at the evolution of this grand structure. It appears evident that the Carleton Villa is capable of being restored. Yes, fundraising drives would help, and GE could probably be shamed into at least donating materials for the tower it allowed to be destroyed. If the $495K pricetag is too much for any one person, a consortium of 40 people with a $10K investment would solve that problem. (I think the seller would take $400K). All materials would have to be brought in by boat, HGTV could provide some type of assistance (advice if nothing else), and a restoration plan could be created in very short order. I would estimate a $1.5 Million restoration project to bring back the shell/structure of the building. Each of the 40 investors should be selected on the basis of their contribution expertise, i.e, carpentry, fundraising, historian, masonry, etc. I think about 50% of the necessary labor to renovate could be donated. Fundraising efforts could potentially raise the necessary material cost funds to rebuild. The incentive to restore is not just for preservation sake. A full restoration could yield a museum, a corporate retreat, private residential mansion, or any number of other adaptive uses. Tourism in the area for other castles has averaged about 160,000 visits per year (according to their websites). A "Save Carleton Villa" website has apparently already been established but is not operational anymore. So who is seriously interested enough to invest $10K?
Comment by: Susie Smith
Left at: 8:43 AM Tuesday, January 24, 2012
---
We received the following information after the comment above was posted.
In order to proceed with a group effort you will need the following:
1. it would need to be purchased by a 501c3. Which one?
2. it would need to be listed on the National Register--probably not a problem but time-consuming
3. it would need someone to take charge of this whole process and do a huge amount of fund-raising. (I think $1.5 million is low, at best). Some funds might be available from NYS's Environmental Protection Fund, but again this takes lots of work and lots of time.
4. In order to get support, it would need a long-range plan for use and sustainability.
Hope this helps, and thanks for the continued interest.
Editor and TI Life Team.
Comment by: Ken Heit ( )
Left at: 11:49 AM Tuesday, January 24, 2012
---
Fund raising efforts are probably best led by the experts for hire in that industry. A properly run fund raising campaign can usually garner surprising amounts. Care must be taken since I believe the IRS has many rules on this for a Non-profit 501c3, if that is how this goes.
I dont think there would be a problem getting someone to take charge. Just look at the support expressed in these posts alone. These type projects bring out deep passions in people, especially if ownership is involved.
A careful review of Paul Malo's research and findings reveals that the basic structure is mostly sound and restoration is surprisingly cosmetic. Yes, the tower would have to be constructed from scratch, hence the donation from G.E. (I believe Jack Welch would agree). I don't believe the $1.5 Million estimate is low at all given the incentive to make it low. It should cover the exterior material costs that fall outside donations. The large plate glass for the windows will likely be the largest expense.
Temproary accommodations for workers could easily be made within the structure itself. There are teams from Habitat for Humanity that frequently live like this temporarily.
These are just a couple ideas as to how the restoration of this building is indeed feasible.
Comment by: ashley ( )
Left at: 4:21 AM Tuesday, January 31, 2012
---
I'm also obsessed with this house.
Each of us sits here discussing what we'd like to do the the house and why would anyone let this happen etc.
Why don't we all pool money and go in on it as a project? Personally being as broke as I am, I and any others with skills or handiness that are feeling particualarily scwatterish can go and stay in the home - working from one room per person, going about the house diligently. Cleaning it up, taking care of whatever and going about our business.
Honestly if there were backers for me to accept the home (I'm sure many of you would agree on your own parts as well haha) I would take it in a heartbeat, and work slowly to reassemble what once was and take back its youth.
What an amazing home.
Email me if you think you'd like to be my beneficiaries and back me with funds to clean up this house ;D
gashley283@live.com =D
Comment by: Jim W ( )
Left at: 1:14 PM Sunday, February 5, 2012
---
Is William Wyckoff any relation to the Wyckoff family that lived on the west side Owasco Lake along the NY Central tracks?
Comment by: Michael C. ( )
Left at: 5:51 PM Thursday, March 15, 2012
---
It sounds like the decay started with the General Electric Company when they dumped the property after not turning it into a corporate retreat. Maybe they should step back in and correct a wrong and preserve this great American masterpiece. At this point only a major company/ organization/ government can save it. I don't suppose the current owners would consider donating it to the State of NY or the National Trust for Historic Preservation?
Comment by: Caryn K. ( )
Left at: 9:00 AM Friday, May 4, 2012
---
I have been looking into the past of the Villa. I think it is beautiful! I hope that it can be saved.
Comment by: David Barker ( )
Left at: 10:53 PM Monday, May 7, 2012
---
I recently learned of this structure. After researching carefully, significant historical and cultural value are obvious. However, I believe the funds invested could potentially exceed the value of the property upon project completion.
Perhaps it is still a worthwhile investment. I am looking for a historical rehab project and have capital available, but the economics must make sense. Does anyone think there may be some value in creating a historical inn? Considering the short season, would there be enough business? What about a community center, post office and inn with docking facilities? Please let me know if these ideas seem feasible.
Comment by: Caryn K. ( )
Left at: 9:52 AM Tuesday, May 15, 2012
---
This message is for David Barker. There would be no end for profit to be made if you were considering rehabing the Villa. You could run the Inn from May to October. I have many ideas that would work. I am just lacking the capital. The grants that are available don't really amount to much. I'm not going to throw my ideas out here. If you are truly looking into the Villa for rehab, please let me know. I would be more than willing to assist. I don't want anything more in return than for her to be beautiful again! My name is Caryn Kuhstos. Thank you.
Comment by: Chris ( )
Left at: 2:53 PM Tuesday, May 15, 2012
---
Our firm did a full study on the feasibility of rebuilding the Villa. After several months, we found it a non-profitable business venture. It is a shame this grand property may not be saved. Several issues being the limited season as well as the additional buildings on the Villa property. Too many issues to overcome and the expense related to rehabing this property and villa.
Comment by: Georganne Black ( )
Left at: 8:27 PM Tuesday, May 15, 2012
---
Why doesn't the descendants donate toward the rebuilding fund? The Remington company should have money available for restoration.
Comment by: Laurence ( )
Left at: 6:55 PM Saturday, May 26, 2012
---
What a splendid location, and a splendid old mansion! Why doesn't some New York millionaire buy this place and use it as a summer retreat? Im sure there are hundreds of rich people who could afford to restore it. If I had the $$$ I'd buy and restore it myself!
Since the building is made of stone the basic structure is probably sound - it just needs new roofing and interior restoration. Let's hope it does not fall to the wreckers.
Comment by: Shey ( )
Left at: 8:32 AM Tuesday, May 29, 2012
---
Maybe not profitable, but there are tons of rich people who waste their money (wish I was one of them). I don't understand why some rich person isn't interested in it? I would do a B&B . . . Now if I can just win that lottery! If anyone else buys it, PLEASE do something so that we commoners can look inside it! I would gladly pay for a tour (or a night's stay).
Comment by: susan ( )
Left at: 6:52 PM Tuesday, June 19, 2012
---
Maybe the reason why it has not been purchased yet is because it is haunted. Seems almost like Boldts!
Comment by: David ( )
Left at: 7:25 PM Tuesday, July 23, 2013
---
YES, I KNOW IT IS HAUNTED, I WAS LOOKING TO PURCHASE THIS AND STILL WILL IF MY FUNDING COMES THIS MONTH. I HAD A PICTURE SENT TO ME YEARS AGO OF THIS HOME AND THERE WAS A DISTINCTIVE GHOSTLY OUTLINE OF A PERSON UP IN THE TOWER LOOKING OUT. EVERYONE I KNOW SAID YEP, THATS A GHOST! I want it!
WE WILL SEE WHAT HAPPENS SOON.
dAVID hICKS
Comment by: Georganne
Left at: 12:27 AM Thursday, July 25, 2013
---
David(South Dakota)- post the picture of the ghost. Aren't there descendants that can contribute to the remodeling?
Comment by: Jz Hasnani ( )
Left at: 8:14 PM Monday, August 5, 2013
---
My parents want to buy this house :/ I wonder how much it'll cost to fix it up?
Comment by: Charity Keen ( )
Left at: 10:32 PM Friday, October 25, 2013
---
So sad, we vacationed at "the Cape House" in Cape Vincent last month. We took a boat ride around the river and drove by this amazing place. This place is crumbling. I think it would be more cost effective to build a replica. Not that I condone that, just saying the cost to renovate would be absolutly insane.
Comment by: Rick ( )
Left at: 8:54 PM Saturday, November 2, 2013
---
Does anyone know of photos of the property, inside and out, while it was intact?
Comment by: Susie Smith
Left at: 10:27 PM Saturday, November 2, 2013
---
Have a look at Paul Malo's article written in September 2006 TI Life. Also his books have a great deal of details about Carleton Villa. Susan Smith, Editor.
Comment by: Rick ( )
Left at: 11:06 PM Saturday, November 2, 2013
---
Thanks, Susie. I also found these after the last post.
http://www.thecarletonislandvilla.com/cv.htm
http://www.youtube.com/watch?v=j1zhuGT3cOQ
Comment by: Elizabeth
Left at: 2:21 PM Sunday, October 26, 2014
---
It's a shame this beautiful place has decayed so. I'd love to be able to help save it. If I had nothing better to do with a few hundred bucks, I'd start selling "Save the Villa" t-shirts.
I am a great granddaughter of a man who served as steward on Edward Wyckoff's yacht, the Ezra Cornell. (I have a neat photo of the crew.) Photos (supplied by a Wyckoff descendent, Elizabeth Wyckoff Balderston) of the Ezra Cornell, this villa and the Wyckoff's many boat houses can be found here: http://www.thousandislandslife.com/BackIssues/Archive/tabid/393/articleType/ArticleView/articleId/65/Paul-Malos-Carleton-Villa-Life.aspx
My great grandfather must have seen this place so many times and felt the same awe at the beauty of the islands that I feel. I only wish I had found this information years ago so I could have shared it with his daughter, my Grandma, before she died. She lost her father when he was 39 years old and she was only 5.
Comment by: Mark VanDeViver
Left at: 12:21 PM Sunday, January 25, 2015
---
Who took the photo of the Silos on carlton Island??
Comment by: Susie Smith
Left at: 6:33 PM Sunday, January 25, 2015
---
Kim Lunman, the author. she can be reached at the Island Life print magazine.
Comment by: candy
Left at: 4:39 AM Monday, May 25, 2015
---
We
In all
Sincerity,
Left a good offer, considering the
Work, that
would b needed, but
Got turned
Away
Comment by: JD Roberts
Left at: 1:30 AM Monday, July 6, 2015
---
What a breathtaking beauty it is! This is so sad that it is just wasting away, instead of being treated with the respect it deserves....Hopefully the owners will do the right thing and either lower the price so that someone can save it, or donate it to a historic preservation society.
Comment by: Ben A
Left at: 9:36 AM Thursday, October 29, 2015
---
I like what everyone is posting on this house been a dream of mine to restore it and make it a B and B And offer boating, fishing, boat tours of the area ect. I've read Paul Malo's book he is an architect who did extension reasearch on this property and based on its construction and the fact the house is built on bed rock it will continue to stand but it is sad because it needs millions in work to restore. The other problem are there are some messed up by law pertaining to the island and the fact that u can't have certain types of heavy machinery on the island which would make the restoration a tuff undertaking love this house it's a shame to see it this way
Comment by: robert
Left at: 7:12 PM Wednesday, February 15, 2017
---
This is just a suggestion. Why don't the owners make a deal with some one that restores old property. Even if they have to give it to the company to restore and get a certain percentage back when it opens for tours.
Comment by: Nandel Lau
Left at: 10:09 PM Tuesday, May 23, 2017
---
The CURRENT OWNERS could make this restoration happen at any time!! They need to LOWER the price to at or BELOW FAIR MARKET VALUE to encourage restoration, or simply watch this grand mansion fade away.... A fair compromise is in order.
What am I missing???
Comment by: miporboy
Left at: 3:01 AM Tuesday, October 31, 2017
---
I am a licensed builder. With 30 years of experience.
Mostly remodeling.
I would love to rehab this house!!
Comment by: douglas six
Left at: 5:57 PM Sunday, December 3, 2017
---
hi could i find out who ownes the house now has any thing been done to the house. could you show current pictures of the house is the house still standing please do not let this house end up like the white marsh hall mansion pa. what does the current owner plan to do with the house. i would like to help and try and save the house.
Comment by: Richard S. Lodico
Left at: 8:11 PM Saturday, July 28, 2018
---
Do you romantics who would like to save the mansion realize what it might cost to develope the organization that would be entrusted with the financial and legal aspects of the project assuming the present owners would go alone with the entire idea ?
Once done who could be certain that security could be maintained that would assure that the work completed would not be destroyed by vandals or boaters trying to get in out of the rain ?
Once a fire has started in these old places there is little that can be done to save them.
Better to look at it and dream on about what it was or what it might become .
Haunted besides ! That is a whole other issue for some one else to write about.
I've loved the Islands and the River for some sixty five years but this would seem like a project that would be endless in both effort and money. There are so many other things to be done to insure the beauty and integrity of the area. But dream on that is what makes life so exciting.
Comment by: LP Wall
Left at: 7:02 PM Sunday, August 5, 2018
---
I'd like to stand up for the owners (whoever they are) by saying that $500K is a drop in the bucket compared to the money it will take to restore this house. I would guess that from the owner's point of view, if a buyer can't afford $500K, then they're not in a financial position to undertake a project of this magnitude.
As a local, I can also attest to the fact that there are a lot of people from out of town who buy properties here for a "song" that need work and do nothing with them (one example is the old Masonic Temple in Watertown.) As the owners of the villa live on the island, I'm sure that they have a vested interest in conveying the property to someone serious about its restoration- and not someone who's going to turn it into a haunted attraction--- or worse, buy it just to say that they to own it and not have to the resources to fix it.
I've been curious about the villa for some time now and took a trip down to the island this weekend. That poor house is in such a state... I don't believe that an estimate of $20-30M is unreasonable.
Comment by: Nancy Jean
Left at: 8:35 PM Sunday, August 26, 2018
---
We were just vacationing at Alexandria Bay, N.Y. and toured Boldt castle. The last time we were there was 20 years ago and a lot of progress has been made in restoration. We were told it has taken millions of dollars so far and there is a lot left to go even though the Thousand Island Bridge Authority owns it and was bought for $1.00 !!! Of course, they only rely on donations and ticket sales to pay for everything. What I'm getting at is, it would probably cost that amount for Wyckoff castle if not more but why couldn't the same transaction be made for this beautiful part of history.
Comment by: Cindi
Left at: 10:55 PM Sunday, October 28, 2018
---
Candy - did the owners give you a counteroffer or a reason they weren't willing to sell it?