Written by
Susan W. Smith
posted on July 13, 2011 22:33
If you ask Elliott Hillback how to begin collecting cars he answers with a question: Do you want to drive the car or show it? Your answer will lead you down a wonderful path of becoming a "Motor Head" and "Car Buff".
Elliott lives in the Indian Lakes region, only 10 miles south east of the Thousand Islands and the St. Lawrence River. Like many, he is a proud husband, father and grandfather, but his passion for preservation has many in awe. He is the volunteer president of the Indian Lakes Conservancy, and has given countless hours of his time and financial support to that organization. He is also as passionate about his cars and on Sunday, July 17th he is showing six of them at the inaugural 1000 Islands Concours D'Elegance.
The idea for the show started a year ago when the leaders of the Antique Boat Museum wanted to find an event that would draw an audience on land.   Elliott says, "I was asked to join their team which is directed by other enthusiasts including Chris Dembs and Michale Gagliardi, the co-chairs. More than 60 cars are expected to be shown. Car shows are organized across the country with different criteria. Some like the Concours D'Elegance in Amelia Island or Pebble Beach, California, are world renowned, and others are equally popular - the Zippo U.S. Vintage Grand Prix at Watkins Glen International is hailed as the largest vintage racing weekend in America."
While not an officially judged show this year, all attendees at the 1000 Islands event, will be invited to vote in several categories including People's Choice, Women's Choice, and the Car I Would Love to Drive Home In.
A special award will be named in honor of Brock Yates, a Thousand Islander, journalist, NASCAR commentator, and author. Brock was the longtime executive editor of Car and Driver." For those of us not familiar with the sport, we will recognize Brock Yates as the winner of the first "Cannonball Run." He and racing legend, Dan Gurney, completed the (controversial) race from New York to Los Angeles, in 35 hours, 53 minutes! He also wrote the screenplay for the 1981 film the Cannonball Run.
"So how are cars judged?" I asked.
"It can be complicated." said Elliott. "Some shows really focus on accuracy. In the Bentley and Rolls Royce competitions, everything must be original, with a check list worth 300 points. If the paint is not pristine,  you lose a point but dirty radiator coolant will cost you two points."
"Judges like to see well-maintained cars, in perfect condition including having the original car manual and tool kit." he explained.  "One of my cars was checked out this spring .  They  examine every detail of the car and inspected it thoroughly, from the color of every nut and bolt, wire and hose . However, there are a number of shows that use what is known as the "French System" where cars are only viewed from the outside - no hoods are raised, and there is no discussion about the state of the engine. These aficionados consider the car as an 'art form.'"
Elliott, like many collectors, drives his cars. He aims at putting 1,500 miles on each car, annually. He says that he is not unique and that there are several major collectors in the North Country - Watertown, Syracuse, Utica, and the Adirondacks - who have great cars tucked away in storage barns.
The organizing committee of the Concours D'Elegance is hoping that the 2011 show will entice even more collectors to bring their cars next year. Visitors to this year's 1000 islands Concours D'Elegance will not be disappointed! Why? Elliott Hillback is bringing his outstanding cars.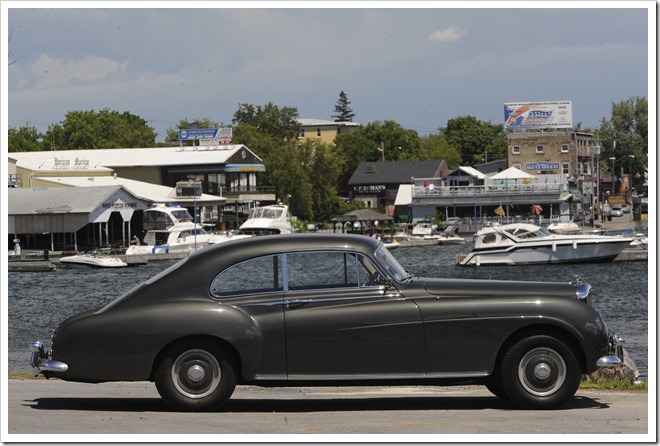 The Hillback's 1954 Bentley Continental Sports Saloon photographed in Alexandria Bay, NY

Photo courtesy E. Hillback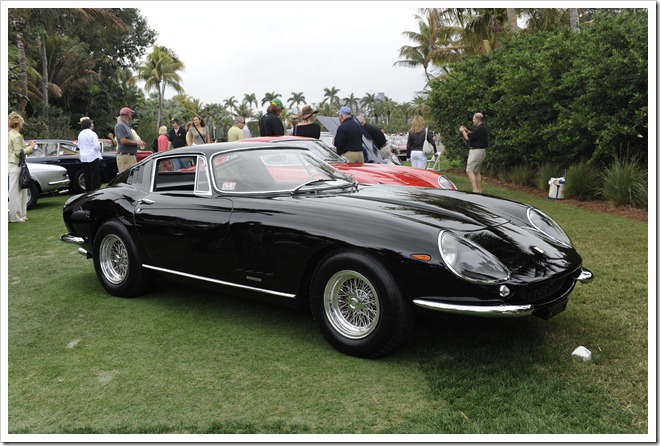 Hillback 1967 Ferrari 275 GTB4 from the front.

Photo courtesy E. Hillback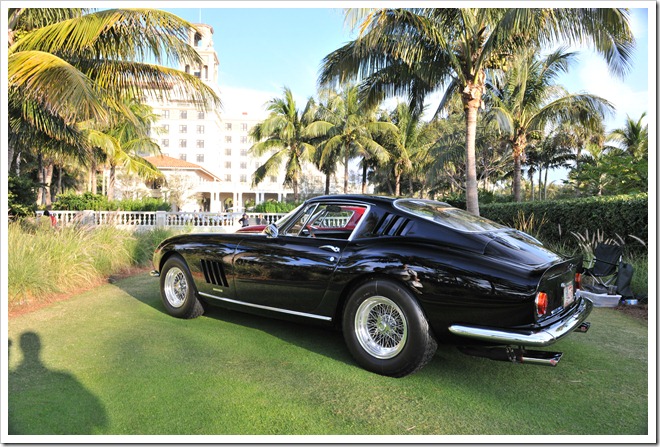 Hillback 1967 Ferrari 275 GTB4, from the back at the Ferrari show called the Cavallino Classic, held every January at the Ritz Hotel in Palm Beach, Florida.
Photo courtesy E. Hillback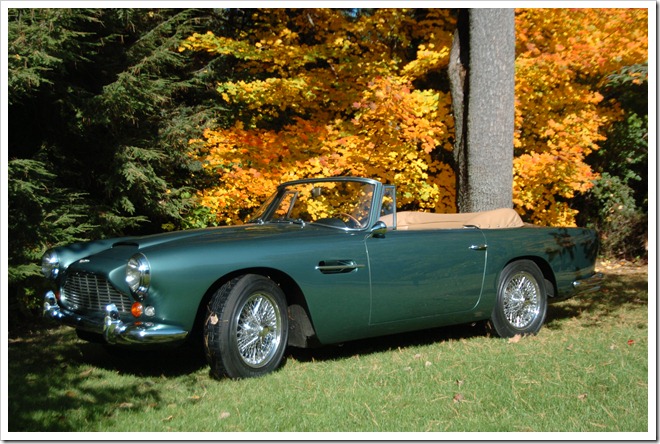 The Hillback's special 1963 Aston Martin DB4C. Considered a breakthrough automobile in the postwar period, the featured sports touring car was considered one of the sleekest and fastest of its time traveling at speeds of nearly 150 mph.
Photo courtesy E. Hillback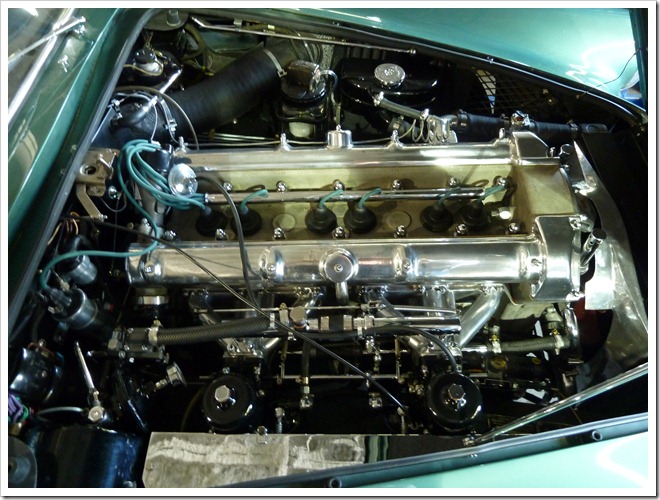 1963 Aston Martin engine for the DB4 convertible.    Note the chrome finish.  It was first shown in the 1963 New York Auto Show.
Photo courtesy E. Hillback
The Hillback collection has two Mercedes Benz -  A 1955 Gullwing and 2011 SLS.  Elliott suggests the two have the same DNA
Photo courtesy E. Hillback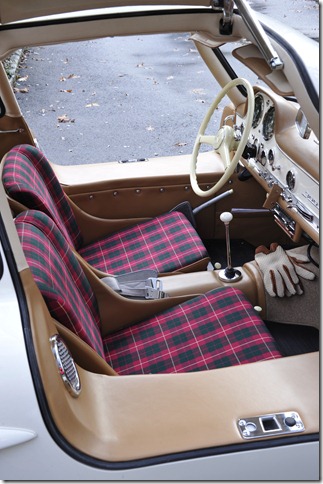 The Hillback 1955 Mercedes Benz 300SL Gullwing Interior
Photo courtesy E. Hillback
By Susan W. Smith, susansmith@thousandislandslife.com
Bravo ABM!
When I learned that the ABM would be hosting a Concours d'Elegance on the river this summer, I was both surprised and thrilled. Several years ago, Brock and Pamela Yates conceived just this idea, with the intention of bringing exceptional vintage automobiles (and their followers) to an exceptionally beautiful place. The idea was to celebrate and informally recreate the "Round the Houses" races which took place in Alexandria Bay in the '30s.

As well as exposing exhibitors and attendees to the Thousand Islands, there was another obvious benefit - introducing vintage automobile aficionados to vintage boat aficionados, and with the ABM based here, what better place could there be to do it? This would provide two fascinating draws to the river, and no doubt provide some interesting cross pollination between two impassioned groups.

Unfortunately, the economic downturn put paid to the Yates' plans, so it seemed it would never become a reality. Happily though, those seeds have germinated and a slightly different version of a very worthy event will begin on July 17th, hopefully to become an annual tradition on the river.

Bravo ABM!

Details of the original event can be read here: Concours d'Elegance

Ian Coristine