"If there's that much trash in this one little area, then how much is in the entire river?" asked a spectator on a September Saturday in Clayton NY.
What was the most interesting, were the reactions of people watching a special aquatic operation. They ranged from surprise to shock and then disgust that so much trash was just a few feet from a public area and obviously discarded by people.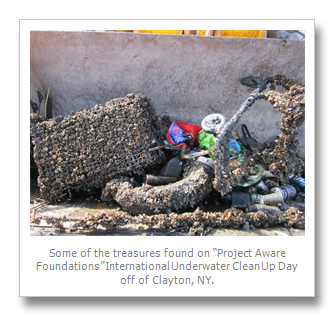 On Saturday September 17th at 10 AM, over 30 scuba divers entered the water off the Village of Clayton's main dock at Frink Park and  the following day down river off of Alexandria Bay.
These divers were supported by almost as many people on shore. Participants of Delta Divers Scuba of Rome organized the diving events in both towns.  In Clayton the event was sponsored by Moe's Dive Shop of Clayton and the Clayton Diving Club.  they all spent several hours scouring the bottom of the St. Lawrence River for junk, trash and debris which litters the bottom just feet away from shore.
Divers would bag or tie ropes to the trash they found so their support people could pull in the trash onto the dock. In Clayton, The Village of Clayton supported the divers with a front-end loader and dump truck. With a greatly appreciated lunch break provided by the village, the divers and their helpers worked until after two in the afternoon. Their efforts filled the village dump trunk with tires, road cones, bikes, chairs, broken bottles and cans. Some were so recently in the water that they could be recycled, while others were coated with zebra mussels from years of laying on the bottom.
The real fact is that no one knows how much "trash is in the entire river".
Earth's growing population not only consumes more disposable goods, but discards more. Trash makes its way to the bottom of lakes, rivers and oceans every day, from bits of plastic to batteries and appliances, to enormous tires. It's a growing problem for bodies of water all over the world, not just the stretch of the St. Lawrence in front of Clayton.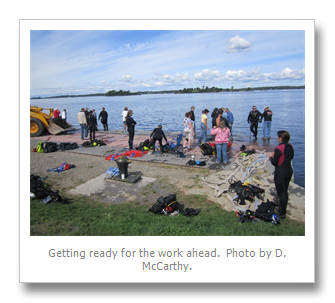 The Delta Divers Scuba General Manager, Suzanne Slingerland was interviewed by YNN for a short video, saying, "You name it we can find it underwater."   It was their 11th clean up dive in the Thousand Islands and their second one at Clayton.  This year they partnered with a  reactivated Clayton Diving Club. These dives were not isolated events, they help celebrate "Project Aware Foundations" International Underwater Clean Up Day. On their web site (http://www.projectaware.org) the Foundation promotes itself as part of a "growing movement of scuba divers protecting the ocean planet –one dive at a time." Project AWARE empowers thousands of divers in more than 180 countries to work together for a clean, healthy and abundant "ocean planet."
In the Thousand Islands, several nonprofit organizations and government agencies work to improve the St. Lawrence River's water quality, but none of these address marine debris or bottom trash. Scuba divers have a unique perspective. By venturing beneath the River, they experience parts of the Thousand Islands that boaters and swimmers never see. Ecology comes naturally to the scuba diver as they directly see the results of pollution and lack of recycling.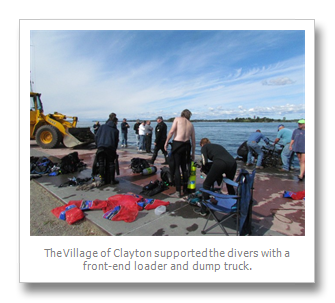 During the diving certification process, every diver is trained for upwards of a hundred hours in diving physics, human physiology and in the use of diving equipment and techniques so that the diver is able to dive safely and have fun. The divers at "Trash Dives" are volunteers. They spend their own money to come and dive wearing from 50 to 100 pounds of their own equipment. They are rewarded with the knowledge that they have done something for the River and are part of a larger effort to do something for the Oceans. They are grateful for villages like Clayton that encourage their tasks and provide shore support and a welcome meal.
Our world is 75 percent covered in water and the Thousand Islands is similar. River people love to enjoy and protect the pristine and wonderful Thousand Islands. Yet below the beautiful surface of the River, large parts of the bottom are littered with trash and debris.
Everyone can join the scuba divers in the battle against marine debris. Scuba divers can go to the Project AWARE Foundation web site or their local dive shop. Boaters, fishermen, cottage residents can help by preventing underwater trash and debris from getting underwater in the first place! Just because you can't see it from the surface does not mean it's not present and doing damage.
By Dennis McCarthy
Dennis McCarthy retired in 2009 from his professional career in engineering management in the Consumer Electronics and CATV industries. Having traveled to 28 countries in his business profession, he now prefers to spend his time with his wife Kathi living in Cape Vincent, NY and enjoying the Thousand Islands and St. Lawrence River. A certified scuba diver for over 40 years, he made his first dives in the River in 1971. Co-founder of the St Lawrence Historical Foundation [SRHF] in 1993, he helped organized the underwater survey of the Niagara Shoal Wreck which was identified as the French war ship L'Iroquois that sunk in 1761 (See  Website) He and his wife Kathi now spend their time with their long time friend Skip Couch promoting Scuba Diving via the Thousand Islands Area Scuba Divers web site www.tiasd.com and by writing and publishing diving guides and shipwreck books.
Also see:  Utica Mohawk YNN video describing the Trash Cleanup in Alexandria Bay.
All photographs taken by Dennis and Kathi McCarthy.