Editor's Note: Frank Cole, long time resident of Murray Isle, was a friend to many and a father who loved to share his memories with his family.  This story is just one of many.   Frank,  died at his Murray Isle cottage on October 21, 2005.  Frank served both Murray Isle, as well as the whole River community, as he was a board member of Save the River and a founding trustee and then emeritus trustee of the Thousand Islands Land Trust.   We are grateful to Rachel Cole for sharing this story with TI Life.

 
Frank Cole had two birth certificates as he was born on the cusp of Montclair and Glen Ridge, New Jersey.
He lived a colorful life. In college, he and a friend traveled the length from the Hudson River, through the Mohawk and the Seneca Rivers to the St. Lawrence in a 14 foot outboard. The two had to stop every hour to refuel. This was Frank's first introduction to "The River" and the start of his life-long love of Beverly Runyan of Murray Isle. Frank and Bev were married for over 50 years and had three children.
He played on a undefeated football teams at both Morristown Prep School and St. Lawrence University. He was a Lieutenant in the United States Marine Corps, a sales manager for Marchant machines and he became a certified teacher, helping many achieve their GED's. 
Frank was always involved with his church, giving freely of his talents to his communities and sat on several boards including the Thousand Islands Land Trust and Save The River. He cherished family and greeted others as friends. He was a story-teller, a listener, and a peace-maker. 
He had a severe stroke in 1999 that never broke his spirit. He died on Murray at the exact age and date of his Father's death. 
This is definitely my Father's voice, and the story does not vary from the oral versions he shared with us.  He enjoyed telling tales and wrote out several memoires.  This is one of the better.
The Eastland Disaster by Frank Cole
I did not hear the following eye-witness account of this tragic accident from my own dad, but only learned of it by accident from a good friend and neighbor who lived across the street from us in New Jersey.
This neighbor named Jake Fry had gone to Cornell with my dad,. In fact both Jake and my dad, Ira Cole, had graduated together in 1915 and had both been hired by the Western Electric Company at their Hawthorne Works Plant in Chicago for their first job right out of college. After I was married and home seeing my folks, I would often go over and visit Mr. Fry, who had lost his wife to cancer. His wife had been the kind to send me cookies etc. when I was away at college or in the Marine Corps even though she had two sons of her own.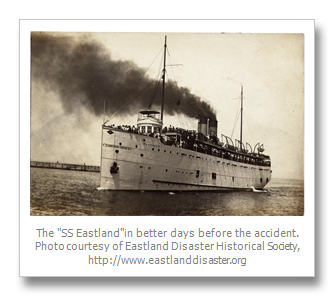 It was during one of these visits that Jake said to me, "Did I ever tell you how I saved your daddy's life?". Of course I said, "No, you never did", and this is how his first person account went: 
Jake's Story
Right out of college, your dad, a feller named Jess Wence, and myself all lived in a boarding house in Chicago near the train station and handy to get to work at the Hawthorne Works.
Well, they were always pestering me about being late and making them late because I was a hard sleeper. We hadn't really worked for very long in our new jobs, what with our training period and all, and we were all real excited about the company picnic coming up. We had great expectations about the chance to meet some of the girls that we had not even dared to smile at on our new jobs during working hours.
Remember, we were bachelors at the time, and we had really been keeping our noses to the grindstone. Our social calendars were absolutely blank as we were exhausted at the end of each day with everything so new.
On the morning of the picnic, Ira and Jess had come into my room, so they say, and had waked me up. They went down for coffee, and when I didn't come down, they came back up to the room and found me asleep.
They were madder than a wet hen, even though I'm sure they never had waked me up fully the first time. I was mad at the rude way they had jerked me out of bed. They threatened to go without me, but they did wait for me.
Anyhow, as we got to the train station, the train was just pulling out. Neither Ira nor Jess would even talk to me while we waited for the next train. All the way to the docks, where we were to get on the excursion boat, they chatted with each other, but never a word to me. We made our way towards the entrance through the crowd. There seemed to be a big argument up front, and just as we got about ten feet from the man taking tickets, they suddenly threw a chain across and said the boat was full and we would have to go on another hastily arranged "annex boat" over at a different wharf.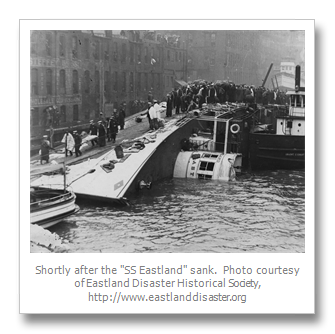 It was supposed to travel closely enough to the other boat so that we would be able to hear the band on the first boat. Now the guys were really upset with me, but we tried to push through the crowd to get to this other boat. We had to cross a bridge to get to the other wharf and we could barely make way through the press of people.
We were only part way across the bridge when we heard shouts and screams from the direction of the excursion boat. To our horror, we watched the Eastland, which had started away from the dock, simply lean further and further over until it capsized. It was like slow motion. We could not believe our own eyes. It was awful to see, some had jumped too soon and it rolled on some of these as they struggled in the water, others were hanging on, loosing their grips, slipping and sliding, some scrambled  to the high side and somehow ended up standing on the side of the ship. Everyone was screaming and calling to his companion. All of us on the bridge just stood frozen in the horror of what we were seeing.
The total confusion and disbelief of this thing just kept us rooted to the spot. We spent the rest of the day and into the night watching the rescue efforts as rescue workers tried to cut through the side of the hull to get out some trapped below. We tried to see if there was anything to do, but rescue workers were being hampered by grief stricken friends and relatives trying to locate loved ones. The anguish and despair of those who knew friends or family who surely had been lost was all around us.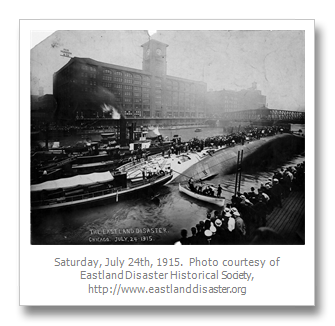 We stayed until way after dark before starting home. On the way home, one poor soul who had lost his whole family went mad and started to bang his head against the train window. Men grabbed him, and even so,he succeeded in pulling chunks of hair out of his head until he bled. Several big men subdued him at the next station until the police could hand-cuff him and take him away. The sight of that man's complete despair was an awful experience. 
When we got home we just sat and talked of what we had seen. None of us could sleep at all. We stayed up all night and the next day we went to church without sleep. That's the first time we had done that. We were still in shock. I noticed the guys were talking to me now and I reminded them about how they had been so mean to me about making them late, probably saving their lives. They never even answered me. No apology, no nothing! Imagine such ingratitude!
Epilogue
Several times after hearing that story, I tried to get my dad to elaborate on the events he'd witnessed that day. But, it was obviously very painful for him to recall and discuss. By pressing with questions, I was able to verify all that Jake had told me and assured myself that Jake had not exaggerated the event.
Many years later after both Dad and Mom had passed away, I found a ticket among my Dad's things that he had saved from that awful day. There is a marvelous account of this disaster in a book by Dwight Boyer called True Tales of the Great Lakes. The story is entitled "Who Speaks for the Little Feller?".
There are some good pictures and in this account an interesting story of how the famous Clarence Darrow defended Captain Peterson, the skipper of the Eastland.
Among my Dad's things I also found some old postcards of this disaster. Copies of these and the ticket I enclose with this account.
And…a side note: The Hawthorne Plant was the subject of a famous study wherein girls on a production line were asked what improvements would speed up production. "New lights" was one of the suggestions. It was done and production went up. Then other slight changes were made, and each time production went up. Finally the time-study men put everything back as it was originally. Again production went up. It was found that it was the attention that the workers were getting that was the dynamic causing the increase in production. This is now referred to as the "Hawthorne Effect" in psychology courses.
Written by Frank Cole, Murray Isle
____________________________________________________________
Submitted by Rachel Cole
Rachel Cole is a proud, fourth-generation, Murray Islander.  Her writings can be found the Thousand Islands Sun – often about the people and the Isle.  Rachel will tell you that she was able to "tie a cleat before learning to tie her shoes". On Murray Isle she has worn the hats of maintenance crew, tennis court prep, postal clerk, assistant fire chief, secretary and she has told us that she " Can still tie a cleat, but rarely wears shoes!"  Rachael wrote, Stamps on Murray Isle, for TI Life in August 2009.

Editor's note:  Special appreciation goes to Ted Wachhotz, Executive Director of Eastland Disaster Historical Society.  We recommend a visit to Eastland Disaster Historical Society for additional information about the SS Eastland disaster,