Most of us go on holiday with our trusty cameras ready to capture our memories, but Robert Hedden travels with a sketch pad, pencils or paints, and he returns to his Wellesley-Island studio with his memories!
Bob, born and raised in Scranton, PA, has always loved art or creating and was recognized in the seventh grade for designing a National Defense poster during the Cold War. However, he was never was a fine-arts student, as he graduated with a BS from the University of Scranton and an MBA from the Wharton School of Business at the University of Pennsylvania. He had a successful career at IBM in Endicott NY, followed by 18 years as a Certified Financial Planner TM. "I did find time to take a workshop or participate in a group life drawing session, and I still take classes." However, his move to Wellesley Island and full retirement has paid dividends for the Arts community.
His paintings are now held in many private collections.  During his working days he says, " I often sold a painting off my office wall!" Today, he exhibits with groups at the Macsherry Library in Alexandria Bay, The Art Association of Northern New York in Sackets Harbor, the North Country Arts Council in Watertown and at the Thousand Islands Art Center in Clayton.  Three of Bob's  plein air paintings of Thousand Islands scenes were in the Everson Museum of  Art in Syracuse, "Impressions of New York and Beyond", and traveled to several of the Syracuse libraries in 2009. He is also a regular contributor to many charity events and in juried shows in both New York and Canada.
In 2009 he formed Plein Air Painters of the Thousand Islands Region, aka PAPTIR, which promotes the technique of plein air painting and arranges art shows throughout the North Country. With more than 30 members, artists can usually be found painting on Zenda Farm or further afield such as the Farmers Market in Watertown. PAPTIR has no officers, directors, dues, or meetings, just participants who want to paint together outdoors, from life, rather than exclusively from photographs in the studio. Bob  does the event organizing and scheduling, usually one every two weeks from spring through fall, and participants pick and choose the events they attend. Five PATIR artists went to Saranac Lake in August to participate in Adirondack Plein Air Festival in which 36 artists painted for several days. Bob and Faye Ingerson (Clayton) were two of the eleven award winners.
Keeping track of Bob's activities can be daunting. If not at work in his upper level studio, he can be found  at events or  art shows painting on-the-spot. He told me about one of his experiences this past July when he participated in Jefferson County's Enchanted Gardens: A Gala Celebration of the Arts held in Watertown's Thompson Park for the benefit of the North Country Arts Council. Eight nationally known East Coast artists created an original piece that was showcased in eight real-life gardens designed with the originals as inspiration.. Then  Bob and another plein air artist, Jan Byington (Clayton), captured both the art work and/or the garden in their own creations.
For one of Bob's two paintings he worked with a painting by Michael Ringer's "St Regis Falls" and a garden created by Justin Heath, the year-round horticulturist for the Thousand Islands Bridge Authority who overseas the  gardens at Boldt Castle, Heart Island, Alexandria Bay. "It was  a different experience painting  at night with the gardens illuminated and a constant stream of many patrons on-looking and asking questions" Bob said..
Enchanted Gardens, July 2011.  (click to enlarge each photograph.  Note the tiny fishing lure in a tree stump in the garden, and then in the plein air painting!)
| | | |
| --- | --- | --- |
| | | |
| St. Regis Falls by north country artist Michael Ringer. | Photo of Justin Heath's Garden interpretation of Michael Ringer's painting-St Regis River Falls. | Plein Air artist Rober Hedden's interpretation of Justin Heath's Garden interpretation of Michael Ringer's painting. |
We know Bob will continue to share is knowledge by giving more workshops, will take more art classes, and will have canvas, paint brush and artistic eye ready, while thinking of ways that he can promote his fellow artists. "After all artists will be happy to participate if their works sell" he says. "It is my goal to help bring the buyer and the artist together."
Plein Aire : The term en plein aire is French for in the open air. A broader definition would include painting from life without the use of photographs.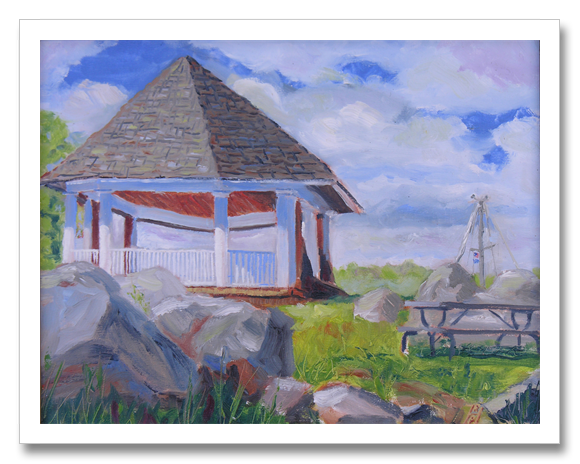 Sissy Danforth Gazebo at Picnic Point State Park
© Robert Hedden
This plein air painting by Bob depicts "Sissy Danforth Gazebo at Picnic Point State Park, Grindstone Island." The park is boat access only and is a site for fishing guides to host shore dinners. Sissy, when she was the executive director of the Thousand Islands Land Trust, was a tireless worker in preserving the river environment. The gazebo was rebuilt with private donations and rededicated in Sissy's honor in 2008. "It was a beautiful August day when I painted this canvas," he said, " The chatter of a shore dinner in progress kept Bob company and the sailboat mast of some Canadians relaxing in the bay can be seen over the hill on the right."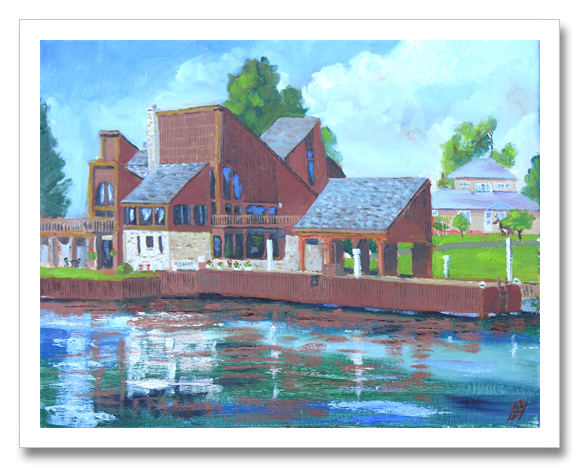 Blue Top, Wellesley Island, NY
© Robert Hedden
Bob tells us this painting was started from his anchored boat in the morning, but later when  waves made it difficult to paint, a caretaker on a nearby island offered a safe dock for painting.   Bob has an affinity for painting architecture, which was derived from working his way through college as an  architectural draftsman.  He now spends many hours in Thousand Island Park on Wellesley Island painting pictures of  Victorian style residences.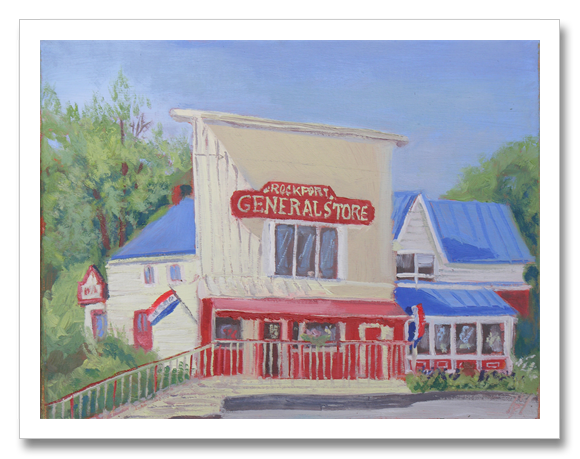 Rockport General Store

© Robert Hedden
On September 9,10, and 11, The Rockport Development Association held a plein air event. It was the first Rockport plein air and the dates were coordinated with  International Plein Air Painters 9th annual paintout. The latter's members reside throughout the world and it is a blanket organization for individual plein air groups. It was created for the sole purpose of advancing plein air painting without limitations of borders or regions.  Bob reported, "The Rockport business community really got behind the event, gaining access to private property painting spots, water taxi to nearby private islands, sponsored dinners with guest speakers, wine and cheese reception for the display of works and a peoples choice award."   Four  PAPTIR regular participants participated. Bob's paintings of the General Store and the original Andress Boatworks Home were two of his three paintings.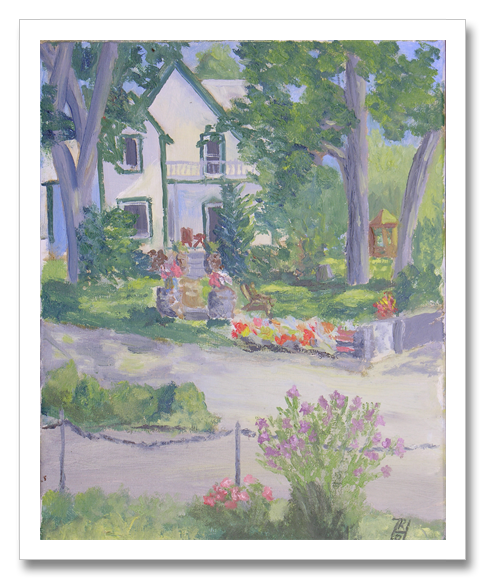 Andress House, Rockport Ontario
© Robert Hedden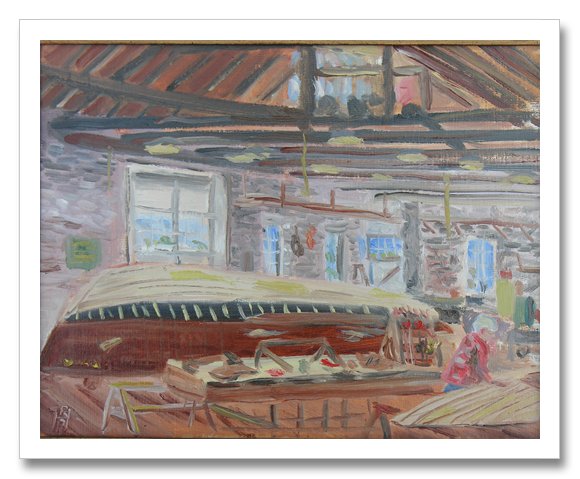 Referbishing the "Wild Goose"
© Robert Hedden
On May 18th this year, several PAPTIR participants painted at the Antique Boat Museum, Clayton NY. The day started out overcast and a light rain. Some artists painted from under the picnic pavillion or in the skiff house. Bob chose to paint in the Homer Dodge Building where the "Wild Goose" was under restoration. Duane Chalk is working on the new deck on the right side of the painting. Duane was long time owner/operator of Chalk's Marina in Fishers Landing and told Bob he was a young 81. This painting has been made into prints which are available in the Museum Store as well as from Bob's studio on Wellesley Island.
When I told, Canadian plein air artist, Phil Chadwick, that we were featuing Bob Hedden in TI Life, Phil quickly said, "Bob is a promoter of "Artists Without Borders". Creativity knows no bounds and is oblivious to political boundaries.  As a result, Bob and I have developed a painterly friendship, trying to encourage plein air painting throughout the one of a kind Thousand Islands and the Frontenac Arch Biosphere.  We are working on a slogan … "Have Brushes- Will Travel" kind of works. (This is a line from the "famous" artist show "Palleton" although you might remember  it as "Paladin, Have Gun-Will Travel".)  Then he added, "Bob certainly has put in many hours helping fellow artists and we want him to know he is appreciated." 
To see more paintings see Fine Art America or Plein Air Artists: Robert Hedden.  Also, five PAPTIR participants will be displaying and selling their work in the lobby of the Antique Boat Museum, 750 Mary Street, Clayton, November 18 and 19, 2011 from 9:30 am to 4:30 pm.
By Susan W. Smith, Editor, Thousand Islands Life
susansmith@thousandislandslife.com