GRENADIER ISLAND: June Hodge was born in a houseboat on the St. Lawrence River in the Thousand Islands on a bitter cold January day 90 years ago.
She still swims in the river every morning during the summer months, off the shores of this tranquil island she has called home all of her life.
"I have that thing where I have to go into the water every day," she says. "I haven't missed a day yet. I used to go in five times a day," she adds with a girlish giggle. "Now if I go in twice a day, that's enough."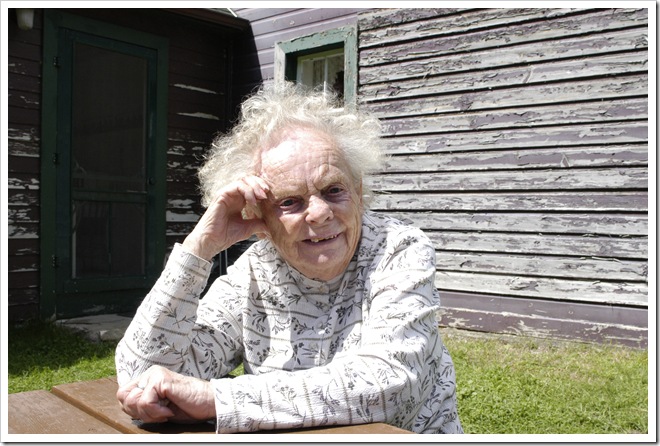 Photo by Kim Lunman © Recorder and Times
June Hodge, 90, is the "oldest" resident and unofficial mayor of Grenadier Island. She has lived there her entire life and year-round until the age of 73 when she moved into a trailer near Rockport for the winter months.
Hodge is the oldest and longest-living resident on GrenadierIsland, the last of the winter people who stayed year-round here back when there were farms, a hotel and a one-room school house that still stands but was closed more than four decades ago.
The great-great-grandmother is the last surviving matriarch of seven generations of S
enecals who grew up on this Canadian island in the St. Lawrence River across from Rockport.
She was born on the St. Lawrence River near Alexandria Bay on Jan. 24, 1918, one of 12 children to Hazel and Paul Senecal, an island caretaker doing maintenance work in the winter in the area at the time of her birth.
"I came all the way back squalling to Grenadier," recalls Hodge. "When spring came, I probably came with it."
Hodge is short with snow-white hair that frames her face like a cloud. She doesn't waste any time recalling her many years on Grenadier Island while sitting at a picnic table outside her historic cottage on one of the community's oldest properties. A life preserver with the words "Gramadear Island" hangs on a tree at the river edge near the dock.
Hodge knows this island better than just about anyone else, this place she has lived year-round until she was 73 and now returns to as stubbornly and predictably as the first spring thaw.
Grenadier Island is in her bones. Her life has followed its trajectory just as certainly as its only township road stretches nearly 10 kilometres from "from tip to tip," as she puts it, and along its curves past the schoolhouse, the lush green golf course where her late husband Fred worked and the place it all started at Senecal Bay.
That's where Hodge's grandfather, Joseph Senecal, a glassblower from Redwood, New York, built the Anglers' Hotel, a fishing and hunting lodge, in 1871 that would later gain popularity in the Thousand Islands, especially during the prohibition years.
Many of her ancestors are buried in the small graveyard overlooking the river under the shade of old-growth trees with emerald-shade leaves. Now, the island, once a pastoral farming community known for its famous Grenadier corn sold at market in Brockville and other nearby communities, is primarily a place for the island's summer people. Today it is better known for its cottages, national parks property and the Grenadier Island Country Club and golf course.
When asked about her title around the small community as the "unofficial mayor of Grenadier Island," Hodge retorts without a beat: "Ha. That's a joke and a half."
"I'm second in charge," says her son Phillip Hodge, who took a break in mowing the lawn to join his mother at the picnic table.
"We also call her the chairman of the board."
He wears a piece of the island's native ancestry - an arrowhead he found along with other artifacts, including an Iroquois pot - around his neck on a chain.
A child of Grenadier, June Hodge attended its one-room schoolhouse and was raised around the Anglers' inn. She married her husband Fred Hodge at 17 and they had five children. All of them went to the island's schoolhouse, which closed in 1962. At one time more than 100 people lived here all year. They survived as caretakers and maintenance workers for summer residents and through farming and trapping muskrats, beaver and raccoons.
When asked what she likes most about life on Grenadier Island, Hodge replies: "It's in the Thousand Islands," quickly adding: "But what's better than Grenadier?"
Hodge chooses to simply bask in its quiet and untroubled breezes. "Nobody ever bothers you over here," she says, surveying the view from her waterfront yard as laundry lazily sways on the clothesline. "You're your own boss."
Fred worked at the island's golf course for more than 50 years before he died in 1990.
That's when she had to be convinced by her children to leave the island for the first time in her life to live on the mainland and move into a trailer in Rockport. But she's still back to Grenadier every summer to swim.
"I've lived here all those years," she says. "All my children were brought up here."
A mother of five, Hodge has eight grandchildren, 11 great-grandchildren, and one great-great-grandchild she calls my "great great" who has been to the island already once at the age of one.
Hodge is a living history of Grenadier Island.
"Oh dear," she says with a laugh. "To get old, to get old. I still move though. I move slowly, very slowly."
But she keeps busy visiting friends and family on the island. "I love to play games," says Hodge. "Scrabble. Cards. Rummy cubes. These games keep your head working."
She has childhood memories of people fishing and hunting at the Anglers' Hotel and gathering on its front porch.
But its business suffered when people started going to the Thousand Islands' grander hotels and it burned down in 1929.
"It was something else," recalls Hodge. "It's long gone now. All that's left is a windmill."
Kathleen Burtch, a sixth-generation resident of Rockport and a retired Parks Canada employee who has extensively researched and written about Grenadier Island, says many U.S. residents came to the Thousand Islands in the early part of the 1800s, but not all were Loyalists.
"They were river people," she says.
There were 14 farms on the island in 1818. Its current existing township road that runs east to west across the island is now a pristine hiking trail while summer residents rely on golf carts to get around.

Grenadier was once a pastoral farming community known for its famous Grenadier corn sold at market in Brockville and other nearby communities, is primarily a place for the island's summer people.
There was a lighthouse keeper who operated the government lighthouse - now Parks Canada property - between the 1870s and 1940s. For years, Heffernan's restaurant, which was famous for its fried chicken and apple pie, was a popular island landmark.
In the 1960s, Parks Canada started buying up land on the island to preserve the property and protect the ecosystem.
"I just love the island," says Burtch. "When I go over there, I don't want to come home. It's so peaceful. It's almost like there are ghosts there telling you to bring their stories back."
American resident Bo Collins, whose family has had property on Grenadier Island since 1900, learned how to milk cows there and recalls farms with pigs and chickens.
Collins, who makes Grenadier home every summer with his wife Joan, a Gananoque native, spent 25 years in the U.S. navy and worked in the Pentagon in Washington D.C. when President Richard Nixon was in office.
Grenadier Island, one of the wildest and largest of the Thousand Islands, has always provided a peaceful retreat.
"Grenadier is a diamond in the rough," says Collins.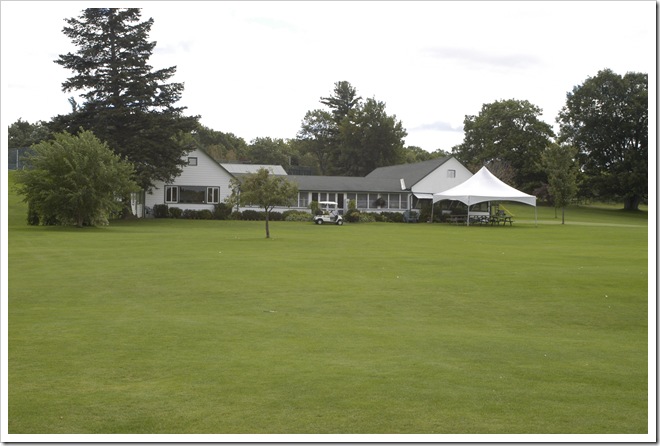 Photo by Kim Lunman © Recorder and Times
The Grenadier Island Gold Club is popular with islanders from both Canada and the United States.
And perhaps the island's most treasured gem is June Hodge, its unofficial mayor, chairman of the board, and most importantly, Gramma Dear.
"She's full of life," says her nephew, Glen Senecal.
Senecal was born on Grenadier Island 48 years ago in January and had to be transported over the ice by sled to the mainland to hospital. It was an early introduction to the hardships of winters here.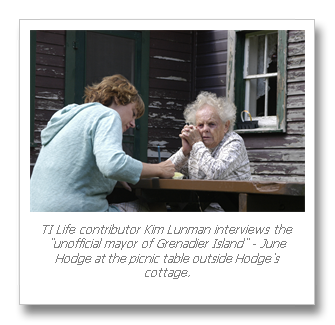 "It was not an easy life," he recalls of going by airboat in the winter to catch a bus to high school in Gananoque. His family of six children froze garden vegetables in the summer to get them through the winter months. He moved off the island more than 20 years ago but still lives nearby on the Thousand Islands Parkway near Mallorytown.
Hodge herself has never ventured much farther than the river on which she was born and this spot of land on the water where she was raised. She keeps close to its welcoming shores when she swims every day in the summer.
"I stay put on my own little island," she says. "I don't go very far."
It is where she wants to stay forever. She wants to join her ancestors in the island's cemetery overlooking the water one day close to all her memories and the island she will always call home.
"That's where I'll be buried," she says with a wistful smile. "It's a good place."
June Hodge, 90, is the oldest resident and unofficial mayor of Grenadier Island. She has lived there her entire life and year-round until the age of 73 when she moved into a trailer near Rockport for the winter months.
By Kim Lunman kimlunman@thousandislandslife.com
Kim Lunman is an award-winning Canadian journalist whose work has appeared in The Globe and Mail, The National Post, Reader's Digest, The Calgary Herald and other newspapers.  Kim included this article in a series on the Thousand Islands called "Island Treasures" published by Recorder and Times as a souvenir magazine in September 2008.